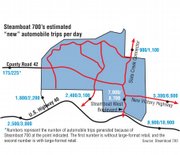 On the 'Net
Visit www.steamboat700.com and here for information and downloads regarding the proposed Steamboat 700 annexation.
By the numbers
1 percent: A real estate transfer tax at this rate will be instituted within the project to help pay for items such as affordable housing and a school
20: The number of years property rights will be vested if certain requirements are met
487: The size of the development in acres
2,000: The number of homes - from apartments to large-lot single-family houses - proposed
17,600 to 21,900: The number of daily vehicle trips the development will generate on surrounding roads
380,000: The square footage of commercial development proposed
$960,000: The amount being paid to firm up some of the city's existing water rights
Steamboat 700 timeline
- 5 p.m. Monday
Joint meeting of City Council and the Routt County Board of Commissioners; work session to discuss annexation issues including funding of U.S. Highway 40 improvements
- Sept. 8
City Council meeting; review of fiscal impacts for capital improvements
- Sept. 9
Open house; city and Steamboat 700 officials available to provide information and answer questions
- Sept. 10
Planning Commission meeting; annexation review and traditional neighborhood design amendments
- Sept. 17
Planning Commission meeting; annexation review and traditional neighborhood design amendments
- Sept. 29
City Council meeting; initial review of annexation plat, annexation agreement and traditional neighborhood design ordinance
- Oct. 13
Final consideration of annexation plat, annexation agreement and traditional neighborhood design ordinance
Steamboat Springs — Traffic concerns are among the many issues being debated as the Steamboat Springs City Council nears an October vote on the multi-faceted Steamboat 700 project that is seeking annexation.
By the developer's own estimations, the project west of city limits that proposes about 2,000 housing units on 487 acres will generate 17,600 vehicle trips a day on surrounding roads, at build-out. That number increases to 21,900 daily vehicle trips if large-format retail, or big box, stores are included. And some suspect those numbers are low because of aggressive assumptions regarding Steamboat 700's future residents' tendency to ride bikes, walk and use public transportation.
Some argue that those numbers alone are reason enough to deny the development, but Steamboat 700 Principal and Project Manager Danny Mulcahy asserts just the opposite.
"Traffic is a concern today with or without Steamboat 700," he said. "The
question is, what do we do for traffic without Steamboat 700? Steamboat 700 is actually an opportunity to have a partner on U.S. 40, which is necessary if we are going to leverage state and federal funds.
"We should take this opportunity to manage growth and capitalize on the growth," Mulcahy continued. "The traffic is coming, one way or the other."
Routt County's 2008 population was 22,980, according to the U.S. Census Bureau. It is projected to increase to 44,708 in 2035, according to the Colorado Department of Local Affairs. If growth isn't concentrated in western Steamboat, Mulcahy said, instead it will go to thousands of vacant lots in Hayden, Stagecoach and other outlying areas of Routt County.
The city's West of Steamboat Springs Area Plan states that such sprawl "will result in increased commuting time, road and infrastructure costs, traffic impacts, split family life and other social costs, and higher costs of recruiting a work force for Steamboat Springs businesses."
Mulcahy also said that if growth goes to those other areas instead of western Steamboat, the city won't have any financial partners to construct needed transportation improvements. He said that is particularly important in the state's current budget climate. Steamboat 700 and the city agree that the state typically would cover the costs of improvements to U.S. Highway 40, but the Colorado Department of Transportation is strapped for cash.
"That trend isn't going to change for years," Mulcahy said.
Mitigating impacts
The most substantial improvements accompanying Steamboat 700 are those to U.S. 40. The road would be widened to four lanes from downtown to the entrance of Steamboat 700, and its main intersections would be improved. Steamboat 700's cost share for the improvements is being negotiated; Mulcahy guessed Steamboat 700 would pay between $5 million and $16 million.
"The biggest element outside of 40 is the transit element," said Philo Shelton, city public works director.
Steamboat 700 also would be required to pay for the non-grant portion of four Steamboat Springs Transit buses and construct a transit center and bus stops. Improvements to Downhill Drive, Routt County Road 42 and C.R. 129 also would accompany the project. The city's annexation agreement with Steamboat 700 grants density as improvements are constructed.
According to a draft capital facilities phasing plan, for example, Steamboat 700 must pay 77 percent of the cost of improvements to U.S. 40 from 12th Street to C.R. 129. It must purchase two transit buses at 700 units and another two at 1,500 units, according to the draft plan.
"My density will be limited based on improvements that will be constructed," Mulcahy said.
City Council candidate Kevin Bennett thinks the city has not done enough to mitigate Steamboat 700's traffic impacts.
"The new traffic study ignores safety issues and simply funnels all the new traffic to the edge of Old Town," he said.
Bennett also thinks it is inappropriate that the city and Routt County are spending large amounts of money to build the New Victory Highway, a road that would provide access to the development from C.R. 129 north of and parallel to U.S. 40. Shelton said Routt County has committed $500,000 to the project and the city has contributed $1.3 million. Steamboat 700 and the Overlook Park development are paying for the portions of the road that cross their property. Bennett said the taxpayer contribution is an example of current government officials catering to developers.
John Eastman, the city's planning services manager, disagrees. He said the city's and county's contributions to the road were contemplated in the WSSAP and are part of government's commitment to encourage growth in western Steamboat to create affordable housing.
"We're putting significant resources and funds toward it," Eastman said.
The traffic impacts of the development will be a topic of discussion at 5 p.m. Monday at a joint meeting of the Steamboat Springs City Council and the Routt County Board of Commissioners. The two governing bodies will discuss earmarking a portion of property tax and building use tax for U.S. 40 improvements and other specific projects. A final vote on the annexation is scheduled for Oct. 13.