Photo Gallery
Excel Gymnastics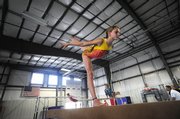 Steamboat Springs — A bigger and better Excel Gymnastics location will host its first meet Saturday, and owner Mike Smith is excited.
Excel opened 2 1/2 years ago at Riverside Plaza and moved to Riverfront Park in March. That space, in the flashy buildings by the James Brown Soul Center of the Universe Bridge, offered higher ceilings than, and nearly triple the gym space of, the Riverside location.
That allows ample space for the three girls teams, including Excel, that will compete at Saturday's meet. The tournament is sanctioned by USA Gymnastics, which means it is considered a Junior Olympics training competition, Smith said.
About 65 girls ages 6 to 15 will compete.
"It's our first ever, so that's a good size for us to get things broken in," Smith said.
He said he hopes the meet grows each year to eventually include 10 to 12 teams. An expanded competition could benefit the local economy, Smith said.
"The idea is to get 'em to come up here and spend two nights, spend some money in the town," he said.
Excel Gymnastics' new building has 11,200 square feet of gym space and 14,000 square feet of total space. The Riverside location had 4,700 square feet of gym space. And Smith said his young gymnasts were outgrowing the spot.
By the time they moved, one student using the high bar could touch his feet to the ceiling, Smith said.
The new space includes Junior Olympic-level equipment, a foam pit and equipment for gymnasts of various skill levels.
For example, Smith and his coaches can teach younger children to tumble using trampolines imbedded in the floor. Those students then graduate to a raised floor with a bit of give before moving to the green spring floor in the center of the gym.
Excel Gymnastics also is open to skiers and snowboarders who want to practice flips and turns on equipment, Smith said. He also offers adult open gym classes and adult conditioning.
Kristen Fahrner trains while her daughters take classes. One of her daughters is on the team competing Saturday.
"When she's here, the coaches will take the time to help her even if she's not in class," Fahrner said. "You can tell the coaches love what they do."
Laurin Cooke and Tammy Grewal agreed.
"I think we're very fortunate in this small town to have this gym and this level of coaching," Grewal said. "We moved from Aspen, and this gym is better; the coaching is the same caliber."
Cooke said her experience with Excel has been "nothing but positive."
"It's always sunny and bright and happy," she said. "It's very professional."
The building also houses other activities for children, Smith said.
Karin Comeau, of Rocky Mountain Dance, teaches in the building, and Beth Wendler teaches parent-child music classes. During the busy fall season, Smith estimated that 600 children come through the doors.
"It's kid central out here," he said.
Smith said the new location has boosted interest in Excel. When he first sought coaches, Smith said he received two applications. In the new spot, he received eight for one position. He has four full-time and three part-time coaches. Both the coaches and equipment are of the highest caliber, he said.
"We have everything we need to train elite gymnasts," Smith said.