Photo Gallery
Frederick Ewing "Doc" Willet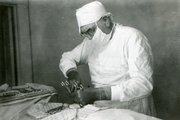 Excerpts from letters
When F.E. "Doc" Willett died Dec. 21, 1970, letters from friends, patients and acquaintances arrived from as far away as Washington, California and New Jersey. Natalie Willett Stanko, his niece, kept them. Jim and Jo Stanko still have the files. "I had the pneumonia and wouldn't have lived if he hadn't been there. He drove to the ranch with a team and a sled; how many doctors would do that today?" "He was a most unusual man and served Steamboat Springs like no other doctor ever will. I always appreciated his sly humor." "Dr. Willett was one of the most beautiful people I have ever known. I learned more about compassion, humility, the beauty of simplicity and caring about others in the three years I worked for him than in all the rest of my experience." "In closing let me say that I think it will be a long time before Northwest Colorado finds another doctor or any other citizen that will work as hard for his fellow man as Dr. Willett did." "Dr. Willett will never be forgotten, and I'm sure none of us knew how much he really contributed to his people and his loving interest in medicine. Certainly no one will ever take his place, nor be so dedicated." "He will never be gone because he will never be forgotten. He was as much a part of Steamboat as the ground it is built on." "He was the one who met the train at 5 a.m. - took me to breakfast, and helped me through my father's death, funeral, etc." "He was such a wonderful man. In one's life time, one usually meets one person whom has great influence on you, one whom you respect, appreciate and adore for what he is. Dr. Willett was that to me." "I believe I was Fred's first patient on his first maternity case. If it had not been for his constant care the nine weeks I was in bed and I (had) a leg paralyzed, I would be a cripple. : The baby weighed 12 pounds and died at birth. It was almost a miracle that I lived. He told my mother that if he had lost me, he never would have practiced again."
If you go
What: Doc Willett Health Care Heritage Awards
When: 7 p.m. Sept. 12
Where: Strings Music Pavilion
Cost: $40 in advance, $50 at the door
Info: Tickets available at SportsMed or the Healthcare Foundation; call 871-0700
Steamboat Springs — Frederick Ewing "Doc" Willett spent most of his medical career in Steamboat Springs, but his influence spread across the country, his great-nephew said.
Jim Stanko still has boxes of memorabilia related to Willett, who practiced medicine in Steamboat from 1912 to about 1968. When Willett died, letters poured in from across the nation describing the doctor's dedication. Willett was known for making ranch calls, often traveling in all weather to treat patients at home.
As one letter writer put it, "He was as much a part of Steamboat as the ground it is built on."
The Healthcare Foundation for the Yampa Valley has created an award to recognize people who, like Willett, make an impact on the community's health care. Dr. Larry Bookman and John Kerst are this year's winners of the Doc Willett Health Care Heritage Award. They'll be honored at a ceremony Sept. 12.
"It's such a good fit with what we're doing and where we came from," said Christine McKelvie, spokeswoman for Yampa Valley Medical Center.
Willett grew up on an Iowa dairy farm and attended Colorado College and the University of Colorado before making Routt County his home. Stanko said the man he called Uncle Fred never married.
"His family were the people he took care of," he said.
Stanko's mother, Natalie Willett Stanko, was Willett's niece. She came to Steamboat in 1933 to live with her uncle and help at the hospital, and she married Pete Stanko Jr. in 1938.
Her son and daughter-in-law, Jim and Jo Stanko, serve as the curators of much of the collection of Willett mementos. Jim Stanko pulled out boxes Thursday of Denver Post and Steamboat Pilot articles, photographs and documents from Willett's medical career.
He also discussed his own memories. Willett delivered Jim Stanko and his sister - as well as many children born in Routt County throughout five decades - and treated him for pneumonia, appendicitis and other ailments.
"The other really vivid memory is during the polio epidemic," Jim Stanko said. "We had to get polio shots in 1952, '53, it was a series of three shots at that time."
Jim Stanko recalled his uncle taking his time as the children nervously waited.
"He'd just kind of stroll over to the medical cabinet and take out the shot and walk over, so you could really get the effect of what was coming," he said.
That style was in line with what Jo Stanko remembers. She said Willett was a deliberate man who spoke slowly and carefully and typically dressed in a suit, smoking a pipe or cigar. Jo Stanko said she met Willett only a few years before his 1970 death. He attended her wedding in Denver.
"When we got married, for our wedding present he gave each of us a check in our own name," she said.
He did the same thing when the Stankos graduated from college. The money was hers, Jo Stanko said, "to do as I wished."
Willett was a constant presence in Jim Stanko's life. He helped his great-nephew scrape through his senior English class - Jim Stanko interviewed Willett for a paper.
"The teacher was so enthralled," Jim Stanko said. "The paper was probably not worth a darn, but since I wrote it on him, I passed."
The Stankos' son, Patrick, also wrote about Willett, Jo Stanko said. Patrick Stanko wasn't failing English, she pointed out with a laugh, but Willett's rich local history was a natural choice for the piece.
Neither paper about Willett is among the family artifacts. But books and ledgers from Willett's hospitals are. He tracked who entered and left the hospital, how many babies were born, and who lived and died.
Natalie Stanko's records are similarly detailed. The teacher tracked who called long distance and who sent donations to a fund in her uncle's name. A notebook marked "F.E.W. letters of remembrance Dec. 1970 to '71" includes those lists.
The information is orderly and concise, but the aging memento contains a slice of sentiment. A tribute to Willett is penned along the bottom of one of the notebook pages, lines from a William Wordsworth poem called "The White Doe of Rylstone."
"On him and on his high endeavor, the light of praise shall shine forever."