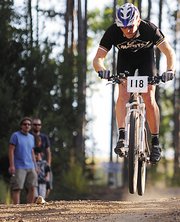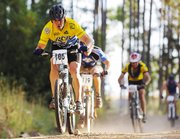 Results
- Men Pro results
1. Barkley Robinson, 40:16
2. Peter Kalmes, 40:19
3. Brad Bingham, 40:48
- Women's Expert results
1. Kate Rench, 53:02
2. Katie Lindquist, 54:25
3. Hadley Nylen, 58:08
- Men's Pro season results
1. Barkley Robinson
2. Brad Bingham
3. Peter Kalmes
- Women's Expert season results
1. Kelly Boniface
2. Kate Rench
3. Katie Lindquist
This time it was a number of challenges for Barkley Robinson.
Essam Welch led the way up Mount Werner during the final Town Challenge mountain bike event, the Valley View Cross Country race. A tightly packed group of Steamboat's best riders turned almost together at the top of Thunderhead Peak, the race's pinnacle.
When the group emerged at the bottom of the course, however, screaming toward the finish line, Robinson was in the lead with Peter Kalmes hanging tight, just a few yards back.
Robinson tore down the final stretch, hung a sharp left turn and crossed the finish line, winning the race and announcing that though the pack is closer and sometimes a few of the racers are even faster, Robinson is still the top dog.
"It feels really good to win it again," said Robinson, who wrapped up his sixth consecutive series championship. "They've all been hard races this year. It's been a great series.
Kelly Boniface won the women's series championship but took Friday off. Kate Rench won the women's expert division, ahead of Katie Lindquist.
Robinson edged out Kalmes for the day's championship and Brad Bingham for the series title.
"Brad really raced at another level this year," Robinson said. "The field has been getting better all the way around. Everyone is riding better, and next year will be even a tougher series, I'm sure."
Friday's race capped the seven-event summer mountain bike racing circuit, and it was filled with all the same vicious competition - often, but not always, among friends - that defines the series.
A trail that was supposed to be one of the easier of the summer proved vicious. At least a half-dozen competitors rode across the finish line with broken or damaged chains or flopping flat tires.
An unfortunately placed trailer, sitting on the far side of the sharp final turn, rerouted several others.
Stragglers were still making their way across the finish line with damaged bicycles two hours after the first racers had started, after all the other finishers had cleared out and headed to the post-race potluck dinner.
The carnage wasn't even limited to those on bicycles. Race director Gretchen Sehler had to be whisked away for stitches in her leg after she leaped to grab a child who had pedaled across the path of a charging race filled with older children.
But stitches aside, the riders reveled in their last race of the summer.
"It was a really tough race. It was tough uphill and downhill," said Maryann Keiss, who completed her 10th year in the series, "Everyone acts more relaxed at the last one of the year, but a lot of us are just tired, too."