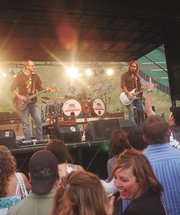 How to help
To donate to the Steamboat Springs Free Summer Concert Series:
This year, the concert series obtained 501(c)(3) nonprofit status, allowing individuals to make tax-deductible contributions to the organization. The group started a www.steamboatfree...> Web site, featuring band and event information and a PayPal account allowing instant donations online.
There are three ways to make a contribution to the Steamboat Springs Free Summer Concert Series:
1. Make a PayPal donation on the Web Site, www.steamboatfree...
2. Mail a check to Steamboat Springs Free Summer Concert Series, P.O. Box 773793, Steamboat Springs, CO 80447.
3. Drop off a contribution with Joe Kboudi, series co-founder and president, at All That Jazz music store, 601 Lincoln Ave.
For more information, call Kboudi at 879-4422 or 846-1023.
Organizers of the Steamboat Springs Free Summer Concert Series are looking for some fan love.
The outdoor summer music event has brought national acts such as Susan Tedeschi, Bela Fleck, Michael Franti, Little Feat, The Wailers, Big Head Todd and the Monsters, Los Lobos and Sam Bush to the base areas of Steamboat's two ski mountains.
After rounding out its 19th year with a high-powered Aug. 20 concert by The Avett Brothers at the base of Steamboat Ski Area, organizers are introducing a fundraising campaign to maintain a schedule of five quality acts each summer, series co-founders Joe Kboudi and John Waldman said this week. Kboudi is the series president, and Waldman is the series promoter.
"What we're trying to keep (is) the quality of the series - both talent and the overall event for locals and visitors - at the level that we've sort of gotten it to over the last 19 years," Waldman said.
"It's been a constant build for us to maintain that. We're finding that beyond the corporate sponsorship : we also need further help from our fans, I guess is the best way to put it - the people who are attending," he said.
Series board members started a fundraising effort this spring, directing contributors to a PayPal account on the nonprofit group's new Web site, www.steamboatfreeconcerts.com. They hope a renewed effort can insulate the series budget from inconsistencies such as weather and concession spending.
"There are just variables there that you have no control over," Waldman said. "If you can take a piece of that risk away with sponsorships, individual, corporate or otherwise, it puts us in a better position for the future."
How the series is funded
Series revenue comes in roughly proportional chunks from three areas: corporate sponsorships; city community support funding and Steamboat Springs Chamber Resort Association contributions; and food vendor fees and beer sales. Concessions take up a slightly larger portion than the other two areas, Waldman and Kboudi said.
The series budget took a hit this summer when heavy rain slimmed the crowd turnout and beer sales for a July 31 Freddy Jones Band concert.
"As we found this year, it's sort of a double whammy where you get a soft economy and a weather problem for one show, and we're not meeting projections that we'd like to meet in our budget," Waldman said. "So we're hoping that the public will step forward and say, 'Hey, let's make some donations.'"
Booking contracts for the 2010 series - which will mark the 20th summer of free music in Steamboat Springs - get going around the beginning of the year, Waldman said. He, Kboudi and series board members hope to have a clear view of their budget by that time.
Possible outcomes
Sponsorships lagged by 5 to 10 percent in 2009 from the series' annual average, Waldman said. Overall, the series is about 10 to 15 percent short of its usual budget going into the 2010 season, he said.
In May, series executive director Nancy Kramer estimated the event's annual budget at about $200,000. A 10- to 15-percent shortfall from that amount would be between $20,000 and $30,000.
In a given year, combined artists' fees for five concerts can range from less than $60,000 to about $65,000, with individual headlining acts contracted at $5,000 to $25,000, Kramer said in May. This summer's artists had a combined cost of just less than $60,000, she said. Kboudi said net profit from beer sales - which in 2008 amounted to about $70,000, Kramer said - go directly toward band fees.
Operational costs for each concert - including production elements such as stage, lights and sound; permits for alcohol sales; advertising; portable toilet rentals; security; rain and general liability insurance; and hotel rooms for the band - are fixed, and can't easily be reduced, Waldman said.
If they do have to reduce the series budget for 2010, series organizers would have two options, Kboudi said: produce fewer concerts or book cheaper talent. Kboudi said organizers would like to keep a five-show summer.
"It comes through the summer, the way we've structured the concerts: one in June, two in July, two in August. It's a great meeting place and a great place for people to socialize, and we don't want to lose that," Kboudi said.
By keeping five concerts on a reduced budget, "the only thing we could do, would be to lessen the quality of the talent, so really, that's what we're trying to preserve," Waldman said. Reducing the talent budget would rule out some of the more popular acts from the 2008 and 2009 concert seasons, Waldman and Kboudi said.
"I think the Frantis, the Tedeschis, the Rusted Roots, acts that are larger, national acts that you wouldn't expect to see for free, that's what we're talking about here, being able to continue that level of act. We need the dollars to do it," Waldman said.
How to donate
Waldman and Kboudi said series organizers don't want to put a dollar amount on the donations they hope to see from locals and visitors. The fundraising campaign is ongoing; Kboudi said he hopes this fundraising push will be a one-time effort to get through lean times.
"We do an annual fundraising drive to corporations, but this has nothing to do with that," Waldman said. "This is simply people who attend the series. Even if they don't attend : (they think) it's a great thing for the community and for the visitors, they say, 'Hey, we understand it's been a tough year. If we can help, here's our donation.'"
To make a donation, go to www.steamboatfreeconcerts.com; mail a check to P.O. Box 773793; or drop off a cash or check donation at All That Jazz music store. The Steamboat Springs Free Summer Concert Series is a 501(c)(3) charitable organization; individual gifts are tax-deductible.