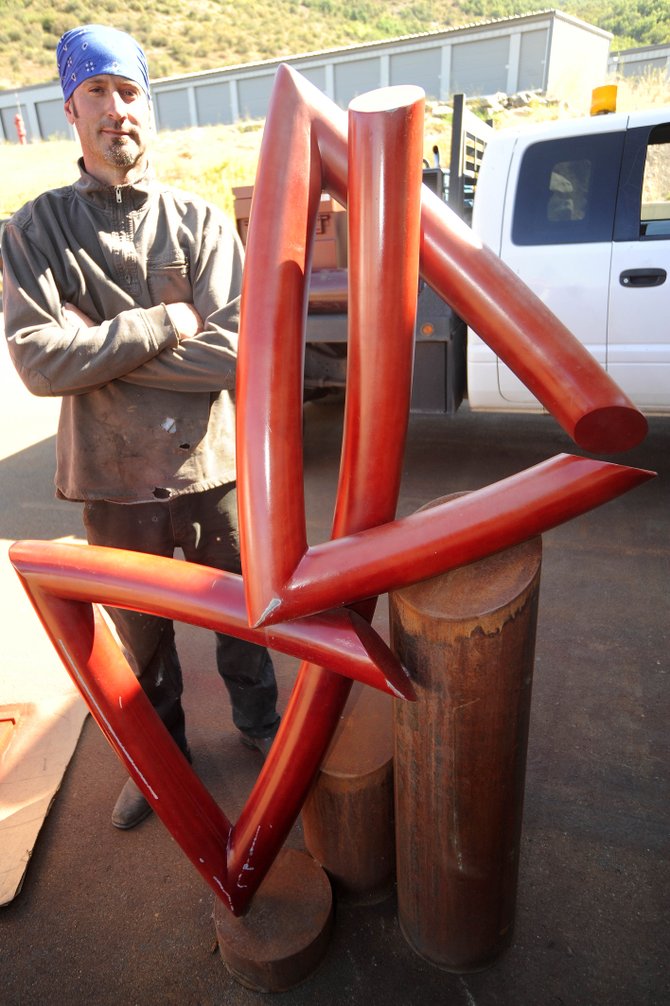 Christopher Oar uses abstract, simple shapes in sculpture and paintings
Photo Gallery
"Balance," new sculptures by Christopher Oar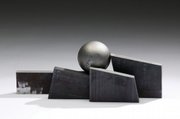 If you go
What: Opening reception for "Balance," sculptures and paintings by Christopher Oar
When: 6 to 8 p.m. today
Where: Vertical Arts Architecture,
690 Marketplace Plaza, Suite 1
Cost: Free
Call: 871-0056
Online: Watch a video interview with local artist Christopher Oar, including footage of his work and studio, at www.exploresteamb... or www.steamboatpilo.... Also look for an online gallery of Oar's paintings and sculptures.
Steamboat Springs — On Thursday morning, Christopher Oar was working outside Nordic Steel's workshop in the warehouses on Copper Ridge Drive, painting a steel sculpture to make it pop against Vertical Arts Architecture's gallery space.
Oar's "Balance" series, featuring new large- and small-scale metal sculpture and oil paintings, opens with a reception from 6 to 8 p.m. today at Vertical Arts.
The architecture firm opened its new building in Wildhorse Marketplace this winter and has booked several local art shows in its downstairs gallery and meeting areas. Katy Vaughn, a staff designer for Vertical Arts, said the firm tapped Oar as a featured artist for the unique quality of his sculpture and paintings.
Oar has been making sculptures for about 20 years and has made it his job for the past five, he said. Starting off as a furniture maker and designer, Oar took up painting when he didn't have the studio space to sculpt. He moved to steel sculpture for its engineering possibilities and strength, and recently set up a jewelry studio in his apartment, just a few doors down from his job at Nordic Steel.
"I work based on an idea, and then I minimize it as much as possible, and then it comes out abstract," Oar said. A sculpture that started as an image of a hand-held Asian fan became a large steel piece that keeps that image but reduces it to a few pieces surrounded by negative space. The "Balance" series includes one large sculpture based on interlocking shapes; seven smaller pieces that balance spheres against other geometric shapes; and several large, abstract oil paintings.
"Too much confuses me, it confuses my eye. So I try to keep it as simple as possible," Oar said.
In Steamboat, Oar has shown work at Schiesser Gallery and David Chase Rugs & Furniture, and he has two public art pieces at community buildings. "Red Fern" is in front of Howelsen Ice Arena, and Oar's rusted steel bike rack has been at Bud Werner Memorial Library for about a year.
"I did that design because I didn't want people to be told where to put their bike," he said about the second public sculpture, adding he wanted people "to have to think about it."
Oar's work will be on display at Vertical Arts through the end of September.
Silver LEED
Vertical Arts started the process to become a Leadership in Energy and Environmental Design certified building through the U.S. Green Building Council during construction on its new space, and it recently received silver certification, Vaughn said.
LEED is a green building system "providing third-party verification that a building or community was designed and built using strategies aimed at improving performance across all the metrics that matter most: energy savings, water efficiency, CO2 emissions reduction, improved indoor environmental quality, and stewardship of resources and sensitivity to their impacts," according to the Green Building Council Web site.
The LEED system for commercial buildings is based on a 100-point scale with 10 possible bonus points; buildings must earn between 50 and 60 points to receive silver certification.
"We're trying to set an example in Steamboat, and we're starting with ourselves, and we want to be able to do it with more buildings in Steamboat," said Vaughn, who is an accredited LEED professional.