For more
See Saturday's Steamboat Today for a complete list of candidates for School Board elections Nov. 4, following today's 4 p.m. deadline for submitting petitions.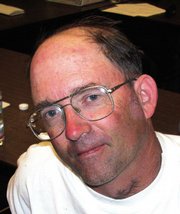 Steamboat Springs — Former Education Fund Board member Brian Kelly has picked up a candidate petition for a seat on the Steamboat Springs School Board.
Kelly, 55, a resident of North Routt County, is vying for the District 1 seat currently occupied by John DeVincentis, who said previously he would not seek re-election Nov. 4.
Kelly has until 4 p.m. today to return the petition with 50 signatures of registered voters who live within the boundaries of the Steamboat Springs School District to Anne Muhme, the district's election official.
Muhme said that as of Thursday, only Bill Kennedy had returned a petition to run for the District 1 seat. Kennedy, who moved to Steamboat in 2005, spent 39 years in education in New York, including time spent as the superintendent of two school districts, before he retired in 2004.
Board member Denise Connelly previously indicated she would seek re-election for her District 3 seat, the only other seat on the board up for election.
Muhme said she wouldn't validate the petitions until after this afternoon's deadline. Should the petitions from Kennedy and Kelly meet the requirements, the ballot order would be set Sept. 4. Early voting begins Oct. 19.
Kelly, who owns BTK Surveys with his wife, Judy, said he was the original chairman of the half-cent sales tax committee in 1993. Kelly was on Fund Board committees from 1993 to 1996 or 1997, and from 2000 to 2003, he said.
He was also twice named one of the district's Friends of Education, in 1993 and 1995. The honor recognizes a community member's service to the school district.
In 2003, Kelly ran unsuccessfully against Jeff Troeger for the District 2 School Board seat. Kelly has since moved and said after six years of not being involved with the district, it's about time to give something back to the community. He added that it's important to have contested elections.
"I think it's good voters have choices - to look at the issues and make up their minds," Kelly said.
He said two issues are of particular concern to him. One is drug use filtering from the high school to the middle school and how to curb that. The other is doing something about physical education classes not being required all four years at the high school and trying to make them a larger part of the overall curriculum.
"The three R's are very important, but I think you need to have a healthy body to go with building of the mind," he said.
Kelly said he was out of town for about the first two weeks of the petition period and couldn't pick one up until this week. Kelly said he's hopeful he'll be able to get enough signatures to turn in his petition by today's deadline.
He has two children. Samantha graduated from Steamboat Springs High School in 2003, and Blake is a sophomore there this year.