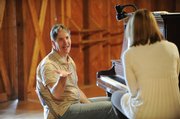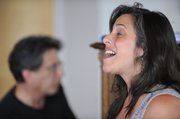 Steamboat Springs — Cabaret singer Andrea Marcovicci describes her art form as "conversation in song."
"We reach across the fourth wall, and we bring you into us, and there's a caressing quality to it," Marcovicci said. "We're going to tell you stories. We're going to make you feel good. We're going to make you feel better than when you came in."
Marcovicci will join fellow faculty members and students from "The Art of Cabaret" professional workshop at Perry-Mansfield Performing Arts School and Camp for two performances this weekend. A weeklong study in song choices and delivery, "The Art of Cabaret" presents a faculty concert at 8 p.m. today and a participant concert at 8 p.m. Saturday; the shows are in Julie Harris Theatre at Perry-Mansfield.
"I think anything that is happening in a small space where there isn't a fourth wall" qualifies as cabaret, said Barry Kleinbort, an arranger, songwriter and faculty member for "The Art of Cabaret." The basic message for a cabaret performer is "I see you, you see me, let's get down to business," Kleinbort said.
"When it's at its best, there's no entertainment form that's more immediate than cabaret," he said.
The workshop is limited to 16 students accepted through an audition process. All 10 people participating in this year's workshop are professional musicians, faculty members said.
Students divide into groups of three or four students and two faculty members to work through songs; the groups change each day, so students get to hear more performers and learn from every faculty member.
"They learn as much about seeing as doing," Kleinbort said. Students also attend evening seminars focusing on the music business, arranging and music direction, and putting together a show. The workshop ends with individual student-faculty interviews Sunday.
"Art of Cabaret" teachers boast credits from Broadway, international theaters, original arrangements and songs, and numerous recordings, making the group "the best of the Cabaret world," Program Director Andrew Levine said.
With Marcovicci and Kleinbort, the faculty is Marcovicci accompanist, producer and composer Shelly Markham; Broadway, Off-Broadway and concert singer Karen Mason; pianist and arranger Christopher Denny, who often performs with Mason; and music director David Gaines.