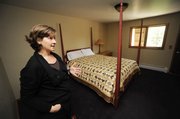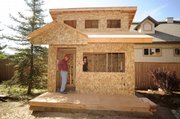 If you go
What: Rollingstone Respite House grand opening celebration
When: 4:30 to 6:30 p.m. today
Where: Rollingstone Respite House, at Pine Grove Road and Rollingstone Drive
Cost: Free
Call: Lisa Brown at 871-7620
Rollingstone Respite House is ready to open its doors to the public, after 18 months and $2.5 million in fundraising.
Northwest Colorado Visiting Nurse Association started a campaign to remodel the house at 1500 Pine Grove Road, previously owned by Keith and Anne Selbe, at the beginning of 2008. Since then, volunteers and construction workers have transformed the home into a hospice facility and adult day center with three hospice care suites, two kitchens, living areas, several ADA-accessible bathrooms, and an extensive backyard area with views of Fish Creek.
VNA hosts a grand opening celebration from 4:30 to 6:30 p.m. today, with volunteers offering information about all areas of the facility. There will be light refreshments. A presentation at 5:30 p.m. will recognize the people who donated time, work and money to the project, which will end up costing about $2.75 million, said Lisa Brown, director of development for VNA.
Jan Fritz, a nurse who worked with VNA's Hospice and Palliative Care program from 1993 to 2008, said the house increases options and availability of hospice care in Northwest Colorado. In Routt County, VNA offers hospice care from nurses, volunteers, social workers and others to patients who have entered the final stages of a terminal condition.
"You only have two skilled nursing facilities, one in Moffat and one in Routt County, and the waiting lists are already very long for both of those. Having another option for people will at least fill part of the gap," Fritz said.
The facility's first hospice patient is scheduled to spend a week at Rollingstone starting Sept. 8, said Katy Thiel, director of social work and a grief counselor for VNA.
Before the facility was completed, VNA offered at-home care for hospice patients. When at-home care is no longer possible, the only in-county option was to move patients to Doak Walker Care Center at Yampa Valley Medical Center, Thiel said.
"Our goal is to meet the community's : needs as far as patients who are dying," Thiel said. Patients might be recommended for hospice services for periods of as long as six months, Brown said. Personal funds, private insurance, government health care programs, memorial donations and hospice fundraising events help cover the costs, according to the VNA Web site.
Adult day services
On the house's bottom floor, VNA will provide adult day services including meals, activities and care in what was originally the Selbe home garage and is now a living area complete with a sectional couch, TV and small kitchen area.
The program caters to seniors living with adult children who need to work during the day, and it will offer social opportunities for seniors living on their own, Brown said. It will take two or three months to get licensing before those services can start, she said.
A bedroom downstairs is for family members of patients staying in hospice care or at Yampa Valley Medical Center, or for clients who need to rest during the day. Cole's Cowboy Corner, a recreation room that features a sleeper sofa, games and Nintendo Wii, will be open to children and adults.
YVMC donated three hospital beds for the hospice suites on the upper floor. Those units also will have pullout sleeper chairs and offer flexible use to patients, Brown said. Community members have donated decorations, quilts and other comforts for the facility, she said.
"I can't leave for : an hour and come back and not have something change," Brown said, noticing a donated painting in one of the hospice suites for the first time. "We have all sorts of people contributing."
Employees from SmartWool spent a day in late June clearing away brush in the respite center's backyard. The area now features several gravel paths and a donated gazebo, and will include a sculpture by Jim Selbe.
VNA has invited community support groups from organizations such as Reaching Everyone Preventing Suicide and the Yampa Valley Autism Program to hold meetings at the house, Thiel said.
Poogie's Place, a small house behind the respite center that Brown said will be finished in the coming weeks, will be a home for youth bereavement through art therapy and other methods. The house is named after Poogie Dawes, a Steamboat Springs philanthropist and mother who died suddenly in 2006.