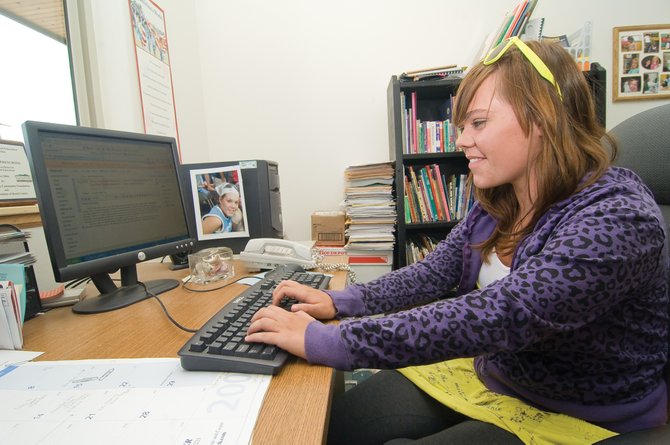 Hannah Zwak is only member of CHS senior class
Thursday, August 27, 2009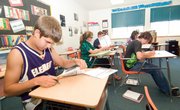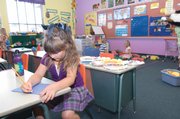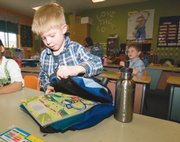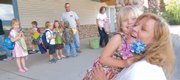 CHS Enrollment
Grade level, 2009-10, 2008-09
Lower school (K-5), 63, 67
Upper school (6-12), 44, 51
Total, 107, 118
Christian Heritage School Administrator Dave Entwistle said the dip in enrollment from last year to this year is likely a result of the current economic recession. He said the school also has lost students to Steamboat Springs High School because they want to attend classes with their friends and it provides some more options for students.
"I want to keep our high school kids," Entwistle said. He added that the school is working on ways to do that, including possibly expanding the elective classes that are currently offered.
Christian Heritage School's Class of 2010 graduation in the spring likely will be a joyous occasion celebrating the achievement of its class.
Meaning, the achievement of Hannah Zwak.
She is the only senior this year at Christian Heritage, which began classes Wednesday. It's nothing new to her, though. She was the only sophomore two years ago and the only junior last year. So Zwak said it's not really a surprise she's the only senior.
"I've been alone most of high school," she joked.
On one hand, Zwak said it's cool being the only student in her class because it's different, which she likes, but at times it can get lonely. But she's adjusted, developing close friendships with the classes ahead of and behind her.
Administrator Dave Entwistle said despite her distinction as the only member of the senior class, he still has high expectations for Zwak - especially being a leader for the school's younger students.
"I'm looking for her to set a good tone and example for the school," Entwistle said.
Zwak admitted that it was a big responsibility for her to be a leader, by herself, and it wasn't always easy.
"Usually there's more people, a class to look to, so it's a lot of pressure," she said. "It's kind of like 'The Hannah Show' because everybody's watching me by myself instead of being in a group. It's just me."
If anyone can handle taking on the responsibility as a school leader, alone, it's Zwak, said Lesley McLeod, her European literature teacher.
McLeod said Zwak has strong leadership qualities, including loyalty to her friends and dedication to her education. But McLeod admitted she worried about Zwak before the school year started.
"I've thought about Hannah a lot going into the year and the challenges she would face," McLeod said, mentioning Zwak not being able to interact with other students about applying to colleges and having her own personal graduation ceremony. "I'm glad she's here. I know we're all glad we didn't lose her."
Zwak said she's considered transferring to Steamboat Springs High School since she was the only sophomore at Christian Heritage, to attend classes with her friends. But she said something kept her at the school.
"It's always felt like this is what God wanted for me, God's plan for me," Zwak said. "Even when it didn't make sense."
Had Zwak transferred, Christian Heritage would have been without a senior class, which Kirsten Williams, a junior, said would be weird.
"And plus, it's Hannah. She's been a part of the school for a long time," Williams said.
Zwak spent time Wednesday afternoon filling out college applications. Zwak said she plans to apply to the University of Colorado at Boulder, Colorado State University, Louisiana State University, maybe the University of Wyoming and somewhere in Florida. Zwak said she really wants to attend CU, however.
Being the only member of her class hasn't only helped Zwak prepare for college. It's made her a better person, more independent and more appreciative of the people in her life, she said. If she was in a bigger class, Zwak said, she thought she'd be just average.
"It's an opportunity to live up to my full potential and be better than average," Zwak said of being the only member of her class for three straight years.