Past Event
Saturday, September 5, 2009, 8 a.m. to 5 p.m.
Stanko Ranch, Twentymile Road, Steamboat Springs
All ages / Free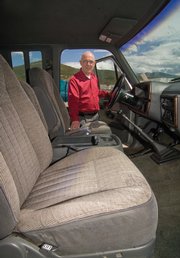 Where's your Clunker?
Did you trade in your old clunker for a new set of wheels? Share your experience by e-mailing editor@steamboatp... or logging on to www.steamboatpilo... and posting a comment to this story.
Key Cash for Clunkers dates
- July 27 - Cash for Clunkers officially begins.
- July 30 - With first $1 billion running out fast, Obama administration says the program will end early. It later reverses course, saying deals will be honored for several more days to give Congress time to add more money.
- Aug. 7 - President Barack Obama signs legislation passed by Congress that devotes $2 billion more to program.
- Thursday - Administration says Cash for Clunkers sales will end Aug. 24 at 8 p.m. Eastern Daylight Time.
- Monday - Sales end, but government computers set up to handle dealer repayment claims shut down as dealers rush to submit paperwork. Dealer filing deadline extended to noon Tuesday.
- Tuesday - With system still weighed by heavy demand, filing deadline pushed back again to 8 p.m. EDT Tuesday.
Source: The Associated Press
Steamboat Springs — The national Cash for Clunkers frenzy has coasted to a close, but Steamboat Motors plans to hang on to the spirit of the program through August.
The federal Car Allowance Rebate System ended Monday evening. Steamboat Motors, which sells Ford, Dodge and Jeep vehicles, will continue to offer at least $3,500 on trade-ins this month. Cook Chevrolet and Subaru, Steamboat Springs' other new-car dealership, cut off its program when the government did.
Jeff Steinke, general manager at Steamboat Motors, said his dealership sold about eight cars through the program.
"I'm just glad it's over," he said.
The dealership plans to offer customers a minimum of $3,500 on their trade-ins for the rest of the month. Steinke said Steamboat Motors wasn't adhering to the rules of the Cash for Clunkers program for the current deal. Those restrictions required people to trade in older cars for new, more fuel-efficient cars.
Steinke said customers could use the trade-in price to buy new or used cars.
"There's really no strings attached to them," he said.
Steinke and Scott Cook, who owns Cook Chevrolet, said they were dissatisfied with how the government ran Cash for Clunkers.
"I think it was poorly executed," Steinke said. "I really feel for some of the guys that are scrambling to get their money."
That has been dealers' concern all along. The federal program started off with $1 billion in funding, and Congress added $2 billion when it appeared that the money would run out. Participating dealers were required to give as much as $4,500 in trade-in value to customers whose clunkers qualified. Dealers had to destroy the cars that were traded in.
Neither Steinke nor Cook has seen a government dime, they said. Cook, who also runs a dealership in Craig, said he'd sold 18 Cash for Clunkers cars at his shops.
"All the exposure to us is just starting because now we find out if we're going to get paid, A, and we've got to get rid of all the trade-ins," Cook said.
He's concerned that dealers will have to eat the cost of the discount if the government denies their reimbursement application. Steamboat's dealers face less financial risk than Front Range dealers who might have sold 100 cars through the program.
"Some of the metro dealerships have got huge amounts of money they're waiting for," Cook said, "so it'll be interesting to see how it all ends."
The Associated Press reported Transportation Department officials saying that dealers had submitted 665,000 vouchers totaling $2.77 billion through early Tuesday.
Through Thursday, which had the most recent data available, the Transportation Department had reviewed and processed more than 150,000 reimbursement applications and approved just $140 million in payments to dealers, the AP reported. At the time, DOT had processed about 30 percent of the applications it had received.
Nationally, the most popular cars traded in were Ford Explorers, Ford F-150 pickups and Jeep Cherokees, Steinke said. Patterns at his dealership reflected that. Steamboat Motors took in at least one Ford F-150, as well as Chevrolet Blazers, Explorers and Jeeps, he said.
Cook said he sold some Chevrolet Cobalts and half-ton, four-wheel drive pickups that qualified. He also said he sold several Subarus.
The AP reported that some of the more popular models were the Ford Focus, the Toyota Corolla and some hybrids. Those cars don't move in the mountains, where people want all-wheel drive, Steinke said.
Cook said he was frustrated that the program started July 1, weeks before the rules came out.
"The idea of the program was good, but it could have been so much simpler and more effective if they made it from the dealers' perspective easier to do," he said.
Government involvement in business often complicates things, Steinke said. And Cash for Clunkers won't pass without a cost.
"You and I as taxpayers are paying for people's trade-ins," Steinke said. "I think the market should have taken care of itself."