Photo Gallery
South Routt Elementary School 1st day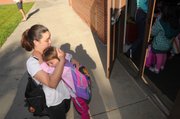 By the numbers
South Routt School District Enrollment
School: 2009-10; 2008-09
Elementary school: 205; 203
Middle school: 86; 79
High school : 111; 116
Total: 402; 398
This year's enrollment numbers are preliminary. They include last year's students who may not have attended the first day of school, but they won't include students who enrolled Tuesday.
Steamboat Springs — Madison Grasty buried her face in her father's shoulder and wrapped her arms tightly around his neck to hide her sobs.
The 5-year-old was one of 41 children who started full-day kindergarten Tuesday morning at South Routt Elementary School in Yampa. It was also the first day of school for the rest of the South Routt School District.
"She just doesn't want to leave me," said her father, Adam. "It's her first time going away to school. Her grandma's called and her mom's called to tell her we'll be back real soon."
Adam Grasty said he thought Madison would be OK, but it took a few minutes before she agreed to be handed over to her teacher, Cindy Ashley.
Holding Madison, Ashley asked her class if they were ready to go inside for their first day of kindergarten. Nearly all of her students screamed "Yay!" before heading into the building.
"We'll take good care of them, I promise," Peggy Barnes, the elementary school's other kindergarten teacher, said as she waved goodbye to parents, many whose lower lips were curled down, their eyes teary, as they walked toward their cars.
Becky Bergeron said she thought her son, Caedmen, was excited about his first day of kindergarten, but also a little nervous. Bergeron, however, admitted she might be more nervous than Caedmen because he was the first of her children "leaving the nest."
"I cried a little bit putting him on the bus," she said. "And then I followed the bus here. I wasn't going to cry, but it happened."
June Matthews' daughter, Alexis, also started kindergarten Tuesday. Matthews had a tough time.
"It's been a rough year, just having to let go," Matthews said. "She's the youngest. She's my baby, but she's not my baby anymore."
Inside Ashley's classroom, Madison Grasty seemed to settle down. Ashley said it's not uncommon for some children to get upset on the first day of kindergarten, but she said they usually settle down after the initial shock wears off.
Kindergartner Katelyn Dudley wasn't exactly sure why she was excited for school but knew she was. Eddie Baran, another kindergartner, said he hoped they would have parties.
The first day's activities included going over the rules and getting the students acquainted with school, Ashley said. Her students would attend physical education and music classes. There would also be story-time, an activity and some math instruction. And the day would also include lunch, recess and rest time, she said.
Ashley, who moved up from preschool to teach kindergarten starting last year, said she loves her job because she's able to teach a new group of excited students each year.
"They're fun," she said. "They're excited to be here, and they want to learn. It makes my job fun."
Principal Michael Young said in preparation for the 205 students enrolled at the elementary school, the hallways, gymnasium, office area and some classrooms got fresh coats of paint. Teachers were back last week getting their classrooms ready for the first day, which he said is always exciting.
"The kids are always excited to be back in school - with new clothes, new backpacks - excited to see their friends after the summer," Young said.