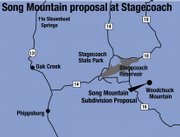 Stagecoach developer Ji-ang Song left the courthouse with a small victory Tuesday after Routt County commissioners agreed in concept to award him a zone change needed to develop 432 dwelling units just east of Stagecoach Reservoir.
Commissioners Nancy Stahoviak and Doug Monger agreed that Song and his development consultants had modified their original plan enough to meet the criteria for a zone change from agriculture and forestry to zoning that allows a master-planned, increased-density community.
Commissioner Diane Mitsch Bush dissented.
"I would have to say, it's not consistent with the goals and policies of the Routt County Master Plan," Mitsch Bush said at the Routt County Courthouse.
She said the up-zoning of the agricultural land within the overall 896-acre development parcel is contrary with county goals of preventing sprawl and preserving productive agriculture lands.
The Song Mountain development would be developed on an elevated bench on the shoulders of Woodchuck Mountain overlooking the reservoir, which hosts a state park. Song and his wife, Young Song, paid $5.5 million for the property, which includes land not included in the development application.
The Routt County Planning Commission voted, 5-2, on May 21 to recommend denial of the project, which county commissioners tabled after a four-hour hearing July 23.
The Songs, with consultants Peter Patten, of Patten Associates, and Doug Bradfield, of Civil Design Consultants, still face multiple layers of public hearings and approvals before the first phase of the residential development could be built.
The commissioners asked the developers to come back with more details and a written commitment confirming exactly how the Morrison Creek Metropolitan Water and Sanitation District would meet the needs of homeowners at Song Mountain.
"There's no need to rush. I would like the details of how this is going to work totally nailed down," Steamboat resident Paul Stettner agreed.
The Water District's Steve Colby confirmed that his agency has adequate reserves to meet all the needs of Song Mountain.
"We have sufficient supply available, mostly through ground water rights," Colby said. "Where it's most available is a big question. Our conceptual plan, which hasn't been approved, points to groundwater as most economically feasible."
Song will have to answer water supply questions and more before his requested zone change is made official.
The developers responded to constructive criticism from the July 23 meeting by eliminating 15 home sites representing 28 acres, in order to widen three broad wildlife corridors that would separate the four major pods of development at Song Mountain.
Bradfield said that at the request of the commissioners, his staff re-routed internal roads to eliminate significant stretches where the grade ranged from 9 to 10 percent. There remain a couple of shorter stretches that exceed county guidelines of 7 percent grade but never by more than a percentage point, he said.
Neighbors of Song Mountain elsewhere in Stagecoach continue to have concerns, as well. They say that with more than 200 building lots and homes already on the market, there is no need to alter the character of the open space on the flanks of Woodchuck Mountain by approving such a large subdivision.
Song countered that his development would provide a different product, with elevated views, than home sites on the floor of the valley south of Stagecoach Reservoir.