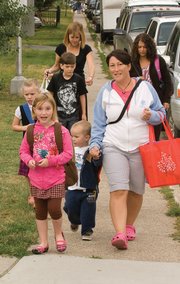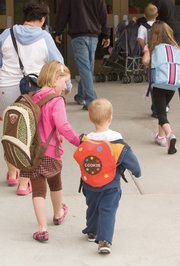 Steamboat Springs — Kyle Swoyer woke up in a panic at 7:45 a.m. Monday, and a thought immediately crossed her mind.
"I'm late for school!" the senior recalled thinking as she rushed to get ready.
When the bell rang at 8:20 a.m., the return to school for the Steamboat Springs High School Class of 2010 was met with hesitation by some. Others relished their roles as leaders of the school, while some just didn't want to be there.
But one thought was shared among the seniors: It was their last year of high school.
Most seemed ready to sprint through the 2009-10 academic year with thoughts of what lies ahead - college and the prospects of getting out of Steamboat.
After spending part of her summer on a school trip in Spain, Caitlin Lucas said she was excited there were only nine more months of high school.
"We're so close," she said.
Jaime Winter said it was kind of weird being the oldest in the school but kind of cool. That still didn't change how she felt about starting school.
"I'm not excited to be back at school," she said. "It's exciting to be seniors knowing that the sooner we start, the sooner we graduate."
Charlotte Letson said she wasn't looking forward to the homework and having to wake up early. Drew Ruff said it also dawned on him after waking up Monday morning that it was the first day of school, something that he wasn't looking forward to.
"I had senioritis for most of last year as a junior," he said. "This is doubly bad right now."
Despite the lack of excitement from some seniors, Principal Kevin Taulman said he expects great things from the senior class. But that's no different from any other year, he said.
"I always have high expectations for the senior class," Taulman said. "They always set the tone for the school. They define what kind of year it's going to be."
The Class of 2010 of 163 students dwarfs last year's graduating glass of 127. Taulman said the high school's overall enrollment had increased by 40 students.
Not every senior was disappointed it was the first day of school. Some took the opportunity to see the positives and how they could leave their marks on Steamboat Springs High School. One such student was Hanna Kurowski.
"I'm looking forward to being the upperclassman, and being a role model for all the kids," she said.
Tom Lotz took a more philosophical approach to starting the year. He said it was a time to reflect before he spends every other weekend during the first quarter of the year traveling to different colleges across the country.
"Finally, we can look back at our high school experience, look back over high school and embrace everything," Lotz said.
And there also was a somber tone to the day. "It's kind of sad because it's the last first day of high school," Swoyer said.