On TV18
Tune in to "Steamboat Today" from 7 to 9 a.m. today on Steamboat TV18 for a discussion with Catherine Carson about the reusable bag challenge.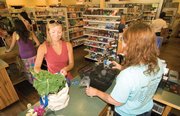 Steamboat Springs — Steamboat Springs is in the heat of a competition to slash the consumption of disposable shopping bags.
Steamboat ranks sixth among mountain towns, but Catherine Carson, of Yampa Valley Recycles, predicts a more respectable showing.
"I think we're probably really in fifth or fourth or third," she said, attributing the difference to reporting methods and timing.
The Colorado Association of Ski Towns Reusable Bag Challenge started March 1 and runs through Sept. 1. Grocery stores are providing information about the number of customers who use reusable bags, and the results will be measured per capita, Carson said.
Basalt, Summit County, and the Granby, Winter Park and Fraser area are ranked first, second and third, respectively. Vail is fourth, and Aspen is fifth. The competing mountain towns have saved an estimated 2.4 million plastic bags, according to a news release.
The winning town will receive $5,000 from Alpine Bank to install a solar panel system at a public school.
"People living in the mountains, we recognize the paradise we live in, and protecting the environment is a priority," Carson said.
Steamboat has saved more than 105,000 bags, Carson said. She said she was pleased that mountain residents supported environmental causes.
"It shows the mountain towns are championing and pioneering reusing the reusables and keeping the plastic out of our rivers and out of our snow," Carson said.
Bamboo Market Health Foods, City Market, Healthy Solutions and Safeway are participating. Bamboo Market owner Anne Halloran said Americans need to retrain themselves to shop with reusable bags. Yampa Valley Recycles sells its bags for $1 each throughout town and at Bamboo and Healthy Solutions.
"I sell so many of those 99-cent reusable bags," Halloran said. "And I will kind of tally in my head, 'OK, I bought 200 of them last month. They're all gone, and I would say maybe one out of 10 people bring their bags in here, so we need to get a higher compliance rate of people doing it.'"
She is seeing more people using reusable shopping bags and has heard children remind their parents to use the nondisposable bags.
Bamboo Market cashiers sometimes encourage people to return to their cars to grab forgotten bags.
Plastic and paper bags carry a high environmental cost, Carson said.
As many as 1 million seabirds and 100,000 marine mammals die each year from eating or becoming tangled in plastic debris, according to a release from the ski town group. Disposable bag production emits millions of tons of carbon dioxide equivalent each year, the release stated. The process also requires fossil fuels.
"Each plastic shopping bag requires 0.005 gallons of oil to produce," the release stated. "At a consumption rate of 100 billion per year, the United States uses 12 million barrels of oil each year to sustain its plastic bag habit."
Also, there are two "floating islands" of debris in the Pacific Ocean that when combined are larger than the United States, according to the release.
The cost of disposable bags also hits consumers, Carson said. Grocers incorporate the cost of bags into food prices.
"These economic times, if the whole country would quit using them, we'd save a lot of money where the end cost goes back to our groceries," she said.