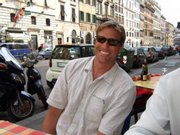 Steamboat Springs — The Port Chester, N.Y., Police Department has concluded its investigation into the death of Steamboat Springs resident and restaurant owner Chris Corna, concurring with an earlier ruling of suicide.
"Investigators performed a careful and exhaustive review of available evidence and based on the evidence and witness accounts of the incident we are comfortable the investigation can be concluded," a news release states. "Our finding concurs with the initial ruling of the Westchester County Medical Examiner's Office that this death was the result of a suicide. Our thoughts and prayers are with the family and friends of Mr. Corna."
Corna, 45, died May 18 in Port Chester. He was driving a rented car that crossed the centerline on U.S. Highway 1 and crashed into the foundation of a railroad bridge. He also had a knife wound to his neck. Shortly after Corna's death, the Westchester County Medical Examiner's Office ruled the death a suicide, but officials would not say what specifically led them to that conclusion.
The results of a toxicology report on Corna, who owned Slopeside Grill in Steamboat, revealed he had a tranquilizer known as sertraline in his system when he died. Sertraline is used in medications to treat anxiety and depression, such as Zoloft. Westchester County Medical Examiner Millard Hyland said there was an expected level of sertraline in Corna's system for someone who uses such medications regularly. There were no traces of alcohol in Corna's blood.