Document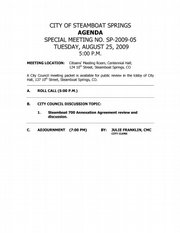 If you go
What: Steamboat Springs City Council meeting
When: 5 p.m. today
Where: Centennial Hall, 124 10th St.
Call: City offices at 879-2060 for more information; call 871-7070 to listen live to City Council meetings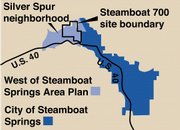 Steamboat 700 timeline
- Today
Steamboat Springs City Council meeting; introduction and discussion of draft annexation agreement
- Wednesday
Negotiating team meeting; discussion of direction from City Council, next steps and revisions
- Thursday
Steamboat Springs Planning Commission meeting; work session to review revised draft of traditional neighborhood design guidelines
- Aug. 31
Joint meeting of City Council and the Routt County Board of Commissioners; work session to discuss annexation issues including funding of U.S. Highway 40 improvements
- Sept. 8
City Council meeting; review of fiscal impacts for capital improvements
- Sept. 9
Open house; city and Steamboat 700 officials available to provide information and answer questions
- Sept. 10
Planning Commission meeting; annexation review and traditional neighborhood design amendments
- Sept. 17
Planning Commission meeting; annexation review and traditional neighborhood design amendments
- Sept. 29
City Council meeting; initial review of annexation plat, annexation agreement and traditional neighborhood design ordinance
- Oct. 13
Final consideration of annexation plat, annexation agreement and traditional neighborhood design ordinance
Steamboat Springs — The Steamboat Springs City Council will discuss for the first time today the document that could govern growth in a large section of western Steamboat for the next two decades.
Council members are scheduled to discuss and comment on the latest draft of an annexation agreement with Steamboat 700, the proposed master-planned community of about 500 acres that is seeking annexation. The agreement is the only item on the agenda for tonight's meeting.
The agreement would create a new zoning designation for new urbanism development, vest Steamboat 700's development rights for as long as 20 years, and provide for new west-side capital facilities such as a fire station, a community center, parks, trails and improvements to U.S. Highway 40.
"The whole agenda item is to do a review of the latest draft of the annexation agreement," Deputy City Manager Wendy DuBord said.
City Council will take public comment on the agreement tonight, and a final draft will be prepared based on council members' feedback. A final vote on whether to annex the development that proposes about 2,000 homes is scheduled for Oct. 13.
Steamboat 700 Principal and Project Manager Danny Mulcahy said he needs the agreement to be airtight to protect the development rights being granted.
"I need the annexation agreement to be as strong as possible because city officials are going to turn over," Mulcahy said.
Highlights of the draft annexation agreement include:
- Metro districts will be created and used to tax the development and help finance Steamboat 700's responsibility for public improvements.
- A new development review procedure known as "large tract subdivision" will be created and will allow Steamboat 700 to sell "super lots" that can be developed by others.
- If Steamboat 700 exceeds 2,000 homes, additional public improvements will be required.
- The project's community housing plan requires the dedication of 12.5 acres to the city and the institution of a 0.5 percent real estate transfer tax within the development to provide land and money for affordable housing projects.
- Future developers in western Steamboat would be required to reimburse Steamboat 700 for the cost of public improvements that also would benefit other properties.
- Steamboat 700 will pay the city $960,000 during two years for legal and engineering work to firm up some of the city's existing water rights.
- Development rights will be vested for 10 years after annexation and an additional 10 years after Steamboat 700 conveys to the city 25 percent of the land required by the community housing plan.
While council members will be providing feedback on the annexation agreement in its entirety today, some provisions of it remain very much in flux. The most significant exhibit of the agreement, the capital facilities phasing plan, still is under negotiation and will be the subject of a Sept. 9 City Council meeting.
"They're finalizing basically the trigger points for when things need to be built," interim Finance Director Bob Litzau said.
Mulcahy said the timing of capital improvements will have a substantial impact on the ultimate affordability of housing within the development.
A new zoning designation for Steamboat 700, traditional neighborhood design, also continues to be reviewed. The city Planning Commission will discuss the latest iteration of the traditional neighborhood design guidelines on Thursday.
Also known as new urbanism, traditional neighborhood design is a response to suburban sprawl and prescribes neighborhoods that are dense, pedestrian-friendly and similar-looking to Old Town. They usually contain commercial districts, parks and other features that reduce the need for off-site automobile trips. Front porches and garages on alleys are hallmarks of new urbanism.