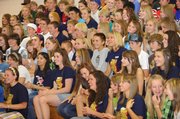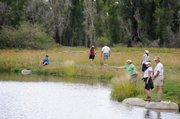 At a glance
- School start dates
Steamboat Springs School District: Monday (Kindergarten starts Tuesday)
Colorado Mountain College's Alpine Campus: Monday
South Routt School District: Tuesday
Christian Heritage School: Wednesday
Lowell Whiteman School: Aug. 31
North Routt Charter School: Aug. 31
Hayden School District: Sept. 8
- Steamboat schools start and end times
Soda Creek Elementary: 8:15 a.m. to 3:05 p.m.
Strawberry Park Elementary School: 8:25 a.m. to 3:15 p.m. (half-day kindergarten ends at 11:15 a.m.)
Steamboat Springs Middle School: 8:20 a.m. to 3:20 p.m.
Steamboat Springs High School: 8:20 a.m. to 3:35 p.m.
- Last-minute reminders
Steamboat Springs School District Transportation Director Ed Dingledine reminds motorists to be aware of school buses returning to local roads Monday. Vehicles are required by law to stop when a bus' stop sign is extended. Children should be at their bus stop at least three minutes before the bus is scheduled to arrive, Dingledine said.
Steamboat Springs — It's already here.
The Steamboat Springs School District's 2009-10 academic year begins Monday. Students, teachers and even parents spent last week preparing for the start of school, but each group went about their last-minute preparation in different ways.
Orientation was held for all students last week. Teachers, administrators and staff also were in school, attending meetings, setting up their classrooms and preparing for the students' arrival. And some parents were getting ready to have empty homes.
The next step
Five-year-old Avalon Thunstrom didn't hesitae to reveal what she looks forward to most during her first year of school at Strawberry Park Elementary School.
"Making a robot," Avalon said Thursday.
Each school year represents a move to a new school for kindergartners - many of whom haven't attended school in the past - sixth-graders and high school freshmen. All four Steamboat schools held orientation last week for their newest groups of students.
Kindergartners and their parents attended orientation at Soda Creek Elementary School on Tuesday. Strawberry Park Elementary School's orientation, open house and ice cream social was Thursday. Also Thursday, freshmen at Steamboat Springs High School were led in a number of orientation activities by Link Crew, a team of junior and senior leaders at the school. Steamboat Springs Middle School's annual sixth-grade Locker Party was Friday.
Margi Briggs-Casson, counselor at the middle school, said the move to sixth grade can be stressful for kids. The move from elementary school to middle school means having lockers for the first time, and many sixth-graders say their biggest fear is not being able to open their new lockers - and looking foolish to older students if they can't.
"When we found out something tangible and concrete was their biggest worry, we came up with a way to alleviate that," Briggs-Casson said about the Locker Party, which began six years ago.
Principal Tim Bishop said a group of about 60 seventh- and eighth-graders were there to help out the sixth-graders. He said the event also gave students a chance to put their school supplies in their lockers, making Monday's first day that much easier. And, Bishop added, it gave parents a chance to share the experience with their children.
The voluntary Locker Party has grown in popularity throughout the years. Only about half the sixth-graders attended the first year, and Bishop estimated that 90 percent of sixth-graders went this year.
Opening lockers is nothing new to the high school's new freshmen class. The group spent Thursday afternoon at orientation, led by the 65 members of Link Crew.
Principal Kevin Taulman said the purpose of orientation was to get students comfortable with the school.
"They're going from being the top of the school to being the newbies," he said about the middle school to high school transition.
Link Crew Commissioner Lindsey Yost, a senior, said the purpose of orientation - which also included get-to-know-you games and activities in addition to a school tour - was to give freshmen an idea of what to expect in high school and to provide helpful hints and ideas about how to thrive.
"It gives guidance and help from people other than parents and teachers," said Lucianne Myhre, the school's leadership teacher, who also leads the Link Crew program.
Freshman Jessie Wallace said Thursday's orientation made her more comfortable for Monday's first day of classes.
"I think it's been pretty useful because we're getting to know some of the leaders around school and upperclassmen," she said.
Taking a break
Middle school teachers took some time Wednesday from back-to-school meetings and setting up their classrooms by participating in Everything Outdoor Steamboat activities.
About 45 teachers were scattered across the Yampa Valley, hiking, kayaking, mountain biking, rock climbing and fly fishing - some of the activities available to students through EOS, a five-year-old program designed to connect kids with the outdoors.
Wednesday's teacher activity allowed faculty members, particularly those who haven't previously participated in EOS activities, a chance to see what the program is about, said Matt Tredway, the middle school teacher who leads the program and organized the day's activities.
Tredway said the activities provide an opportunity for team building and fun and that it also gets teachers out of their comfort zones.
Heidi Chapman-Hoy, a sixth-grade language arts and social studies teacher, spent the day fly fishing with 10 other teachers.
"A lot of us encourage kids to do it, but a lot of us have never done the program," she said. "This is a way for us to see what goes on outside the classroom doors because there's a lot of learning going on there."
Sarah Beurskens, a seventh-grade world history and language arts teacher, said it was a great opportunity for her to try fly fishing, something she's always wanted to do. And there was another benefit, Beurskens said.
"I think it's so healthy for our staff to get together like this away from (school) and just have fun with each other," she said. "Stuff like this makes us - a good staff already - better."
Having been fly fishing 10 years ago, Robyn Albertini, a sixth-grade special education teacher, caught a brown and rainbow trout by the end of the afternoon. Albertini said she decided to participate in the EOS events because it sounded like fun.
"I think it's good to be reminded again what it's like to be a student going into a new school year," she said. "How it's frustrating or exciting to try something new, which I think is the point of the whole thing."
Letting go
For some parents, the first week of school will signal a new step in their family life. School for kindergartners at Steamboat schools begins Tuesday.
Rich Hager joked that his wife, Kristin, was starting to experience "empty nest syndrome" with their daughters, Annie, who will be a kindergartner, and Elizabeth, who will attend preschool four days a week.
"I'm psyched to see her spread her wings," Kristin Hager said about Annie. "It's a milestone."
Courtnay Thunstrom said she was excited for her daughter, Avalon, to begin school because it would open up new experiences for her.
"She has an older sister, so she's wanted to go to school for three years now," Thunstrom said. "She's had to wait."
Thunstrom, who's older daughter is a fourth-grader at Strawberry Park, said she wasn't apprehensive or sad to see Avalon start kindergarten. It wasn't a sentiment shared by all parents last Thursday.
When Libby Creamer sends her daughter, Carina, to kindergarten Tuesday, it will be her third child to take that step. The experience is nothing new to Creamer, but she said it's "still really hard" to let go.
"I was reading through this, and I got teary," Creamer said about the welcome letter given to parents by Carina's teacher. "She's my last. I think that's what is so hard."