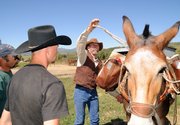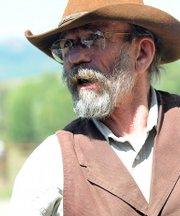 Elk seasons
- Unlimited archery season
Aug. 29 to Sept. 27
- Muzzle-loading season
Sept. 12 to 20
- Rifle seasons
1st season, Oct. 10 to 14
2nd second, Oct. 17 to 25
3rd season, Oct. 31 to Nov. 6
4th Season, Nov. 11 to 15
Elk license fees
- Limited licenses
Resident, $49
Non-resident, $549
Non-resident, Cow, $254
Youth resident, $13.75
Youth non-resident, $103.75
- Unlimited licenses
Resident, $46
Non-resident, $546
Non-resident cow, $251
Youth, $10.75
Youth non-resident, $100.75
The aspen leaves are still green, and people - at least a few of them - are still floating the Yampa River.
But for hunters, the seasons are quickly changing.
The first deer and elk seasons begin Saturday, with the monthlong archery season kicking off the sporadic, nearly three-month-long hunting season.
"We're getting really excited," Big Rack Outfitters guide and owner Eric Hamilton said. "About the middle of August we know it's close, and I get pumped up every year."
Much of the summer activity in and around Steamboat Springs dies down as September comes, but area outfitting ranches have been a flurry of activity.
There are a million things to do, local guides said, and only one more week in which to do them.
Packing up
For Perk Heid, the last weeks of August are about planning and preparing, and always being available for the other activities at Del's Triangle 3 Ranch, which he runs with his father, Ray Heid.
"We go right from horseback riding trips into hunting," Perk Heid said Friday morning as he prepared to saddle up Jerry, one of the ranch's pack mules.
When he's not hoisting tourists from New Jersey onto the ranch's horses, he's plotting what to haul to the full-service and drop camps Triangle 3 will offer its clients.
"We have one done, three to go," he said. "We take well tents and wood-burning stoves, mattresses and a full kitchen with a table and chairs. We haul basically everything you'd need to go camping."
Russ Lambert, at Steamboat Lake Outfitters, isn't quite to the packing part yet. First, he wanted to remind his guides exactly how to load up the company's mule team.
Bob Shellum worked last hunting season packing mules for SLO. He left for a job packing in Rocky Mountain National Park for the U.S. Forest Service, but he returned Friday to offer the outfitters' guides a few tips.
Next week, SLO's guides will lead the six-mule train into the North Routt forest to set up camps ahead of the surge of hunters.
"The guys are getting excited, getting their gear together and walking around the woods to get ready," Lambert said.
Building up
Preparing the season isn't all about saddling up a mule.
Hamilton said he's spent the past several weeks wrapping up summer chores, putting away hay for the winter and cleaning up the bunkhouses available to his hunters. At least that's what he's tried to do between flurries of phone calls from eager and, at times, naÃive customers.
"I try to tell the guys to do a lot of walking and get a lot of exercise so they're not miserable once they get out here," he said. "Elevation can be pretty hard on people, and the only way anyone can prepare is to get in the best shape possible where they're at."
Lambert also has invested a good portion of his summer preparing his far-flung clients for a week in the woods.
"I grill them on the phone and tell them what they have to do to be prepared," he said. "I talk to them all the way through to prepare them mentally and physically and make sure they have the right gear. What we don't like to see is someone showing up like page 287 of the Cabela's catalog. They probably won't have their boots broken in or have the right rain gear or their bow set up.
"It's hunting, not killing, and it's well worth it if you do it in the right frame of mind and get into good physical condition."
Putting up
An inexperienced or out-of-shape hunter can ruin a trip, but that likely won't be a problem Saturday or much at all during the season's first month.
A trip into the Colorado wilderness to bag a bull is never like a trip to Disneyland. That's even truer for the 30-day archery window that will open the elk season.
"The archery hunters are usually a more serious type of hunter," Hamilton said. "It's a huge challenge, so a lot of guys looking for a challenge will train all summer, get in shape, and this is their one big week for it."
Although a trophy may be had from 300 yards away during October and November's rifle seasons, hunters typically have to get within 50 yards to have a chance to bring down an elk with a bow and arrow.
"Archery hunting is the time of year you can get the closest to the animals and get them in their natural environment," Perk Heid said. "None of the animals are spooked yet, and they're not afraid of humans."
Heid, Hamilton and Lambert said early indications are that there will be plenty of game available to sneak up on.
The industry took a hit two years ago with a slow, warm season, then suffered last year after the tremendous snow from the winter of 2007-08 stunted the fall hunt.
This year, they said the elk are back in their old haunts, spots that were barren this time a year ago.
"With a cool, wet summer and a lot of grass, I have a feeling we'll have a really good season," Heid said. "The herds are looking great right now.
"That first month, it's a pretty special time. The leaves turn, and we get a little cold snap. The rut kicks in, and that's about as good as it gets. I'm getting pretty excited."