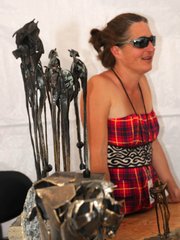 All Arts Festival schedule
- Today
10 a.m. to 3 p.m. Yampa River Art Stroll on Yampa Street between Fifth and Seventh streets; $5 for a weekend pass
10 a.m. to noon. "Getting Your Act Together" with Michael Brumbaugh at the library; $20
Noon to 2 p.m. Beginner plein air painting with Susan Gill Jackson at Artists' Gallery; $15
3 p.m. Emerald City Opera performance at Bud Werner Memorial Library; $20; featuring artists from the opera's main stage company and student company, performing "The Telephone," a comic, English-language, one-act opera, and excerpts from Gaetano Donizetti's comic opera "The Elixir of Love," also performed in English
5 p.m. Steamboat Springs Arts Council block party at the Depot Art Center; FREE; featuring free food from Steamboat Smokehouse, a cash bar, an exhibit of train memorabilia and live music by local youth orchestras and Steamboat Swings big band
What to know about the inaugural Steamboat All Arts Festival:
- The Steamboat All Arts Festival is a four-day event ending today that highlights local talent in the visual, performing, literary, film and culinary arts while presenting national performing acts. The Steamboat Springs Chamber Resort Association is sponsoring the event.
- The Yampa River Art Stroll, a fine-art sale and showcase, serves as festival headquarters. Yampa Street between Fifth and Seventh streets will be closed until 8 p.m. today. The Art Stroll features artists in a variety of mediums, live entertainment and a beer and wine garden.
- Volunteers from the local arts community will lead free, two-hour guided tours of downtown art venues. The tours meet at the Yampa River Art Stroll information tent every two hours starting at 11 a.m., and refreshments are provided. Participating venues are Artists' Gallery of Steamboat, Colorado Group Realty, Comb Goddess salon, the Depot Art Center, Dovetail Designs, East West Frame Shop, Gallery 11, High Mountain Sotheby's International Realty, Howelsen Place Gallery, K. Saari Gallery, the Mac Ranch, Jim Steinberg Photography, Sleeping Giant Gallery, Steamboat Art Museum, The Spa/Salon, Urbane clothing store and Wild Horse Gallery.
- Tickets for All Arts Festival events are available at the Chamber's Visitor Center at 125 Anglers Drive and at www.steamboatalla.... The Chamber is looking for volunteers to assist with events today; contact Marion Ayer at 875-7008 or marion@steamboatc... for more information.
Steamboat Springs — Steve and Nancy Arthur are just the type of guests the All Arts Festival was meant to attract.
Nancy Arthur showed her artwork in Steamboat Springs 30 years ago. The couple lives in Rangely and read about the inaugural festival in The Denver Post. The Arthurs drove in for the weekend to celebrate their 50th wedding anniversary by perusing fine-art booths and taking in entertainment at the Art Stroll on Yampa Street.
"So far, it's nice," Steve Arthur said early Saturday afternoon. "She's about to walk me to death. We went to all of the museums."
The Steamboat Springs Chamber Resort Association hoped the festival would draw out-of-town visitors with an appreciation for and a desire to buy high-end art. Saturday's stroll included cooking and dancing demonstrations, as well as food and art vendors. The All Arts Festival also offered workshops and musical performances.
Sandy Evans Hall, the Chamber's executive vice president, said most workshops were drawing 15 to 20 participants. About 300 people came to the stroll Friday, said Kara Givnish, special events and sponsorship coordinator for the Chamber.
Saturday was expected to be busier.
"Today it's great to have all the entertainment going on, and downtown is abuzz with the farmers market and us," Givnish said. "Lots of smiles on people's faces."
Bill Hamil, proprietor of Steamboat Meat & Seafood Co., showed off the art of filleting a fish. He worked on salmon, halibut and sturgeon before moving to oysters. The crowd grew as Hamil's knife flashed.
"Next, I'm just going to shuck a couple oysters and show you how to do it without putting a knife or screwdriver through your hand," he said.
Hamil wedged an oyster knife into the shell, keeping a towel over the top to protect his hand, and popped up the oyster, slicing the muscle to release the meat. The crowd edged closer, snagging tastes of salmon and sampling the blue point oysters.
Jerry Scavezze brought his goldsmith skills to the festival. He won third place in a competition among artists. Scavezze said he had a gallery in Steamboat 20 years ago but hadn't done shows in town for a while. Scavezze now lives in Salida.
"I was invited to this one," he said. "This seems to be the right venue."
Scavezze said he sold a couple of pieces of jewelry Friday but hadn't sold any Saturday as of about 1 p.m.
"The town mushrooms on the weekend, not Friday afternoon," Scavezze said. "I'm expecting a better turnout today now that there's music and food. It's high-energy."
Andy Marquez took second place in the art contest. The Denver-based photographer has come to Steamboat for Art in the Park since 1986, missing only two years.
He had another show booked in Denver but canceled it when the call came about the All Arts Festival. Marquez said he fell in love with Steamboat and enjoys supporting its arts scene.
"Sales aren't great at the moment, but it's still early in the show," he said Saturday afternoon. "We still have the rest of today and tomorrow."
Down the row of booths, near an entrance, the first-place winner stood beneath a shade umbrella. Teresa Hansen, of Loveland, was selling limited-edition bronze sculptures that she and her son Jason Dreweck made. Hansen has sculpted for nearly 30 years, and Dreweck joined her a couple of years ago.
One of the sculptures featured Jason and his brother, Jeremy, as they snowboarded down a huge curve. That was Jason Dreweck's idea, Hansen said. The pair received a call requesting their presence at the All Arts Festival. Hansen said she recently married someone who has a condominium in Steamboat, so she decided to come.
"It was just an ideal time to come here and do the show," she said.
Hansen said she wasn't sure how her sculptures would move.
"We'll see by tomorrow," Hansen said. "It all depends. There's a lot of interest."