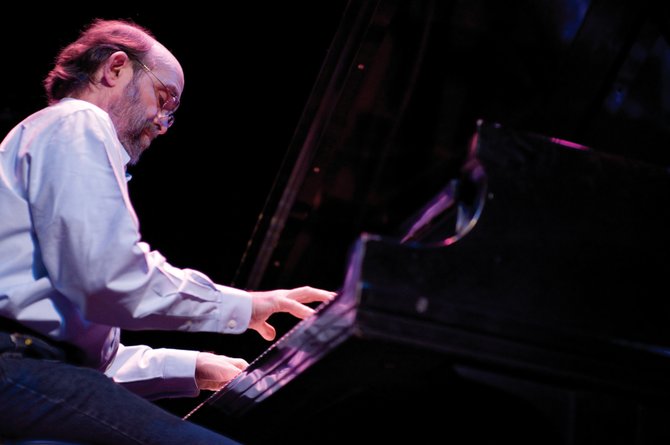 Pianist draws on surroundings, New Orleans R&B for set
Audio clip
"Fragrant Fields" by George Winston
If you go
What: George Winston, solo piano, last concert of the summer 2009 season for Strings Music Festival
When: 8 p.m. today
Where: Strings Music Pavilion, at Pine Grove and Mount Werner roads
Cost: $32; tickets were limited as of press time
Call: 879-5056
When George Winston plays piano, he's doing so with time and place in mind.
For more than 30 years, Winston has channeled the seasons and where he is in the world to create atmospheric folk compositions. During that time, he's added classic rock, 1920s and '30s stride tunes, and New Orleans R&B into the mix.
Winston plays a solo concert at 8 p.m. today at the Strings Music Pavilion. Tickets are $32, and seating was limited at press time. The show is the last of the summer 2009 Strings Music Festival season and part of the inaugural Steamboat All Arts Festival.
Winston relies on settings for his original compositions, he said in a recent phone interview. His most recent album - a benefit for Hurricane Katrina victims called "Gulf Coast Blues & Impressions" - is based on three decades of performing the music of New Orleans pianists such as Roy "Professor Longhair" Byrd.
"That was triggered by an event rather than a season, which is unusual, but whatever it is, it is; whatever comes to me is what I do," Winston said.
Winston's program for Strings likely will include songs from "Gulf Coast Blues & Impressions," along with selected New Orleans R&B piano songs, tracks from Winston's early recordings, melodic folk songs, stride piano tunes and some compositions by jazz pianist Vince Guaraldi, Winston said.
LIFT-UP Food Bank will be accepting donations of non-perishable food at the concert entrance. Winston contributed concert proceeds to charity organizations since 1986, he said. The pianist spoke with the Steamboat Pilot & Today about his varied playing styles and where he finds inspiration:
STEAMBOAT PILOT & TODAY: You mentioned several different styles of music that might be on today's program. How do all those styles work together?
GEORGE WINSTON: They all kind of complement each other. The folk piano stuff is more or less ballads, and the stride New Orleans R&B is up-tempo, so they balance each other out. So that works for me to have a variety of different moods and things, and basically those three styles if I like a tune or put together a tune, it's in one of those three. So it works to have those different options.
SP&T: Why do the seasons play a role in the music?
GW: Just growing up in Montana, the seasons were so distinct from each other, like they are in Colorado. : And that just framed the way I think of everything, just growing up that way, that's how I think of things. : It's kind of like growing up speaking English; it's just natural to think of life in terms of that and music in terms of that.