Glossary of terms
Building-use tax: A building-use tax is charged on all building materials used in construction within Steamboat Springs city limits. The amount of the use tax dedicated to capital improvements is 4 percent of the estimated materials used. The revenue from this source is highly variable because it is based on construction activity. The revenue source also has a reasonable nexus for new infrastructure requirements and for those reasons it is dedicated to capital improvements. Before 2003, the building-use tax was accounted for in the city's general fund.
Source: City of Steamboat Springs
Excise tax: The excise tax was passed by voters in November 2002 to replace the city's impact fee structure. The tax rate is 1.2 percent of the stated building permit valuation. The tax is specifically dedicated to capital improvements.
Source: City of Steamboat Springs
Capital Improvement Plan: The fund used by the city for large, one-time expenditures.
Affordable Housing: Affordable housing refers to government's efforts to provide and maintain housing for people who make less than average. Requirements between programs and housing units differ widely.
Linkage: Linkage is a fee the government imposes on developers to mitigate the impact of housing needs created by new developments. Developers may pay the linkage by paying the fee or creating affordable housing units.
RALF: Regional Affordable Living Foundation, a group formed to create affordable housing units. RALF was succeeded by the Yampa Valley Housing Authority.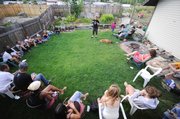 Photo Gallery
House of Cards Part 4: New game, new odds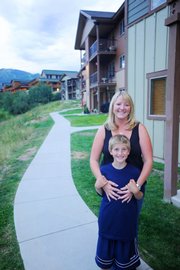 Steamboat Springs — The plot in West End Village purchased by Tara and Buck Chavarria gave rise to more than a house.
After the final roofing tiles were nailed on, the house became a hub of activity for a growing family and a growing church, often with as many as 50 Sk8 Church teens packed into the basement for weekly meetings and, occasionally, for a safe place to stay the night.
As real estate values skyrocketed in Steamboat Springs, making it increasingly difficult for many middle-class families to purchase their own homes here, the Chavarrias were among those working-class residents who achieved home ownership through affordable housing programs.
The demand for such programs - and local government interest in encouraging or even mandating them - increased along with the run-up in Routt County's real estate market throughout much of the decade.
It wasn't the only thing that increased for local governments.
Flush with cash during the economic boom, the city of Steamboat Springs and other government entities spent that money accordingly, taking on expensive capital projects and growing their payrolls to meet increasing demands for services.
But that all changed when the national and local economies crashed.
Tightened lending practices and decreasing home prices have made affordable, deed-restricted homes in Steamboat less desirable. And declining tax revenues have forced local governments to cut back on capital projects, as well as employee pay, hours and, in some cases, jobs.
A deed-restricted 'godsend'
The Chavarrias, now both 33, said that when they bought their home in 2004, it was a godsend.
"When we first looked, you could buy a single-family home for $250,000," Tara Chavarria said.
The couple owned a mobile home in Fish Creek Mobile Home Park, but even the most modest free-market, single-family homes were more than they could afford, particularly with four children.
"We prayed for a house. We prayed a lot," she said.
The Chavarrias were among the first to add their names to a waiting list with the Regional Affordable Living Foundation, or RALF, the precursor to today's Yampa Valley Housing Authority. More than 200 people had the same idea, and the Chavarrias drew number 158. There were 20 lots available, and the prospect of getting into their dream home seemed dim.
For two years, nothing happened. Then they got the call.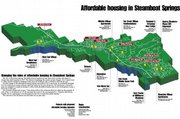 Other applicants ahead of them on the list had backed out or were not eligible, and of the 20 plots, one remained. The Chavarrias jumped at the opportunity, and after one year of construction, they had a 2,200-square-foot, four-bedroom, three-bathroom house to call their own. And it was accomplished by two busy parents on missionary salaries.
They avoided the creative and risky mortgage loan products that might have helped them purchase a free-market home - and might have landed them in trouble when the market tanked.
"We stayed pretty conservative in our finances and pretty traditional," Tara Chavarria said. "Had we tried to do a regular market-value home, we would have had to do creative financing and we would be in a bad spot."
The Chavarrias help troubled teens looking for a place to stay by giving them short-term, rent-free housing in the basement, and they are raising their children and two new foster children, ages 2 months and 10 months.
"We felt we were really blessed and we shared this with all of our family. We realized that our first house, being affordable housing, was more expensive and larger than any home that any family member has ever had," Buck Chavarria said.
The cost of the Chavarrias' home includes a deed restriction, an enforcement mechanism meant to ensure that a home stays affordable for buyers in specific income brackets. The deed restriction on the Chavarria's home, for example, stipulates that the house can be sold only to another qualified buyer certified by the Yampa Valley Housing Authority.
When the time comes to sell, Buck Chavarria is worried about being able to find a qualified buyer. It's a common concern among those who purchase deed-restricted homes.
"It does narrow down the market quite a bit," he said.
And that concern has been amplified in the current market. In many cases, deed-restricted homes are less of a bargain - and less desirable - as the prices of free-market homes have fallen.
Bob Litzau, the city of Steamboat Springs' interim finance director, said many homebuyers are willing to stretch themselves a little more if it means they can purchase a home without the burden of a deed restriction.
"Why pay $300,000 for deed-restricted when I can pay $320,000 for non-deed-restricted?" he asked.
Supply and demand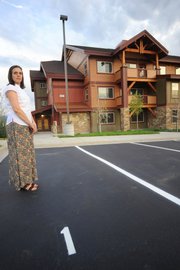 That's the issue that Michelle House, branch manager with Vectra Bank in Steamboat, encountered as she shopped for a home.
"I've probably been looking since April or May," she said.
She is under contract for a First Tracks unit at Wildhorse Meadows, a development on Mount Werner Road. Wildhorse developers Resort Ventures West designed First Tracks units to meet requirements of the city of Steamboat Springs' affordable housing program, which requires developers to build affordable housing as part of their development or pay money to the city in lieu of providing units.
Citing a lack of demand, Resort Ventures West successfully lobbied the city in May to remove deed restrictions from 39 First Track units. The units entered the free market in early August, with prices ranging from $179,000 to $470,000. House picked a "premier" unit with two bedrooms and two bathrooms on a top floor with views of Mount Werner.
"I call myself one of the fortunate ones," she said.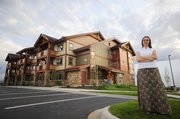 She said she has thus far committed $3,000 to the unit, but she's still waiting for a contract that details the down payment assistance promised by the city - and part of the deal with Resort Ventures West to remove the deed restrictions from the First Track units.
"It's turning from affordable housing into something else," House said. "Last August I thought I would already have moved into the First Tracks unit."
Because she thought the move to the First Tracks unit was imminent, House decided not to sign another year's lease at her previous apartment and instead moved into a room in a friend's home in Oak Creek. Her furniture remains in storage, where it's been since August 2008.
And now, the changes in the housing market have changed her definition of affordable.
"Stuff that wasn't affordable to me last year at this time - two bedrooms, one bath or two bedrooms, two baths - they're completely affordable," she said. "I'm a first-time homebuyer, so it's all a new experience to me."
She has renewed her search for smaller free-market condos and townhomes, but she said she's still excited about the potential of moving into First Tracks.
"I've been tempted to (find another place to live) and I've looked at other properties, but nothing is as appealing to me," she said. "I'm very proud of my unit."
Tough choices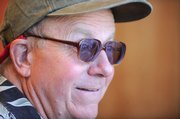 Scott Ford moved to Steamboat in 1992 and has worked with the Steamboat Springs Chamber Resort Association, Steamboat Springs School District and Colorado Mountain College's Small Business Resource Center. He said deed-restricted units changed the market by allowing home ownership but that that trend began to reverse when prices dropped.
"As a result of the deed restrictions, and they sound very, very good in theory, folks are going, 'I'd rather own a non-deed-restricted home than a deed-restricted home,'" he said. That leads homeowners to tough decisions about how far they are willing to travel to get the home they want.
"Would you be willing to commute to Hayden to have a non-deed-restricted home? It depends on what it has," Ford said.
Jennifer Ringer, a front office manager with AvantGarde Dental, lived in Steamboat for 11 years. After a divorce two years ago, she wasn't sure of her options.
She looked at a home in Hayden and other places, but after two years of searching and waiting on a lottery list, she found a new, 1,100-square-foot condo in the Fox Creek development, a Housing Authority project on Hilltop Parkway.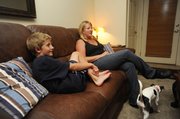 "My plan was to own something within five years of getting my divorce," she said. And although a free-market home in Hayden was attractive, she wanted to be near Steamboat for her 11-year-old son, Jack, and his after-school activities and sports. Homeownership provides stability for her and her son.
"With a son I didn't want to move every two years, because you never feel at home," she said.
The cost of living
The cost of housing in Routt County has long been an issue, but its significance grew with the explosion of the local real estate market. Steamboat's sense of community, considered one of its most attractive and unique characteristics, largely depends on the ability of working-class residents to not just earn their paychecks here, but also live here.
But addressing the affordability issue is controversial and challenging. RALF and the Housing Authority were created specifically to address affordable housing, but without dedicated sources of revenue, their success has been limited.
The revenue problem forced the Housing Authority to downsize to one staff member in December, and its ability to lead future affordable housing projects has been compromised.
Ford said Steamboat's quest for affordable housing morphed into affordable home ownership, further complicating the discussion.
"Typically, affordable housing is apartment living. The challenge that happens in our rental market is we don't have a lot of apartments," he said.
Ford said 25- to 45-year-olds make up about 39 percent of the population in Routt County, and they occupy 39 percent of housing stock.
"To me, that would (indicate) we don't have a home ownership problem," he said. "We have an affordable housing problem, but we don't have a home ownership problem."
That view isn't universally shared. Taking action against the perceived problem, a previous City Council adopted affordable housing ordinances in 2007 - at the height of the real estate market - that mandated developers build affordable units as part of their projects or pay the city a fee to be used for the creation of affordable housing.
First Tracks is one of the projects that has resulted from the ordinances. Other recent developments, including Howelsen Place and Alpen Glow in downtown Steamboat, also have built affordable units as part of their projects.
Many in the development community and others have criticized the ordinances for forcing the construction of deed-restricted units that are difficult to find qualified buyers for and that aren't necessarily desirable to the folks who do qualify.
A Work Force Housing Demand Analysis completed in fall 2008 shows the complexity of the issue. Among its findings, the study stated that the lack of affordable housing - be it rental or ownership - negatively impacts the community's ability to attract and retain a quality, well-rounded work force. At the time of the study, Steamboat's rental supply was determined to fall well short of the need. And the types of ownership units being created by the city's affordable housing policies weren't attractive to potential buyers, who expressed a desire for detached, single-family units, not one-bedroom condos in large complexes.
In the wake of heavy criticism from developers, the current City Council has taken noticeable steps to undo some of the provisions of the two-year-old affordable housing ordinances. The council first suspended the linkage ordinance, which required developers to create a number of affordable units in relation to how many jobs their projects would create in the community. Early this month, the council changed the formula used to determine how much money developers must contribute to affordable housing efforts. Under the old formula, developers were required to pay about $118,000 per unit. The new guidelines significantly decrease that contribution, which now ranges from $39,000 to $63,000 per unit.
Towny Anderson was a member of the City Council that adopted the original affordable housing ordinances. He said their effectiveness should not be judged on a year-to-year basis.
"Affordable housing, linkage and inclusionary zoning are designed to go up and down with the economy. In other words, if you see a downturn like we have now, you don't have any new affordable housing because you don't need it," he said.
The effect of the economy
The national recession and the state of the housing market isn't bad news for everyone. Housing Authority Director Mary Alice Page-Allen said the altered market has given the affordable housing program "some vacancies : that are very much needed."
Page-Allen said affordable housing prices also have depressed the price of homes in Steamboat by creating a "downward pressure on bedroom prices."
"You have people shopping for what I'll call - bargain isn't the right word - reasonable rent," she said. "Rents they can afford within what their earnings are."
She said the realignment created by the lowered home prices left buyers with a new view of the market overall.
"This whole meltdown has had a big impact on how people think about housing and what opportunities and options there are," she said.
Ford agreed that the demand for housing in Steamboat is unlikely to dry up.
"I would think that I don't know what the new normal is going to be, but we're not going to change this being a wonderful place to be," he said.
Government spending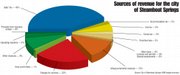 The decline in the housing market and, subsequently, the construction industry also has led directly to a reprioritization of projects for the city and Routt County. Because Steamboat is funded primarily through sales tax, the decline in home prices did not hit directly. Instead, as construction slowed, the funds pouring into the city's Capital Improvement Fund through building use and excise taxes dropped.
In past years, the fund has been flush. The city paid for the $3.6 million Steamboat Springs Community Center, the expansion of the Tennis Center at Steamboat Springs and other projects without borrowing credit.
"It allowed us to do a number of projects without having to borrow money," said Litzau, the city's interim finance director.
Litzau said the city initially planned to borrow $2 million of the $3.6 million community center cost, but the city was able to complete construction, even with overruns, on a cash-only basis.
Anderson, who was a City Council member during the time the community center was approved, acknowledged that the price of the project went far beyond what was initially agreed upon, but he said the alternative would have been to tie up the city in debt.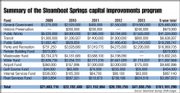 "You'd have to keep pumping in reserves to cover those payments," he said.
He said he was critical of the community center project and was the sole dissenting vote when the project passed in December 2006. He said the decision to pay for the project in cash came from staff recommendations.
Now that the money has slowed - building use tax reached a peak of an estimated $4.48 million in 2007 and dropped to an estimated $2 million in 2008 - the city is faced with hard choices. Routt County government is in a similar position.
A new Routt County Communications dispatch center is on the ropes, as is a new Steamboat Springs Public Safety Building. A new city hall, initially planned for 2011, probably will be cut entirely.
The 2009 budget "is all stuff that is really important to do," Litzau said. That includes $2 million the city must pledge to match state funds for a renovation of U.S. Highway 40 in downtown Steamboat. Litzau said the state won't wait, so if the city wants to piggyback on the construction plan, it must have the money ready.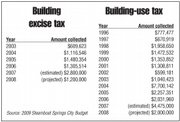 As he considered the money that was spent on projects before the crash, Litzau said he still thinks that was the right move to pay for the projects without incurring debt. If the city had instead decided to borrow money and keep the cash in reserves, it would have been forced to pay interest on the projects as they were completed.
"I don't know that anybody could have done anything without a crystal ball. I think the city responded timely and appropriately at this point," he said.
The city overall is in "really good shape compared to other cities," Litzau said, especially because construction-related tax revenues don't go to the general fund. By using the money for one-time projects, the city spent without going into debt, but also without saving significant amounts for the future.
"I think all in all, we're not rolling in dough, but at least we're not closing our doors next week," he said.
Instead, the city will push back projects on a yearly basis as it updates the budget.
What lies ahead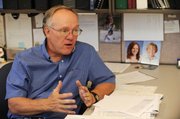 In May, the most recent month available, the city pulled in $76,443 in building-use tax, compared with $259,277 in May 2008. Year to date, building-use tax revenue is down more than 38 percent.
Litzau said all the projects budgeted for this year and beyond are vulnerable to cuts.
That includes $16 million slated for the new public safety building, $3.75 million for an airport sports complex, $6.37 million for an expansion of Howelsen Ice Arena and $1.5 million for a Fish Creek Falls Road underpass.
"Because of the lack of construction this year, a lot of them are probably going to get pushed out further," he said.
In Routt County, however, construction-related revenues went directly into the general fund. Routt County Finance Director Dan Strnad said more than half of the money in the general fund goes toward salaries, so it should come as no surprise that the county has been laying off staff and using furloughs to survive the economic downturn.
"Right now, given the budget cuts we've done with the 10 percent wages and the (hiring) freezes and the overtime and the layoffs, we're still looking at 20 to 21 (percent decrease)," he said. "We don't know what's going to happen out there with the economy. Is it going to come back like the dot-com bubble and 9/11 thing where it came back relatively quickly?
"This recession feels a lot more significant than that recession did, let's put it that way."