Election 2009
Visit
www.steamboatpilot.com/election2009
for complete coverage of this year's races and issues.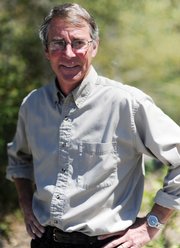 Steamboat Springs — The second of two former Steamboat Springs City Council members has confirmed his candidacy for the 2009 election.
Jim Engelken served on the council from 1995 to 2001. He's decided to vie for another tour of duty because he thinks current council members are putting development interests ahead of those of the community. His primary concerns are related to the Steamboat 700 project seeking annexation.
"I've decided to run for City Council," said Engelken, 51, who has been considering running for a couple of weeks. "I was hesitant because I think anyone who runs saying this City Council has put the interests of the developers ahead of the interests of the community will face heavy opposition from the combined weight of the entire development community. But somebody's got to stand up and say it because it's true."
Engelken, a 30-year employee of Steamboat's Safeway grocery store, cited several decisions that he thinks are examples of a pro-development sentiment. Among them are changes approved by City Council to allowable height and other dimensional standards at the base of Steamboat Ski Area. The changes included an increase in the maximum allowable height from 67 feet to 105 feet.
"To me, the biggest danger facing the city right now is the fact that City Council is about to sign an annexation agreement that commits the city to a funding source for Steamboat 700 known as a voluntary real estate transfer fee," Engelken said. "The problem is, it's voluntary only for the developers. To the people who actually have to pay this, it's going to look and feel like a tax."
Steamboat 700 is a proposed master-planned community of about 2,000 homes west of city limits. The developers and city plan to use a real estate transfer tax to defray some of the development's costs and provide money for infrastructure and affordable housing. Engelken doesn't buy the argument that such taxes - otherwise illegal in Colorado - are permissible if negotiated as part of an annexation.
"There is at least a reasonable chance that it could be overturned. And if it is, the city : will be left holding a huge bill," Engelken said. "For the City Council to gamble on this funding source, I think is just flat-out irresponsible, and they're doing it solely for the benefit of the developer."
A final vote about whether to annex Steamboat 700 is scheduled for fall, before the election. Engelken said if that occurs, he hopes a referendum election will void the annexation and that a new council can renegotiate it. He thinks the project is being rushed and that several questions remain unanswered. He also rejected claims that the city's West of Steamboat Springs Area Plan is a declaration that the community wants to see growth in that area.
"That's like saying the Forest Service prepares planning documents because they want forest fires," Engelken said. "We assumed growth was coming, and we thought we ought to plan for it. Nothing more."
Engelken is running for council's two-year, at-large seat. He likely will face local landscaper Kyle Pietras, who could not be reached for comment Thursday.
Pietras said he would run for the at-large seat or the four-year District 1 seat being vacated by term-limited Councilman Steve Ivancie. Pietras said he supports the current council, however, and doesn't want to run against President Pro-tem Cari Hermacinski. Hermacinski holds the at-large seat but has announced she will run for the District 1 seat. Former City Council President Kevin Bennett also is running for that seat.
Four of seven City Council seats are up for election this year. Other candidates who have confirmed their candidacy include incumbent Councilman Walter Magill, who holds a District 3 seat representing southern Steamboat; and local businessman Kenny Reisman, who said he would run for the four-year, District 2 seat representing the mountain area. City Council President Loui Antonucci is term-limited and vacating that seat.
Nomination petitions are available at the City Clerk's Office in City Hall on 10th Street. The last day to collect signatures and file a petition is Monday.