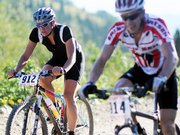 Results
Men
1. Barkley Robinson, 58:48
2. Brad Bingham, 1:02:46
3. Peter Kalmes, 1:04:50
Women
1. Kelly Boniface, 1:15:16
2. Katie Lindquist, 1:18:40
3. Amy Smith, 1:18:42
Steamboat Springs — Barkley Robinson and Kelly Boniface won the most competitive divisions, but every racer who surmounted the long, winding, agonizing trail in the Buffalo Pass Hill Climb Town Challenge mountain bike race Wednesday wore the grin of victory.
The course rose 3,600 vertical feet during 11 miles, a difference so great the temperature dropped by nearly 25 degrees from start to finish.
All who successfully made the haul were thrilled.
"You just have to keep believing there's just another hill and another turn before you get there," Brian Small said. "You're hating life by the time you get up here, but it feels good."
For Boniface, the victory was yet another in what has been an almost perfect Town Challenge season. She won the women's pro division in 1 hour, 15 minutes and 16 seconds, ahead of Katie Lindquist in second and Amy Smith in third.
For Robinson, meanwhile, the victory was extra sweet. He's a regular atop the Town Challenge podium but was knocked from that throne for the past three events by friendly rival Brad Bingham.
Robinson and Bingham broke away from the large pack of riders early, and Bingham hung tight on Robinson's back wheel through the first several miles. Robinson finally gained some separation about a third of the way up, however.
"I was able to pull away at about Dry Lake, and I rode with a good hard pace the whole way," Robinson said.
He finished in 58:48, a personal best. Bingham reached the top at 1:02:46, and Peter Kalmes was third in 1:04:50.
"This is one of the toughest races. It's a grind," Robinson said. "It's a full hour of climbing."
For many, it took considerably longer than an hour. Nearly 100 riders assaulted the rutted road, pedaling through thick clouds of dust kicked up by passing sport utility vehicles and dirt bikes.
They gritted their teeth and bowed their heads as they drove ever upward as the sun dipped behind the mountains and the temperature plummeted.
"You get used to it," Kalmes said about the pain. "Your legs burn the whole way."
Riders often congregate after Town Challenge races, gathered into dozens of two-, three- and four-rider groups to swap stories and plan for the post-race party. The riders waited together Wednesday night, too, but each new finisher was greeted with an uncharacteristic cheer. Riders posed for photos, cracked beers and celebrated finishing the toughest leg of the Town Challenge circuit.
Deep in the season with just one race to go, few rookies rolled to the starting line earlier that afternoon. None rolled across the finish line that evening.
"I've been dreading this one," said Marla Bailey, a Town Challenge regular but a Buff Pass first-timer. "I earned my beer."