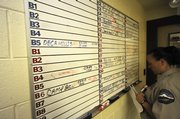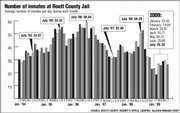 By the numbers
Jail bookings and prisoner days for 2009
Month: Bookings; Prisoner days
January: 118; 840
February: 115; 583
March: 145; 931
April: 136; 876
May: 156; 1,007
June: 144; 985
July: 139; 918
Year to date: 953; 6,140
Steamboat Springs — There's a little more breathing room in Routt County Jail this summer as the average number of inmates per day has decreased by almost half. Officials attribute the change to increased bonding and particularly the use of personal recognizance bonds.
In July 2008, there was a daily average of 50.29 inmates at the jail, where the "comfortable" capacity is about 54, officials said. In July 2007, the daily average was 32.06, and in July 2006, it was 58.84 inmates.
In July 2009, however, there was an average of only 26.26 inmates per day.
Sgt. Dave Schulz, who has 22 years of law enforcement experience, said the jail is "plenty busy" with inmate bookings but that fewer suspects are sticking around.
"People are bonding out much more than they used to be," Schulz said, noting that several personal recognizance bonds were issued in recent days for inmates facing felony charges. Personal recognizance bonds, when approved by judges, allow suspects to be released without putting any money down to guarantee their future attendance at court hearings. If the suspect fails to attend his or her next scheduled court date, however, they can be made to pay the amount of the bond plus other costs.
Routt County Sheriff Gary Wall said personal recognizance bonds are the likely reason for the low jail numbers, and he thinks it's potentially a good thing.
Wall said personal recognizance bonds can be an appropriate decision by a judge when the suspect is not an obvious flight risk.
"To me, it doesn't make sense to have a longtime resident of the community or even a property owner : pay a $750 bond (or stay in jail). They're not going anywhere," he said.
Wall said he does not advocate for personal recognizance bonds when a suspect is charged with a serious felony. But for lesser offenses, the bonds offer a way to keep the person out of jail before trial.
"If they fail to appear when there is not a cash bond, when they are picked up there are serious consequences," Wall said.
Wall is not aware of an increase in people skipping bond because of the new measures, imposed through the Routt County Court and 14th Judicial District Attorney's Office.
Wall said he hasn't done an analysis of why fewer inmates are staying in the jail, but he said bookings appear to be the same or even increased. In July, there were 139 bookings into the jail, with a total of 918 prisoner-days served.
The decrease in the number of inmates won't necessarily save money for his office, Wall said, because posts within the jail need to be manned continuously.
The jail numbers traditionally fluctuate with the seasons. Schulz and Wall noted that there are many jail sentences that have to be served soon. People who are sentenced to jail are sometimes given the option of serving the time at their convenience within a certain time frame. Wall said the pending sentences could affect the jail population in the coming months.