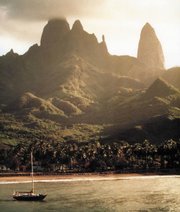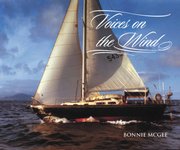 If you go
What: Book signing and presentation on "Voices on the Wind," a book by Bonnie McGee
When: 6:30 p.m. Thursday book
signing, presentation at 7 p.m.
Where: Bud Werner Memorial Library
Cost: Free
Call: 879-0240
In the course of putting together a book chronicling her 4 1/2-year circumnavigation on a 33-foot sailboat, Bonnie McGee found a scrap of paper from a Scrabble game she played at a distant port more than 20 years ago.
On the back of the scorecard, the Steamboat Springs artist and author found two scrawled distances for the route back home: one took her and her companion through the Red Sea, the other around the Cape of Good Hope.
"We were figuring out, 'Where in the world do we want to go tomorrow?' : And that kind of feeling I knew I would never experience again in my life," McGee said. During the two decades since McGee returned from her trip, she's compiled stories and photos from the people she met along the way. Those people are at the heart of "Voices on the Wind," a coffee-table-style book published in February.
McGee will sign copies of the book at 6:30 p.m. Thursday at the Bud Werner Memorial Library, and she will show a slideshow with music at 7 p.m. The free presentation is part of the inaugural Steamboat All Arts Festival, a four-day event sponsored by the Steamboat Springs Chamber Resort Association highlighting visual, performing, film and culinary arts.
"Voices on the Wind" offers short, slice-of-life stories about the people McGee encountered during 1 1/2 years in Australia, nine months on the islands of French Polynesia, and stays in New Guinea, South Africa and other locations where cruise ships don't go and airplanes don't land. Those stories - many of which McGee wrote during her trip - share space with photos and illustrations.
"I didn't want the photos to be so pretty that people didn't take time to read the stories, because I thought the power was in the stories," McGee said.
McGee - a painter with the Artists' Gallery of Steamboat and board president for the Steamboat Springs Orchestra - started sailing when she was 13.
"I got $100 for eighth-grade graduation. : For some strange reason, I wanted this sailboat. I saw it in the newspaper for $100," she said. McGee's father had learned to sail while stationed at Bora Bora during World War II and passed along his skill. Throughout the years, McGee upgraded her sailing outfit, until one day she and her ex-husband, then high school teachers, decided to make a trip around the world.
"We saved every penny we made for 10 years, and we planned, and we took classes and just prepared," McGee said. They spent two summers practicing sailing in the Bahamas on a boat they'd bought in Detroit.
"And then one day we just shoved off," McGee said.
"Voices on the Wind" is dedicated to the native people McGee met in the 4 1/2 years after that day. The book is available at Off the Beaten Path Bookstore, Epilogue Book Co. and Artists' Gallery of Steamboat. Copies of the book also will be for sale at McGee's presentation Thursday.