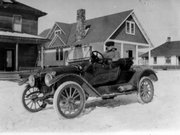 One of my favorite tasks as public relations director at Yampa Valley Medical Center is leading tours of our community hospital.
A must-see stop on every tour is the family waiting room in the patient care unit, named in memory of an exceptional man, Dr. Frederick E. Willett. Near the door is a sculpture of the good doctor created by artist Susan Grant Raymond.
Who was Doc Willett? And why do we esteem his memory?
Just ask rancher and Steamboat Springs native Jim Stanko. He will tell you that Doc, his great-uncle, played a pivotal role in shaping our unique little town in the Rockies.
"He put the community first," Jim said. "He had a real love for this area and the people in it. There wasn't anybody he didn't know or who didn't know him. Making this community a better place to live was more important to him than material wealth."
Doc Willett was not the town's only physician, but he is best remembered by longtime residents and the pages of history. That is because of his character, his devoted service and the fact he owned and operated the town's hospital from 1914 to 1950.
And he made house calls. Not just house calls, but ranch calls. In summer, he navigated dirt roads in a snappy automobile. In mud season, he needed real horsepower hitched to a buggy or wagon.
In winter, Doc donned a warm bearskin coat, burrowed into blankets and relied on his sleigh driver to traverse snow-covered roads and fields to modest homes. There, he would deliver babies, set broken bones, treat the sick and comfort the dying.
It is no exaggeration to say Doc had more friends and admirers than any other resident of northwest Colorado. He even was elected mayor of Steamboat Springs. In the 1920s, he directed vital civic improvements such as construction of a fire station, Long Lake dam and the Fish Creek water line.
By 1946, Doc was approaching retirement age, and he in turn approached the town's leaders. They embraced his idea of forming a nonprofit organization to build and run a new hospital, which opened in 1950. It is this same organization that built and now operates YVMC.
And that is a connection I like to make on every tour. Admittedly, I am a history buff. I regret that I arrived here in Steamboat three years too late to meet Doc Willett.
The next best thing was talking to people who knew and loved him. What a privilege it was to know Natalie Stanko - Doc's niece and Jim Stanko's mother. Natalie came to Colorado during the Great Depression to help out at her uncle's hospital.
She stayed to marry a rancher, raise a family and volunteer for more than 30 years at the hospital and nursing home.
So much has changed since 1914, when Doc took over a failing hospital and poured his heart and most of his personal funds into saving it. Ninety-five years later, about 88 doctors representing 30 specialties serve on the medical staff of YVMC.
"We take for granted the outstanding facilities which we find in our modern, fully equipped hospital on the hill." That comment from Doc's 1970 obituary, describing Routt Memorial Hospital, easily could apply to YVMC today.
"But," the obituary continues, "we should now, more than ever, remember that there was a man who had the courage to dream a dream for his fellow man and then make it come true."
Valuing the memory of Doc Willett while celebrating our shared health care heritage is the goal of a new event. On Sept. 12, our Healthcare Foundation for the Yampa Valley will honor two individuals who have advanced Doc's legacy and improved our community. You can learn more about this event at www.yvmc.org/DocWillett. I hope you will make the connection.
Christine McKelvie is public relations director of Yampa Valley Medical Center. She can be reached at christine.mckelvie@yvmc.org.