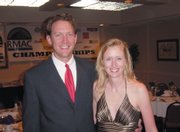 Steamboat Springs — Jon Baskin rarely changed his routine if something was working.
He'd put his socks on in a certain order and then his shoes in the same order. He'd go into the locker room at the same time before games and each time would listen to the same music.
And when he did play, his routine didn't change much, either.
There was nothing flashy or overbearing, but next to the penciled-in "Baskin" in the scorebook, the stats usually read at least 25 points and 10 rebounds.
Baskin - a 1986 Steamboat Springs High School graduate - recently was named to the Rocky Mountain Athletic Conference's All-Century Basketball Team, for his play at Mesa State College in Grand Junction.
During three seasons with the Mavericks, Baskin averaged 24.5 points and 10.1 rebounds per game while shooting an unheard-of 74 percent from the field.
He was a three-time All-Conference selection, was named an All-American and entered the RMAC Hall of Fame in 2007. He is Mesa State's all-time leading scorer, and only one time in his three years did he not score in double figures.
"I was never a good athlete," Baskin said. "I say I'm not a good athlete. If you lined me up against Joe Schmoe, : I'm probably better than him. In terms of college athletes, I'm not. But I got as much out of my body as I could."
Baskin - who stands 6-foot-8 and played at about 240 pounds - originally signed his letter of intent to play at Division I San Diego State University. But as a freshman in Southern California, Baskin felt out of place and felt he was losing sight of who he was.
A coaching change at the end of his freshman year made him look at other options. Mesa State, which had been recruiting Baskin since he was a sophomore in high school, instantly became a good landing spot.
After sitting out for a semester, Baskin earned a starting spot he would never give up.
"He was extremely combative," said Kelly Meek, who coached Baskin in high school. "Once he got you pinned down low, you couldn't stop him. I knew things were going to go well for him. I knew how good he was going to be. I never taught a player that knew how to use his body better than him."
Baskin found his niche at Mesa State. Along with former Steamboat Springs graduate Ron Chamberlain and Basalt graduate Paul Cain, Baskin helped the Mavericks become one of the most exciting teams in the RMAC.
The team rarely averaged below 90 points per game.
"Jon, he was a force inside," said Cain, who left Mesa as the school's all-time leading scorer before Baskin eclipsed his record the next year. "He was up and down the floor. He was very hard to stop inside. The position he was able to get got him easy baskets. I think it was a combination of him using his body, and he has a knack to score. Sometimes it seems like kids have that or they don't."
After his career at Mesa State, Baskin attended a camp with the Denver Nuggets. After getting cut, he went to play in Brazil for a year and then spent a year with the Global Basketball Association. By then, Baskin was ready to move on.
"It was time," he said. "I wasn't enjoying playing that much. I was working out regularly, but not to the level I needed to stay in competitive basketball. I'm glad I stopped playing when I did."
He spent a year in Steamboat Springs before attending graduate school at the University of Nebraska.
Baskin now teaches social studies at Standley Lake High School in Westminster, where he previously was a basketball coach. Although the many awards and plaques he's received are piled up in his basement - and probably will stay there for years to come - Baskin said his time on the court will always make him smile.
"If I was to be remembered, it would be a player who you would classify as using the potential they had," he said. "Someone who got as much out of himself as he could."