For more
Andy Kurtz Horsemanship has clinics planned for the weekends of Sept. 12 and 19. Call 879-5029 for information or to sign up.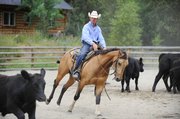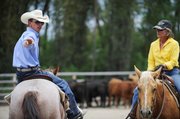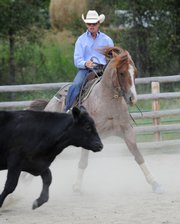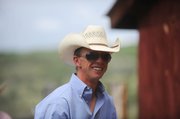 Steamboat Springs — A woman sat tall on her mare Friday, edging a cow out of a herd and trying to keep it from returning.
Horse trainer and clinician Andy Kurtz guided Susan Shoemaker through the maneuvers.
"There you go - good," he said, watching as Shoemaker's horse, Amber, moved in front of the cow. "Be smooth, be smooth. : Now, just get in the spot, and wait for that cow to break one way or another."
Kurtz launched Andy Kurtz Horsemanship here this summer after moving back to the Steamboat Springs area last year. He trains horses and leads horsemanship clinics at the Kurtz Ranch off Routt County Road 129. Kurtz is training a colt for Shoemaker and teaching her to work cows.
"It's really fun," she said. "It's an adrenaline rush."
Kurtz, Shoemaker and Beth Trujillo, whose colt Kurtz is training, kicked up dust in the outdoor arena Friday morning. Kurtz's body moved in concert with his roan stallion as he backed up Shoemaker and demonstrated the exercises.
"Man, what a piece of junk," Kurtz exclaimed in disgust as a cow bolted away from Shoemaker and back to the herd. "It's really tough when you have cows like this that don't help you, that just run you over."
But Kurtz, a lean cowboy with a Grand Canyon grin, loves showing horses. His ideal show is the National Reined Cow Horse Association's Snaffle Bit Futurity, which includes cow events as well as sliding competitions for horses.
"It kind of combines all the performance events, which is why I like it," Kurtz said.
Building relationships
Kurtz was born and raised in Steamboat and graduated from Steamboat Springs High School in 1998. After graduating from California Polytechnic State University in 2003, Kurtz rode saddle broncs at rodeos professionally for three years.
He moved on in winter 2006, after a shoulder injury, and started training horses. Kurtz worked in Texas and Arizona before returning to Steamboat in October 2008. He'd like to narrow his business to clinics and showing his horses instead of training others, but Kurtz said he needed to become more established first.
Sherry Reed attended a three-day women's clinic Kurtz put on this summer. Reed, who lives near the Kurtzes, bought her 4-year-old horse, Rio, from the Kurtz Ranch a year ago. She's taken a few clinics this year and said she was pleased with Kurtz's style.
"He took advantage of the fact that we were kind of aggressive ladies, I guess, or not really aggressive but not afraid and willing to be worked hard, willing to be criticized, willing to be told what you're doing right and wrong," Reed said.
Female riders are different from male because they're usually more intuitive, Kurtz said. They don't need to be taught how to bond with the horse.
"What we work on with the women is being effective when they're working with their horse and getting what they need, how to do it in a manner that's gentle and positive," he said.
Kurtz is planning more clinics for September, as well as a workshop with Regina Wendler that will combine English and Western styles. He hopes to rent an indoor arena to keep Andy Kurtz Horsemanship running through winter.
Kurtz said he enjoyed watching people build relationships with their horses.
"I love seeing that look on people's faces when they're working at something and working at something, and the light bulb turns on and it clicks," he said.
At the session Reed attended, Kurtz provided constructive criticism without making the riders feel bad, she said.
"Andy seems to have a really good knack for communicating with the horse and also communicating with the rider," Reed said.
Kurtz wasn't involved in Rio's training on the ranch, she said. But Reed was confident in his abilities on the back of a horse.
"Let me put it this way," she said, "he's got the disposition that I think you need to have to be a really successful horse trainer, and he's got the skills to be a really good clinician, and those are different."