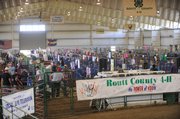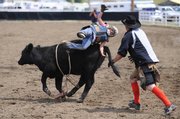 Livestock auction draws a crowd
Although the prices didn't seem as high as in previous years, there still was plenty of enthusiasm around the 2009 Routt County Junior Livestock Sale.
More than 125 animals were up for sale, including market beef, lambs, swine goats and poultry.
Last year, 122 animals were sold, grossing $250,422. An average steer sold for more than $3,500 last year. Lambs and hogs averaged more than $1,300.
Official numbers from this year's sale won't be available until later today.
"The best part is always the sale," said Taylor Weisshaar, 18, who was selling a steer for the sixth straight year. "It sounds like it's a lot less than previous years, so I'll be happy with whatever I can get."
Weisshaar, who will be a freshman at Colorado State University, has had his steer since November.
In addition to making sure the animal was fed properly, Weisshaar said he walked him behind a tractor almost daily.
In addition to Weisshaar, 4-H members from across the region were hoping to cash in on their hard work.
"The best part of my steer is his weight," 13-year-old Ian Palyo said. "The auction is really fun."
Palyo, who also sold a steer last year, said his steer this year was much smaller than last year's. Although he knew he probably wouldn't fetch the price he did last year, he said he was excited to see what happens.
"I don't think I'll make as much money," he said. "But he is still pretty good."
- Luke Graham/Pilot & Today
Tyler Boyer bounded up after a brief calf ride Saturday, rushing out the arena gate and throwing his fists up in an elbows-bent superhero pose.
The Hayden 9-year-old competed in the Routt County Fair's first youth calf riding event. Tyler participated in the 8- to 10-year-old division, the group that rode bucking steers. The 11- to 14-year-old group rode bucking bull calves. Seven children rode calves Saturday afternoon.
"It was hard," Tyler said after he was safely out of the arena. "I forgot to put my feet out in front of me."
But he said he'd do it again "any day," and wound up getting a chance at a second go-round Saturday.
It was "a lot better this time," Tyler said. "I actually put my knees out in front of me and squeezed hard."
Theo Hansen, of Steamboat Springs, won the younger division and has a chance to compete again today. He can forfeit his time and ride again or keep Saturday's time of 2.8 seconds. Theo, 9, said he's gone to the Steamboat rodeo and always wanted to be a bull rider.
Still, getting onto a bull was nerve-racking.
"Right when I got in the chute, I was like, 'I can't believe I'm doing this,'" Theo said. "I was freaked out."
Theo's parents weren't thrilled about his riding again today.
Fair Manager Jill Delay also wasn't thrilled about the calf riding. But people had requested that the event be added to the fair schedule, so Delay said organizers decided to try it out. Rain delayed the mutton bustin' event before the calf riding, so the riders were more than an hour behind schedule.
That might have numbed the enthusiasm for a few participants - several decided not to hop on the back of a bucking bull.
But 8-year-old Shelby Archuleta went on full throttle. She bounced off her calf after a couple of good bucks. Shelby said it was "a little fun."
"I was trying to hold on and stay on, but I just lost my grip and just fell," the Hayden girl said cheerfully, climbing over a fence near the arena.
She might try again.
"I don't want to do it again today," Shelby said. "Maybe next year."
The older youths took on the bigger bulls. A 3.89-second ride earned Kaiden Decker the top slot. The 13-year-old Hayden resident said he's ridden bulls about six times, and he plans to ride again today.
His strategy was to "look at their shoulders," Kaiden said. "You have spurs, and you use your arm to balance, and you squeeze with your legs."
The youths all wore helmets and padding. Bullfighters including Wayne DeLuca stayed nearby to make sure all went well.
DeLuca's job is about "safety, safety," he said. "In a junior show like this, the main thing is to make sure if a kid gets caught in a rope, someone's there to make sure he gets out of it."
The calf riding is good training for young folks who want to try bull riding, DeLuca said.
"This is a good thing for the kids," he said. "We've needed it a long time."