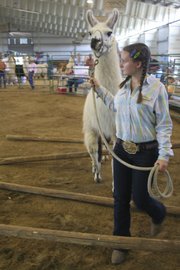 Llamas at the Routt County Fair could have been strolling through the countryside for all the concern they showed as their handlers walked them around the ring at noon Friday.
And for the handlers of the four llamas entered in the showmanship and trail competitions, that easygoing nature is exactly what they want.
The four llamas, Oreo, Dillon, Bandito and Otis, belong to the White family of North Routt County, and they're all accustomed to walking the rough trails that lead to the high country.
Alana White, leading Dillon in the competition, earned first place in the trail competition and second place, or reserve champion, in the showmanship portion of the contest.
During the trail competition, the judges place a series of obstacles around the arena: wooden poles at varying heights the llamas must step over, a low bar to step over, a small pallet to resemble a bridge and a series of cones the llamas must walk through.
Alana White, 17, said the key was to keep the llamas calm and to teach them to step over each of the objects instead of jumping, their natural impulse. She said she wanted to be a part of the llama contest because her family has a stable of 12 llamas they use for personal hiking trips.
"I want to give llamas some publicity," she said. "They're pretty easy, and they're pretty mellow once they're in a halter. They'll do whatever you tell them."
She said it would be even more fun if there were more competitors, but the White family has been growing the program throughout the past couple of years and this year, it had one more entrant than last year.
The Whites' llamas especially are trained for the small obstacle course from all their experience on the trails of North Routt.
Alana White has grown up with llamas all her life. In fact, her father, Jack White, said he has worked with llamas for about 20 years at their home.
Mary White, 13, earned first place in the showmanship division and second place in the trail competition with Otis. Zava Zupan and Luke Jankoski, both 10, also showed some of the White's llamas to give Mary and Alana White some competition, Luke said.
Luke, who said he isn't used to showing llamas as much as pigs, said he was happy with his fourth-place finishes with Oreo and that he hopes to show again next year.
"It was fun. It was a little challenging to get Oreo on the bridge, but it was fun," he said.