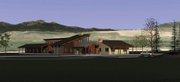 State education officials have awarded North Routt Community Charter School a $3.1 million grant to help fund a new school in Clark, marking a major step forward in a grass-roots fundraising effort.
Colleen Poole, director of the charter school, said the funding announced Thursday will cover 65 percent of the total costs - including furniture, computers and other interior expenses, in addition to construction - of a new facility for the growing charter school. Poole has led fundraising efforts for a new facility since early 2008 and has compiled about $700,000, including $500,000 from a state Department of Local Affairs grant in December 2008 and about $200,000 in donations.
On Friday morning, Poole said the impact of receiving $3.1 million for the project had not completely settled in her mind.
"I'm still kind of digesting it, saying, 'Is this really true? Is this really going to happen?'" Poole said. "I haven't popped any Champagne corks yet. I may eventually, though."
The new school will encompass about 12,000 square feet west of Routt County Road 129 in Clark, between North Routt Fire Station No. 1 and the Glen Eden Resort, sharing a campus with North Routt's preschool and less than a quarter-mile from the existing charter school. Poole said the plan is to break ground this fall and open in fall 2010.
Overall, the Colorado Department of Education awarded $16 million Thursday through its Public School Capital Construction Assistance Board. The board's Building Excellent Schools Today program awarded grants ranging from $149,000 for the Cheyenne Mountain Charter Academy in Colorado Springs to $5.9 million to the Alta Vista Charter School in Lamar.
Former state Speaker of the House Andrew Romanoff, a Denver Democrat, wrote the BEST legislation in 2008. The program funds construction and renovation of new and existing schools and educational facilities. Ted Hughes, director of the BEST program for the state department of education, said funding comes from sources including state land trust revenues, mineral leases, timber and land sales, and the state lottery.
Hughes said his goal is to allocate about $500 million in state funding throughout five years, leveraged with an additional $400 to $500 million from participating school districts.
Financing for the projects could stretch throughout the next 15 to 30 years, Hughes said.
Growth issue
BEST program grants were awarded first and foremost to address health and safety issues at public schools, Hughes said. In that context, North Routt Community Charter School's application was "head and shoulders" above most, he added.
The new school will replace "an undersized, not-very-educationally suitable school complex that they have right now," Hughes said about the Clark school, which has been at capacity for months, has no cafeteria and teaches some classes in a yurt.
Hughes listed an undersized septic system, lack of indoor physical education space and no central communications system as concerns with the existing North Routt Community Charter School.
Poole acknowledged the structural concerns.
"Definitely, it is an older building. We are allowed, by special use permit from the (Routt County) Planning Department, for only 75 people on the site," she said Friday. "As far as health and safety, our kids are safe on the campus where they are; it's just that we can't grow any further. : I don't want people to think their kids are unsafe there, because they are not, by any means."
The new school is planned to include six classrooms; office space; and a large, indoor community area for multiple purposes.
The school will have a capacity of 90 students. Enrollment this fall stands at 66 students, Poole said, up from 59 students at the end of the previous school year.
Poole said local architect Michael Olsen, North Routt resident Fred Wolf and Steamboat Springs School District grant writer Ruth McBride especially were helpful with the grant application.
About $1 million remains to be raised for the new school, Poole said.
"I think this is just going to be wonderful for the North Routt community - it's really exciting," Poole said. "We're still going to be looking for pledges and donations to complete the project."