Glossary of terms
Unemployment rate: The percentage of total workers in the work force who are unemployed and are looking for a paid job. The unemployment rate is one of the most closely watched statistics because an increasing rate is seen as a sign of a weakening economy. A decreasing rate, similarly, indicates a growing economy, which usually is accompanied by higher inflation rates and may call for increases in interest rates. Routt County's labor force decreased from 15,184 to 14,584 from June 2008 to June 2009. Unemployment increased from 3.4 percent in June 2008 to 7.7 percent in June 2009.
Source: BusinessDictionary.com
Emergency unemployment compensation (EUC): Emergency unemployment compensation, or EUC, benefits are additional benefits granted by the federal government during difficult economic conditions. EUC allows unemployed workers to claim benefits for an increased time period. Under EUC legislation, qualified persons can claim an additional 20 weeks of unemployment compensation through the federal program. An additional 13 weeks, for a total of 33 weeks, can be claimed under the EUC program in states with an unemployment rate of 6 percent or higher for three consecutive months.
Source: Colorado Department of Labor & Employment
Credit: The purchasing power created by banks through lending based on fractional reserve system. Banks literally 'create' money with their bookkeeping entries.
Fractional reserve system: Under FRS, banks are required to hold only a fraction (typically 12 percent) of the depositors' funds as cash reserves. The remaining 88 percent of deposited funds can be loaned out to create new deposits, which in turn create new loans ... and so on, exerting a multiplier effect on the total money supply. However, in case of a bank run, this policy can cause banks to suffer huge losses and may even push them into bankruptcy.
Source: BusinessDictionary.com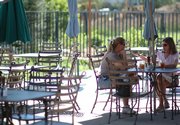 Photo Gallery
House of Cards Part 3: Holding a losing hand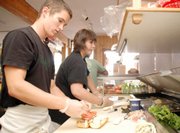 When the tentacles of the national housing bust slithered into Routt County last year, they didn't stop with foreclosures and a lending crunch.
They crept onward, sneaking into the lives of engineers, interior designers, contractors, restaurateurs and retailers.
Average employment for the fourth quarter of 2008 dropped by 544 people compared with the same quarter in 2007. Jobs decreased in construction, leisure and hospitality, retail, food services and other sectors. As the housing construction market skidded to a crawl, people clung to whatever employment they had.
In Steamboat Springs, where good workers had been hard to find and harder to keep, the tentacles of a growing global recession curled around every person marginally connected to the building industry.
And they squeezed.
David Connolly, a structural engineer, worked for architects to make sure buildings such as The Victoria downtown could withstand snow, wind and seismic loads. Connolly came to Steamboat in 2000 as part of a Denver company. He was laid off after Sept. 11, 2001, and switched to a local company.
In 2004, he started ERS Consulting Engineers.
Connolly's workload rose with the red-hot construction industry, and he took on three employees.
He remained confident while watching the national market falter. Connolly started to see a problem late last year.
"Coming into the end of 2008, I had between eight and 10 projects all ready to go, or the people said, 'Yeah, we're going to move on for the spring or summer of 2009,'" he said. "And by January 2009, I didn't have a one."
Connolly laid off his staff in mid-December and kept his office space through January. He moved to Pennsylvania with his wife and two children in April. His $1,100-a-month house there is slightly larger than the house he rented in Steamboat for $2,300 a month.
Connolly and his wife bought a house in Old Town and sold it for a pretty penny in 2007. They then bought a piece of land, planning to build on it, and rented a home.
"I'd say we definitely sold at the high point in the real estate market," Connolly said. He isn't pleased with where that cash went. "It would've been better if I just put the money I made in the bank."
Instead, the couple used the money to buy 5.5 acres in Elk River Estates and to invest in ERS Consulting Engineers. The Connollys haven't seen much interest from buyers. They've dropped the price for the land from $379,000 to $269,000.
"That hurts," David Connolly said.
Like Connolly, Rick Lobato took a chance on the market in Steamboat. Work in the Storm Mountain Ranch development drew Lobato to town in spring 2006. The builder and his wife, Karen, pulled up roots in Boulder in September 2006 and bought a 1952 ranch house in Old Town.
When Lobato moved to Steamboat, "it seemed like things were gangbusters on all fronts," he said. Lobato started Chaparral Construction and kept it small, building one high-end house at a time.
After the Storm Mountain house, Lobato worked on one in Elkins Meadows for 16 months.
"By the time I delivered that home, my next opportunities went up in smoke," he said.
Chaparral Construction all but collapsed.
"It's literally a mouse click away from oblivion," Lobato said. "I still have an open corporation under the state offices, but at this point in time I really don't see, I don't see Chaparral having any opportunities in the foreseeable future."
For the first time since age 16, Rick Lobato isn't working. For the first time ever, he's drawing an unemployment check.
"The short end of my short story is I've been unemployed for the last eight months, and we're struggling, to say the least," he said.
A strained work force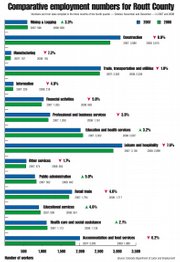 People across the valley are experiencing the pangs that come with government help, said Brian Bradbury, an employment specialist at the Steamboat Springs branch of the Colorado Workforce Center.
Bradbury and his colleagues at the center often serve as a connection between the jobless and the government. He answers the phone in a soothing tone, prepared to walk people through the tangle of unemployment benefits.
"We get people in here who say, 'I've worked for 15 years, and I've never had to collect unemployment, and I have a home and a mortgage,'" he said.
The average person is receiving unemployment checks for 15 to 20 weeks, Bradbury said.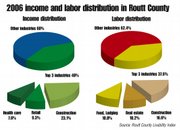 "The people who've gone through regular unemployment and have to go to emergency unemployment, what's that telling them?" he said. "It's a long road. The psychology of that, the stress level goes up, the frustration goes up."
People are willing to take a lower-paying and lower-skilled job than they would have accepted a year ago.
Bradbury also is seeing more people doing what Connolly did.
"We're talking to a lot of people who are picking up and leaving Steamboat," he said.
Routt County's labor force decreased from 15,184 to 14,584 from June 2008 to June 2009. Unemployment went from 3.4 percent in June 2008 to 7.7 percent in June 2009. At times, the Workforce Center has listed 250 jobs.
In late July, it listed 17.
"We are the worst part of the Northwest region for jobs," Bradbury said.
Craig, Granby, Meeker and Rangely have had fatter listings, he said. Routt County residents are traveling to Moffat County for work, and it used to be the other way around.
The drop-off has been astounding, Bradbury said.
"Since I started in 2001 or 2002, it's been definitely a climb along with everything else," he said. "The number of jobs coming in just multiplied themselves up to six or eight months ago, then it just dropped by tenfold."
That job scarcity has been positive for some employers. Peter Boniface, owner of Backcountry Provisions sandwich shop, said he had his steadiest staff in six years. Workers are hanging onto solid, year-round employment, he said.
"I just think if you looked at the paper even a year ago in the help wanteds, there were jobs all over the place," Boniface said. "Everybody was hiring."
Finding and keeping good workers was tough, he said.
"It was hard to find, first, qualified applicants, and jobs weren't valued," Boniface said. "You could just go get another one. Now, they're scarce, so obviously the jobs have more value."
The Workforce Center is partnering with Colorado Mountain College's Alpine Campus to get people into those valuable jobs. The American Recovery and Reinvestment Act promotes the development of "green jobs," where people do environmentally friendly work.
"There are monies coming from the stimulus package where we're going to try to retrain people," Bradbury said.
Lobato said he has considered a new career but isn't interested in leaving construction.
"It's what I know," he said. "It's what I'm good at. It's what I'm most qualified for, and you hear all sorts of things about career shifting and stuff like that, but that is a very difficult thing to do."
The tentacles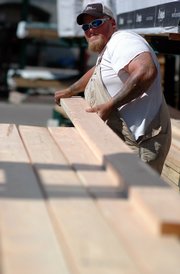 The construction slowdown has touched every industry in the area, Bradbury said. There could be a threshold for how many people the Yampa Valley can sustain.
"I think there is, I really do," Bradbury said. "It's definitely going to limit who can make a living here in the valley. It affects everything."
Widespread layoffs have had a domino effect on the community. Carl Steidtmann, chief economist for Deloitte, said the housing bust and recession have affected spending. Deloitte is a global firm that provides audit, tax consulting and financial advisory services. Steidtmann lives in Steamboat.
"I think the biggest effect that it's had is on consumer spending," he said. "If you're looking beyond the obvious areas of construction, real estate, the things that are directly affected : the inability of households to refinance and extract equity, the contraction in the availability of credit in general, has had a significant impact on consumer spending."
That's limited the spending of tourists and locals, Steidtmann said.
"The banks that issue credit cards have significantly changed the terms on those cards and reduced the credit limit for many households," he said. "The cost of the credit has gone up, the length of time that you've got until you pay your balance has been shortened, so all those factors have a dampening effect on consumer spending."
Sales tax collections in Steamboat reflect sluggish spending. The figures have decreased for the nine months through May, the most recent month for which numbers were available. Restaurants were among the categories that were down, slipping 14 percent in sales tax collections compared with 2008.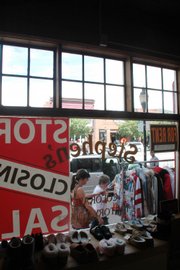 "No doubt, we've seen an impact from it," said Rex Brice, owner of Steamboat Restaurant Group.
He runs Rex's American Grill & Bar, Mazzola's Italian Restaurant and Big House Burgers.
"Everybody says, 'Oh, Rex, you don't have anything to worry about in the economy, all your business is locals,'" Brice said. "But if the tourists don't spend the money and the rich people aren't building houses, the locals don't have money to spend at our restaurants."
Of the three restaurants, Rex's was hit hardest, Brice said. He said he's noticed fewer construction workers and locals at happy hour. And the real-estate agents, developers and contractors having business lunches are gone.
"Last year, you'd walk through the dinning room and you'd see people with laptops open and their building plans out on tables and lots of developers and architects and Realtors in having lunches with clients," Brice said. "And of course, not only does the hammer and nails kind of guy stop coming in, so do the developers, Realtors and bankers and so forth."
Brice hasn't had to lay anyone off, though he said some employees have left and haven't been replaced. Steamboat Restaurant Group is focusing on being more efficient with what it has, he said.
According to numbers from the state Department of Labor and Employment, fewer workers held jobs in accommodation and food services in the fourth quarter of 2008 compared with the same months in 2007. In October, November and December, 1,880 people worked in the industry. That was a decrease of 125 people, or 6.2 percent, compared with that time frame in 2007.
But Joe Winter, a senior economist with the department, noted that Routt County's construction cuts were most significant.
Construction employment decreased an average of 273 people, or 8.8 percent, in the fourth quarter of 2008.
"What I find is that the construction industry, which has heavy ties to not only how employment in general is going but to how levels of finance are going, is suffering," Winter said. "And your total employment is down a bit as well, but the lion's share of that is leisure, hospitality and construction."
Leisure lag
When you talk leisure in Steamboat Springs, you're typically talking about skiing.
Numbers were down across ski areas in Colorado this year, though Steamboat Ski and Resort Corp. would not provide numbers. Skier visits decreased by 6.9 percent for Colorado Ski Country USA members from 2007-08 to 2008-09.
Ski Corp. also has seen changes at its residential properties. The company keeps 120 units at Walton Pond Apartments to house employees, Ski Corp. President Chris Diamond said.
"During the winter, we don't have any trouble filling that with seasonal staff," he said. "In summer, we usually fill that with people, construction workers. That's been way off."
In the past three or four years, those units have been close to 100 percent full, Diamond said. He estimated that 30 to 40 percent are empty this summer. That could be a result of a looser rental industry in Steamboat, Diamond said, where more rental units are available at lower prices.
Companies that sell ski gear also are seeing the impacts of the housing bust and the recession. Bob Dapper, director of mountain operations for Christy Sports, said the five Steamboat stores had seen a 20 percent drop this summer. Business was worse during ski season, Dapper said.
"There's still a significant hangover from winter," he said. "Regardless of what we're selling, people are watching their dollars pretty carefully."
The stores haven't had to lay anyone off, he said, but they've changed the way they do summer business. Christy Sports hasn't taken on the summer employees it typically hires, instead consolidating its salaried staff members at one store.
"We've changed the entire culture of our company," Dapper said. "As an example, we closed every store in Steamboat but Central Park for the summer."
Christy is doing what dozens of other employers have had to do: trim overhead and employee costs. Layoffs have spread across the Yampa Valley, as have personnel reductions through attrition.
Harbert Lumber Manager Rod Wille said his company's staff has decreased from 31 to 16 people. The company was BMC West until 2007, and Wille said the lumberyard was bustling full force in 2006 and 2007.
"Probably toward the middle of last year, you could definitely tell that things were starting to slow up," Wille said. "Our numbers weren't the same as far as our history or what we were projecting. We were kind of getting prepared for it because we could see it coming."
Company leaders had to make difficult decisions.
"That's when we started laying people off was last fall," Wille said. "Your payroll's your biggest expense, so that's where you have to start making the cuts."
Mike Roberts, of Habitat Construction, started his company in 1977 in Evergreen and has been in Steamboat since 1980. He's had to lay off about 10 people and is down to a staff of about six.
Roberts saw that he had no choice.
"I don't know too many businesses that haven't been confronted with layoffs, you know," he said. "I think like everybody else we tried some pay cuts : and that works for a while. But that's really, truly the hardest part of all, especially in a small company like mine where we're all friends, we like working with each other and being with each other, and it's hard."
C.D. Johnson, owner of Johnson Excavation, had the same experience. He's run the company since 1970 and said his staff has gone from more than 40 to about 10.
"It's very difficult," Johnson said. "We're a small company, so you knew these people. You knew their families; you knew what you were doing : and it was very difficult. Somebody didn't hand out the pink slips, my son or I have done that, and it's very difficult; it's not easy to do."
Shrinking, streamlining
Interior designer Michael Buccino has seen his business, Steamboat Interiors, shrink from a staff of 12 to a staff of three. His company is working more on remodels than on designing the interiors of new and speculative houses.
At the height of business, Buccino was in what he called his "ivory tower," an office above his showroom in eastern Steamboat.
"I was so busy I was having to turn business away and just through not being able to get back in time with people, and they would find someone else and we were like, 'That's cool,' because we were busy."
Buccino said he lost touch with his clients.
"People came to Michael Buccino at Steamboat Interiors, and they felt he wasn't around. : It lost the relationship part of the business," he said. "It became a sale. It was like going to McDonald's or Wendy's."
In 2004, he opened a store called Cabin Collections that sold accessories and furniture.
Customers were coming to Buccino and other interior designers, asking them to furnish full second homes so they could turn around and rent them out.
But last fall, things crashed for Buccino.
In "probably August, I stopped and looked at incoming sales, the pipeline, and the pipeline was not full," he said.
He cut his staff to himself and accountant Regina Andrew. Buccino hired Nicole Martin, a former intern and recent college graduate, in June. He sold part of his space to a neighbor, Kinetic Energy physical therapy. Buccino rents another large chunk to Coldwell Banker.
He owned 7,500 square feet of space and is down to 5,200. Steamboat Interiors uses 3,200 square feet of that and rents out the rest. His overhead went from $55,000 in November to $18,000 in June.
"Getting rid of that nut, I've realized I was seriously wasting money," Buccino said. "I mean, thousands of dollars a month were getting wasted."
And he wasn't the only one letting loose with the dough.
"I've talked to a lot of friends my age who own businesses, and it's amazing how much waste we did during the fat years," Buccino said. "Hundreds of thousands a month were going out unwatched."
The company's sales have dropped by $1 million, and it's still as profitable as it was in high times, Buccino said. He said he enjoys being the face of Steamboat Interiors again.
"Now we're having to work down in the trenches, and I enjoy it," he said. "I'm more efficient than any of my staff, so I can do it faster than them, and I have the luxury of the time."
Silver linings
Some business owners say the housing market collapse has brought people back to basics.
"I think we'll have to change a lot of our habits," said Roberts, of Habitat Construction. "I think this is a clear sign that things can't continue as they have in the past, and we all need to participate in a solution that's going to involve simplifying our lives and our lifestyle. I do see this as the beginning of really a new era in our society."
Irene Nelson, an interior designer who runs Irene Nelson Interiors, said she wasn't heartbroken about her clients' belt tightening. Nelson hasn't had to reduce staffing, and she's pleased to see a slowdown in the construction of "McMansions" in town.
"The whole thing has actually warmed my heart that people are thinking a little differently about stuff, about their stuff : and about reusing and not just tossing everything," she said. "You know, I'm not one bit unhappy about what's happened because I think it has caused people to think a little more and be more conscious of what they're buying."
Some business owners are looking at the bright side of a slowdown that gives them more time to enjoy life in Steamboat. Mark Hoovler, owner of Peak Mechanical Services, said that it's been tough to cut back staffing but that more time off is nice.
"You get your life back," Hoovler said. "You start to remember why we actually moved here. It wasn't to work our tails off 60, 70, 80 hours a week. We're back to working 40 hours a week and having weekends off. We get to go camping again, and we get to go enjoy the outdoors."
Continued challenges
It's more complicated for those who are unemployed, however. Lobato, who ran Chaparral Construction, said it was tough to play when he knew he should be focused on finding a job.
"It's been a nationwide search," he said about his hunt. "I am pounding the virtual pavement every day, making contacts and sending out resumes."
Lobato hopes to leave, probably for a bigger market. That's worked for Connolly, who said he still had houses under way in Steamboat and was working and bidding on commercial projects in the northeast. Population brings diversity in construction projects, Connolly said, and that's what he needs.
"In Pennsylvania, there's a town every 15 miles, so I don't have to find all my work here in State College," the structural engineer said. "I can go to the next town over : and an hour away there's a bigger city yet."
Connolly and Lobato said they'd stay if they could.
"When you look at general life adventures, I wouldn't have changed it," Connolly said. "Loved it. Wouldn't have stayed there 10 years if I didn't." -