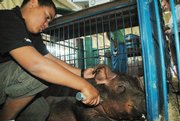 Routt County Fair schedule
- Today
Vendors and Midway open, free karaoke stage
8 a.m. 4-H/FFA rabbit and poultry show, small animal barn; open rabbit and poultry immediately after 4-H show, small animal barn
9 a.m. Home arts judging begins, Exhibition Hall
11 a.m. Sheep lead, Multipurpose Building
1 p.m. 4-H/FFA goat show, Multipurpose Building
1:30 p.m. Bum lamb contest, Multipurpose Building
2 p.m. 4-H/FFA breeding sheep, Multipurpose Building
3 p.m. Sheep showmanship, Multipurpose Building
5 p.m. Market lamb, Multipurpose Building
6:30 p.m. NWCC, open gymkhana, outdoor arena
- Friday
"Ride Free 'til Five Fun Friday," sponsored by First National Bank of the Rockies, with bungee trampoline and bounce house free until 5 p.m.; Vendors and Midway open, free karaoke stage
8 a.m. Exhibit Hall opens
9 a.m. to noon Cloverbud for a day
10 a.m. Dress your animal, Multipurpose Building
Noon. 4-H/FFA Llama show, Multipurpose Building
1 p.m. Bucket calf contest, Multipurpose Building; 4-H/FFA Dairy/beef breeding show, Multipurpose Building
3 p.m. Beef showmanship, Multipurpose Building
5 p.m. Market beef, Multipurpose Building
6 p.m. Wine and beer contest/tasting, Exhibition Hall
7:30 p.m. Demolition Derby (tickets required), outdoor arena
- Saturday
Vendors and Midway open, free karaoke stage
8 a.m. Exhibit Hall opens
8:30 a.m. Mike Bell Construction roping, outdoor arena
10 a.m. Lion's Club Parade, downtown Hayden; Bev Mason Memorial Carriage Show, outdoor arena
11 a.m. DeLine Land & Cattle Co./North Forty Fence mutton bustin', outdoor arena
Noon. Calf riding, outdoor arena; Community Agriculture Alliance horseshoe pitching contest, field on east side of Multipurpose Building; 4-H/FFA round robin showmanship, Multipurpose Building
12:30 p.m. WSRHA/Fralick/Lind freestyle reining, outdoor arena
1 p.m. NWCC, horse races, track
3 p.m. 4-H presale/Bobby Robinson Memorial BBQ, field on east side of Multipurpose Building; live music by Kathy Louthan, field; free Coca-Cola floats courtesy of 93.7/102.3 KRAI and 55 Country, field
5 p.m. Junior Livestock Sale, Multipurpose Building
8:30 p.m. to midnight. Town of Hayden Barn Dance, with live music by Redline, field east of Multipurpose Building
- Sunday
Vendors and Midway open, free karaoke stage
7 a.m. Worship services with Pastor Fred Ellis, field on east side of Multipurpose Building
8 a.m. Exhibit Hall opens
9 a.m. Working ranch horse competition, outdoor arena; pretty baby contest, Exhibition Hall
10 a.m. Mayor's Brownie Contest and Commissioners' Cookie Basket Contest, Exhibition Hall; cookie contest judging, Exhibition Hall
11:30 a.m. Chuck Fulton Memorial Open Draft Horse Contest, outdoor arena
Noon. Partners Kids Sunday Games, track
1:15 p.m. Ranch Rodeo team auction, track
1:30 p.m. Mountain Valley Bank Ranch Rodeo, outdoor arena; calf riding, outdoor arena
2 p.m. DeLine Land & Cattle Co./North Forty Fencing mutton bustin', outdoor arena
2 to 6 p.m. Open class payout, home arts exhibits released, Exhibition Hall
For more information, visit www.routtcountyfa...
Steamboat Springs — Shealie Jenkins got off to a rough start during swine showmanship Wednesday at the 95th Routt County Fair in Hayden.
Flower, her brown Duroc, darted into the gate and ran through the middle of the ring, past the event judge, as 14-year-old Shealie chased after.
"I thought, 'Oh no, the judge is going to hold it against me,'" she said about the early mishap in the event, which requires handlers to demonstrate how well they can lead their pigs around the ring.
The judge was lenient. Shealie was awarded sixth place in the intermediate division of a crowded field of swine showmanship competitors. Showing his Duroc named Morgan, her 12-year-old brother, Harry, was awarded third place.
The week's festivities culminate the Jenkins siblings' months of work raising the pigs. Events also included Wednesday evening's swine market - an evaluation of their pigs, Mr. McStifflestumps and Bambi, in addition to Flower and Morgan, overall quality - and Saturday's junior livestock sale.
The work for Shealie and Harry began in April when their father, Tim, bought them each a pink male Hampshire and brown female Duroc at auction in Wyoming. It would be Harry's first time raising pigs and Shealie's second, but not their first experience raising livestock, said their mother, Mary Jenkins. She said the two 4-H members had raised horses on their ranch south of Steamboat Springs since they were 8.
Since the spring, Shealie and Harry have cared for the pigs, which have grown from about 100 pounds to as large as 277 pounds in Bambi's case, the largest of the four. Caring for the pigs included feeding and cleaning them, taking them on walks and training them.
"Being with them all summer, it's been a good experience," Harry said Wednesday afternoon before the swine showmanship competition. "I've learned a lot about pigs through the entire process. : It's a fun thing to do."
Mary Jenkins said it gave her children something to be responsible for.
"At this age, in terms of work ethic, there's nothing better," she said.
She added that raising the pigs and then seeing the fruits of their labor after selling them was a unique experience for Shealie and Harry. Mary Jenkins said profits from the sale would be used to cover the expenses of caring for the pigs and for a college fund.
Earlier Wednesday, the two children spent time preparing their pigs for swine showmanship and the market by shaving and washing them. At times, the pigs seemed agitated getting their haircuts, but Harry said they didn't mind.
"They like it," he said. "It's almost like a massage to them, with the vibrating of the clippers on their skin."
Shealie and Harry were hopeful, then, that their work would pay off, because they were competing against so many other children in swine showmanship.
Routt County 4-H Extension Agent Jay Whaley said this year's field, at 66 competitors in the senior, intermediate and junior divisions, was "way up" compared with last year's. He wasn't sure why but speculated that more people wanted to get involved in 4-H.
Whaley added that the turnout for swine showmanship, which "really highlights the kids and how hard they've worked throughout the year," was also very good.
"There's more than parents and grandparents here," he said. "I look through the crowd and see community people who just enjoy watching the kids."
Realizing their summer experience raising and caring for Flower, Bambi, Morgan and Mr. McStifflestumps was nearly over, Shealie and Harry admitted they were apprehensive about selling their pigs Saturday.
Harry said it was "kind of hard giving them up because you get a little bit attached," but said he would be OK if he raised pigs next year. Shealie said it was harder than that for her.
"Last year, I was crying," she said, remembering moments after the livestock sale. "You're sad because you're saying goodbye to the pig and you watch it get on the truck to be processed. Last year, it was hard for me. This year it's going to be hard, too."
Despite what they anticipate will be a difficult Saturday, after being awarded their ribbons, Shealie said raising the pigs was "definitely worth it." Harry said he had a good time this summer.
"I think it's been a real good experience, the whole thing," he said. "I wasn't sure about the project going in. I hope I get to do it next year."