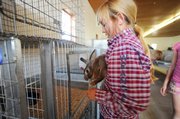 Routt County Fair schedule
- Today
10 a.m. to noon Steer, sheep and goat weigh-in, Multipurpose Building
10 a.m. to noon Rabbit and poultry check-in, small animal barn
1 to 8 p.m. Home arts check-in, Exhibition Hall
3 p.m. Swine showmanship, Multipurpose Building
5 p.m. Market swine, Multipurpose Building
5 to 7 p.m. FFA Alumni Fundraiser BBQ, all are welcome, Multipurpose Building
7 to 7:30 p.m. Steamboat veterans' ice cream social, Multipurpose Building
- Thursday
Vendors and Midway open, free karaoke stage
8 a.m. 4-H/FFA rabbit and poultry show, small animal barn; open rabbit & poultry immediately after 4-H show, small animal barn
9 a.m. Home arts judging begins, Exhibition Hall
11 a.m. Sheep lead, Multipurpose Building
1 p.m. 4-H/FFA goat show, Multipurpose Building
1:30 p.m. Bum lamb contest, Multipurpose Building
2 p.m. 4-H/FFA breeding sheep, Multipurpose Building
3 p.m. Sheep showmanship, Multipurpose Building
5 p.m. Market lamb, Multipurpose Building
6:30 p.m. NWCC, open gymkhana, outdoor arena
- Friday
"Ride Free 'til Five Fun Friday," sponsored by First National Bank of the Rockies, with bungee trampoline and bounce house free until 5 p.m.; Vendors and Midway open, free karaoke stage
8 a.m. Exhibit Hall opens
9 a.m. to noon Cloverbud for a day
10 a.m. Dress your animal, Multipurpose Building
Noon. 4-H/FFA Llama show, Multipurpose Building
1 p.m. Bucket calf contest, Multipurpose Building; 4-H/FFA Dairy/beef breeding show, Multipurpose Building
3 p.m. Beef showmanship, Multipurpose Building
5 p.m. Market beef, Multipurpose Building
6 p.m. Wine and beer contest/tasting, Exhibition Hall
7:30 p.m. Demolition Derby (tickets required), outdoor arena
- Saturday
Vendors and Midway open, free karaoke stage
8 a.m. Exhibit Hall opens
8:30 a.m. Mike Bell Construction roping, outdoor arena
10 a.m. Lion's Club Parade, downtown Hayden; Bev Mason Memorial Carriage Show, outdoor arena
11 a.m. DeLine Land & Cattle Co./North Forty Fence mutton bustin', outdoor arena
Noon. Calf riding, outdoor arena; Community Agriculture Alliance horseshoe pitching contest, field on east side of Multipurpose Building; 4-H/FFA round robin showmanship, Multipurpose Building
12:30 p.m. WSRHA/Fralick/Lind freestyle reining, outdoor arena
1 p.m. NWCC, horse races, track
3 p.m. 4-H presale/Bobby Robinson Memorial BBQ, field on east side of Multipurpose Building; live music by Kathy Louthan, field; free Coca-Cola floats courtesy of 93.7/102.3 KRAI and 55 Country, field
5 p.m. Junior Livestock Sale, Multipurpose Building
8:30 p.m. to midnight. Town of Hayden Barn Dance, with live music by Redline, field east of Multipurpose Building
- Sunday
Vendors and Midway open, free karaoke stage
7 a.m. Worship services with Pastor Fred Ellis, field on east side of Multipurpose Building
8 a.m. Exhibit Hall opens
9 a.m. Working ranch horse competition, outdoor arena; pretty baby contest, Exhibition Hall
10 a.m. Mayor's Brownie Contest and Commissioners' Cookie Basket Contest, Exhibition Hall; cookie contest judging, Exhibition Hall
11:30 a.m. Chuck Fulton Memorial Open Draft Horse Contest, outdoor arena
Noon. Partners Kids Sunday Games, track
1:15 p.m. Ranch Rodeo team auction, track
1:30 p.m. Mountain Valley Bank Ranch Rodeo, outdoor arena; calf riding, outdoor arena
2 p.m. DeLine Land & Cattle Co./North Forty Fencing mutton bustin', outdoor arena
2 to 6 p.m. Open class payout, home arts exhibits released, Exhibition Hall
- For more information, visit www.routtcountyfa...
Steamboat Springs — Cassandra Schmid and Natalie Smith struggled with a wire cage Tuesday at the Routt County Fairgrounds, trying to wrestle it open from all angles.
"This one came open so easy!" Cassandra said, unfolding a different collapsible house on the floor of the Small Animal Barn. The 4-H members rigged it up with a divider in the middle, readying the home for the three chickens they had between them.
The girls will be freshmen at Soroco High School this fall and were preparing their animals for judging that is scheduled for Thursday at the Routt County Fair. Poultry and rabbit weigh-in started Tuesday afternoon and continues this morning at the Hayden fairgrounds.
Cassandra also raises goats, and Natalie does pigs. The girls agreed that chickens were easier.
"Pigs, you can't train them," Natalie said. "They just kind of run around."
Chickens get used to being handled and then are easy to show, she and Cassandra said.
Cassandra brought in one leghorn chicken, and Natalie had two Polish chickens. Leghorns are laying chickens, Cassandra said. Natalie's Polish chickens, with their puffy spray of head feathers, are pure show birds, she said.
"It'll lay little, tiny eggs," Natalie said.
The toughest part of raising chickens is keeping them safe, Cassandra said.
"Not getting them killed by dogs" is tough, she said. "It's like their favorite snack. It's horrible."
Hayden residents Ashleigh Muhme and Sammi Cless already had staked out their cages. Muhme plans to show eight rabbits, 12 turkeys, 11 chickens and two pigs.
"I'm a little busy," she said with a grin, spreading wood chips in trays below the rabbit cages.
Cless is showing eight rabbits.
"I like 'em," she said. "They're easy, and they're cute."
Judges will check the rabbits for wolf teeth, which are teeth that come out of the mouth and curve. Some will be judged for weight.
Ideal characteristics vary from one breed to another, Muhme said.
"There's a standard of perfection, and it's actually renewed each year," she said.
Judges look at color, condition and faults of the rabbits, Muhme said.
Cassandra and Natalie's chickens will go before judges' discriminating eyes, too. They'll examine the chickens to check the size of their breast and whether they have extra toes, split wings, speckled beaks or other undesirable traits.
The girls sat back in the warm barn and observed their chickens, having bustled them into the metal cage to stay. Each bird has its own personality, the girls agreed.
"They're like teenagers," Cassandra said. "Some are snotty, some are not."