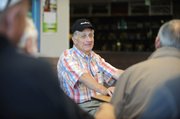 Steamboat Springs — Paul Tagliabue spent years overseeing the NFL as football became America's most popular sport. But Wednesday, he told coaches, players and administrators how all sports can be used as a learning tool.
Tagliabue, a former NFL commissioner, spoke in front of more than 20 skiing coaches, baseball coaches, football coaches and administrators at Steamboat Springs High School.
"Young people in sports learn life lessons," Tagliabue said. "One piece of that is growth and maturity."
Tagliabue spoke for more than an hour and took questions about performance-enhancing drugs in sports and what coaches at the youth and high school levels can do to stop drug use. He emphasized how sports and leadership are a huge part of the game.
He said most often, athletes are leaders and learn values through sports. So when it comes to performance-enhancing drugs, he said a big part falls on the athletes' shoulders.
Tagliabue said that in 1992, he and former NFL Players Association leader Gene Upshaw led a joint effort to curb the use of performance-enhancing drugs.
"The Players Association and players viewed steroids like coal miners viewed coal dust," Tagliabue said. "They didn't want it."
Tagliabue said at grassroots and high school levels, coaches, athletes and administrators play a part in taking on leadership and educating one another about performance-enhancing drugs.
He said NFL programs he oversaw that dealt with youth sports and steroids often took different approaches in different communities - a philosophy tailored, he said, to a league of professional athletes from every background.
"It's good listening to him and learning how athletes use performance-enhancing drugs to better themselves, but how it affects the team," Steamboat junior Grant McCannon said. "How teams don't benefit from this because those guys aren't exceptional leaders at all."
A native of New Jersey, Tagliabue addressed a question Wednesday about his efforts to restrict excessive celebrations, which drew many critics at the time and led many fans to call the NFL the No Fun League. Tagliabue joked that before he took the commissioner job, he was told the workload would make the NFL the No Family League.
Tagliabue's overriding message Wednesday was simple and concise. When it comes to performance-enhancing drugs, players, coaches and administrators shouldn't always think solely about the individual.
"Respect the team," he said. "It's not about the ego. It's about the us and we and not the me and I."
- To reach Luke Graham, call 871-4229
or e-mail lgraham@steamboatpilot.com