Election 2009
Visit
www.steamboatpilot.com/election2009
for complete coverage of this year's races and issues.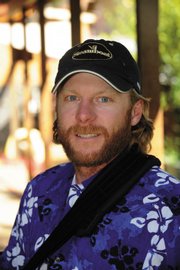 Local landscaper Kyle Pietras said Monday that he will run in this year's Steamboat Springs City Council election.
Pietras said he would run for the four-year, District 1 seat being vacated by term-limited Councilman Steve Ivancie or council's two-year, at-large seat held by Councilwoman Cari Hermacinski. Hermacinski said last week that she would run to keep her at-large seat, but she has changed her mind and will run for the District 1 seat against her Old Town neighbor, former City Council President Kevin Bennett. Pietras said that means he probably will run for the at-large seat.
"I wouldn't want to run against Cari," he said. "I support her as being a current council member. I think she's doing a great job."
In the at-large race, Pietras may face another former councilman, Jim Engelken, who said last week that he is considering running for a second stint on the council. Engelken said Tuesday that he is undecided but leaning toward running. Bennett and Engelken have leveled heavy criticisms against current council members, who they think are too pro-development. Pietras, however, said he is a fan of the current council's work.
"They've had lots of decisions in front of them, and I think they've handled them well," said Pietras, 39.
Pietras said he supports the planned Steamboat 700 development west of city limits that proposes about 2,000 homes on 500 acres and is seeking annexation. A City Council vote on whether to annex Steamboat 700 is scheduled for fall.
"I don't think it's a bad idea," Pietras said. "Steamboat is going to grow, and I think (Steamboat 700 is) going to be the future of Steamboat."
Pietras is originally from Massachusetts and moved to Steamboat in 1995. He said his main motivation for running is to help make decisions that will keep Steamboat a working class town he can continue to live in and that his children can some day live and work in.
"I'm a Steamboat guy, and I just want to make sure Steamboat stays Steamboat," he said.
Four out of seven City Council seats are up for election this year. Other candidates who have confirmed their candidacy include incumbent Councilman Walter Magill, who holds a District 3 seat representing southern Steamboat; and local businessman Kenny Reisman, who said he would run for the four-year, District 2 seat representing the mountain area. City Council President Loui Antonucci is term-limited and vacating that seat.
Nomination petitions are available at the City Clerk's Office in City Hall on 10th Street. The last day to file a petition is Aug. 24.