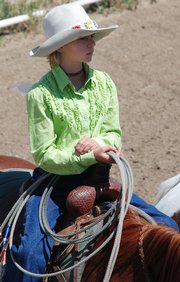 Place winners
- Senior: 1. Joey Anderson 2. Madison George 3. Catharine Koroulis
- Intermediate: 1. Cooper McCullar 2. Kaiden Decker 3. Will Zupan
- Junior: 1. Morgan George 2. Jace Logan 3. Haleymae Dancer 4. Will Anderson 5. Zava Zupan 6. Kacie Babcock
Steamboat Springs — Young cowboys and cowgirls defeated the steers Monday at the first-ever 4-H roping event at the Routt County Fair, with many a set of horns and heels caught up in well-thrown lariats.
"From December through April, these youngsters trailered their horses over to the arena and trained on Sundays," arena announcer Dean Vogelaar said over the PA system.
Morgan George, 10, of rural Yampa, dominated the junior division, winning both the heading and heeling contests to claim the trophy buckle. Cooper McCullar claimed first-place in intermediate heeling and placed second to Will Zupan in heading to take the championship. Joey Anderson, 15, of Oak Creek, held off Madison George to take the overall title among the seniors.
Morgan George, fresh from her third Little Britches National Championships in Pueblo this summer, pulled off the victory with the help of her horse, Red, which was given to her by her grandmother, Rita Nelson.
During the competition with 890 young cowboys and cowgirls in Pueblo, George said she didn't fare so well, hitting a barrel in the barrel race and failing to get a catch in the roping. She had no such problems during the first day of competition at the 95th annual Routt County Fair.
Anderson competed well Monday in spite of the fact that he'd been too busy in the past month with haying chores to practice his roping.
Had there been a ribbon awarded for best horse story, Zava Zupan would have won hands-down. She was riding an impressive gray gelding named Bandit.
"We spent the last few weeks in Montana at my family's ranch practicing," Zupan said.
In another lifetime, Bandit escaped from a rancher in Moffat County, slipped his saddle and disappeared for two years. He was caught in a wild horse roundup and returned to his owner, who sold him to the Zupans. Defying all expectations for a semi-mustang who ran with the wild ones for two winters, Bandit became a reliable horse for a young cowgirl.