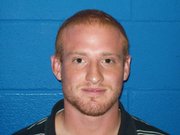 Steamboat Springs — Superman has not yet found his way home, but a Steamboat Springs My Wireless store is one step closer to getting the caped hero back in its possession.
A 23-year-old Steamboat man was arrested Friday in connection with the mannequin that went missing July 13 from the My Wireless store at 675 S. Lincoln Ave.
My Wireless founder Andy Brown said this wasn't the way he wanted the Superman-clad mannequin to come back, but he's happy to know the icon is safe.
"I'm disappointed because if it was a prank, I really wish they would have just brought Superman back," Brown said.
Sara Ross, who works in marketing for My Wireless, said she received a tip that the missing Superman was in town, and when she called the Crime Stoppers number to relay the report, she was told that the mannequin already was recovered.
Ross said police told her Superman would be processed into evidence and was not immediately available to be returned to the store.
James Dillon O'Connor was arrested on suspicion of felony burglary, criminal mischief and theft.
When the mannequin was stolen, the lock holding it inside the phone booth was broken open and the phone booth was slightly damaged, Brown said. He estimated the damage will cost less than $150 to repair, and he said the mannequin and costume are worth $250 to $350.
The mannequin is regularly positioned in the phone booth outside the store, and Brown said that even after the scare, he plans to put Superman back out front - only this time with a bigger lock.
Steamboat Springs Police Department officers arrested O'Connor, but no officers were available for comment Monday. There is no listed phone number for O'Connor.