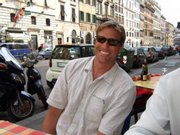 Steamboat Springs — The results of a toxicology report on Chris Corna have not swayed the opinion of the Westchester County, N.Y., Medical Examiner's Office, which ruled his May death a suicide.
Medical Examiner Millard Hyland said tests revealed Corna, who owned Slopeside Grill in Steamboat Springs, had a tranquilizer known as sertraline in his system when he died. Sertraline is used in medications to treat anxiety and depression, such as Zoloft. Hyland said there was an expected level of sertraline in Corna's system for someone who uses such medications regularly.
"It suggests that perhaps there was some depression," Hyland said.
There were no traces of alcohol in Corna's blood.
Corna, 45, died May 18 in Port Chester, N.Y. He was driving a rented car that crossed the centerline on U.S. Highway 1 and crashed into the foundation of a railroad bridge. He also had a knife wound to his neck. Hyland would not say Monday what specifically led his office to a conclusion of suicide.
"We have pretty good evidence it's a suicide," he said. "Let's put it that way."
A police investigation into the death continues, Port Chester Police Department Lt. James Ladeairous said Monday.
"The medical examiner is still saying suicide, but we're still investigating," he said. "The case is still open."
Two weeks ago, Ladeairous said the investigation was pending the toxicology report. On Monday, he said the lead detective is on vacation and that he was not aware of any updates on the status of the investigation. Further questions were referred to the captain in charge of the detective bureau, who did not return a phone message.
Corna's parents also did not return phone messages.