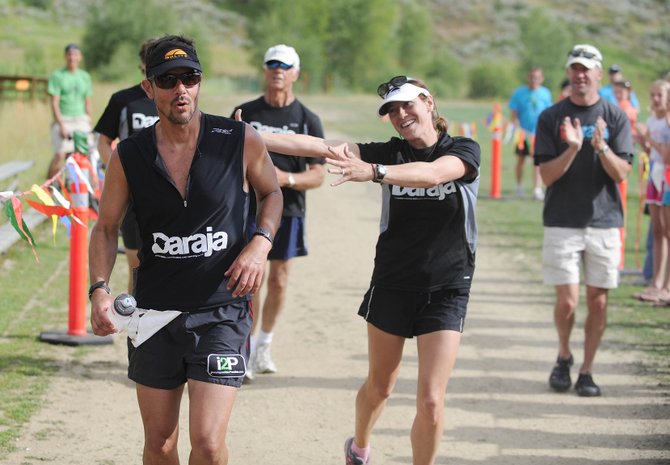 Runner foots 200-mile trek from Fort Collins
Man runs Wild West Relay alone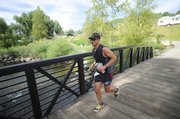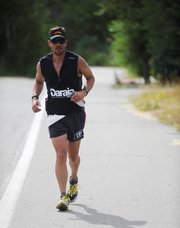 Steamboat Springs — Will Laughlin's mind has always been his best friend. But somewhere along the 200 miles of the Wild West Relay, it slowly became his enemy.
It kept telling him to give up. His body kept telling him to stop.
But somewhere deep down in Laughlin's body, there was something pushing him on.
So even after potentially stress fracturing his foot, battling hallucinations, laying in the middle of roads to gather his mind, jumping into a ditch to avoid a semitrailer and getting little sleep, Laughlin did something no other person has.
He ran 200 miles in the Wild West Relay, starting at 6 a.m. Thursday in Fort Collins and finishing a little after 5 p.m. Saturday at Strawberry Park Elementary School.
All told, he covered the unforgiving terrain in 59 hours.
"Part of ending any big race is going back and processing it because there is so much," Laughlin said minutes after finishing. "Every race is a story. One of the things that happened in this race that's never happened before was, I started hallucinating in the middle of it.
"I woke up in the middle of the interstate somewhere between here and Fort Collins several times."
Those were just parts of times Laughlin was on the brink of stopping. He hurt his foot at mile 60, right on the brink of going into his first night. Add in the feeling of being alone at night running, and Laughlin said there were points that first night he wanted to give in.
"You could hear the doubting," Laughlin's wife and crew chief, Beth, said. "I spent two hours driving, thinking, 'Is he hurt or just hurting?' At the next checkpoint, I thought, 'Even though he's hurt and if he can endure the pain and it's not long term, I'm going to push him on.'"
Laughlin pushed on, and when the morning hit, he was rejuvenated. As Friday night approached, his mind started to get the best of him again.
Some of the adventure of the race had been taken out since Laughlin already had done it twice as part of a team. The lack of sleep started to put him in a foul mood, and Laughlin admitted he let his mind begin to look at the finish line. A call to his coach Ray Zahab in Canada reaffirmed his commitment.
"There wasn't that adventure element to it," Laughlin said. "I mean, there was adventure in hallucinating on the highway or getting run off the road into a ditch by a semi. But there is something about doing a race where you don't know the course. You see something very new. Because that wasn't there, it was taxing mentally. It was an incredibly long, hard distance. It was awful in a lot of ways."
But Laughlin did it for a cause he believes in. He did it to benefit the Daraja Academy of Kenya - a school that looks to educate youths about ways to sustain the economy.
It also was in preparation for bigger events.
As Laughlin said, he's already done 200 miles in less than 60 hours on no sleep - when most people didn't think he could. Now, he's looking for the next adventure nobody thinks he can do.
He plans to run across Kenya - from Mombasa to Eldoret where the school is located. He might even try to run from Panama to Nicaragua.
Judging by the spiritual and mental test he put himself through in the past three days, it's hard not to think Laughlin will do it.
"All these things start with a little 'wouldn't that be great if,'" Laughlin said, admitting he was on the brink of passing out. "This was the hardest race I've ever had mentally. But in this you learn to be in the present, which is always good in life."