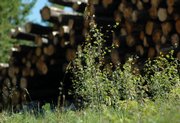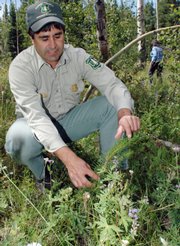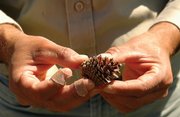 It doesn't look like much of anything right now, but Tuesday morning, Oscar Martinez grabbed it by the tip and pulled it to its full height: a less-than-towering 24 inches.
For now, it's a tiny pine tree, a sapling so pathetic that Charlie Brown wouldn't give it a second look. But, Martinez explained, it's the future - and a sign that even in a forest's darkest hours, hope always grows.
"We understand it can be kind of depressing," said Martinez, a U.S. Forest Service district ranger based in Yampa. "But we want people to know that we still have a forest."
Unforeseen destruction
To outdoor recreationists and to passersby who barely crack open a window, the demise of Colorado's lodgepole pine forests has not been subtle.
What a few years ago amounted to ugly blotches of red scattered among the deep green of the forest has now become a few stands of green against the rust of a dead generation.
Martinez said many saw the mountain pine beetle epidemic on the horizon - its devastation partly written into droughts early in the past decade and into slightly longer, drier summers.
But he didn't expect this.
"I was one of the optimistic ones," he said. "I thought we might lose 50 percent of our mature trees. I didn't think we'd lose 90 percent like we have."
A healthy pine tree can fight off beetles, flushing the bandits right out of the holes they bored in on with a tidal wave of sap. No trees could resist the onslaught that was the height of the epidemic, though. Instead of having to fight off a dozen beetles, a tree had to fight off hundreds.
"There were piles of beetles at the bottoms of the trees," Martinez said. "It was death by a thousand cuts."
The destruction has slowed.
"We'll continue to see mortalities, but it's tapering off, in large part because there isn't anywhere else for the beetles to go," Martinez said.
A new beginning
The time to lament has passed, and now Martinez and Forest Service crews across the state are aggressively trying to reinvent Colorado's woodlands.
They strive to maintain what the public expects of its forests, establishing habitat for treasured native species while encouraging the regeneration as fast and as stable as possible.
The forest of the next 50 years will take on many incarnations. Some are obvious already across Routt County and Northwest Colorado.
Before the beetle epidemic, the Forest Service contracted with logging companies to thin out areas of the forest. Many of those deals, agreed to before the mountain pine beetle changed everything, now are in their final stages. But much has changed.
Instead of thinning the once-plentiful green trees, the Forest Service now strives for success on a number of fronts. First and foremost, it tries to keep every living tree it can. It tries to get rid of beetle kill and foster new growth, planning its cutting areas to potentially act as redoubts in the case of an out-of-control forest fire.
"The first timber sales we did were under the assumption we'd have a mature overstory to work with," Martinez said. "That assumption is gone, and now what we're focused on is protecting anything that's green and still growing so we can have that age class to work with, then at the same time doing whatever level of disturbance we need to get that new level of trees to try to grow a multi-layered forest."
No man's land
Often, those techniques still don't leave much. Wide tracks of recently cleared forest south of Yampa say as much. Logs are stacked at one end of a clearing, and brush and vegetation is torn up where heavy equipment and laborers have toiled.
It may look like no man's land, but it's the perfect breeding ground for a new forest. Aspens already had started to take advantage of the sudden and complete lack of competition, their growth spurts unnaturally large each season under the full sun.
"If someone were to ride their mountain bike through here now, it might look kind of scraggly," said Diann Ritschard, the acting public affairs officer for the Medicine Bow and Routt National Forests. "But the things we're doing to make those trees grow quicker - logging and leaving the seed cones - as soon as a decade will make it look really cool."
A few miles down the road, another swath was slightly further along in the process, the aspens a little taller and the torn-up ground grown over with fresh vegetation and wildflowers.
Another spot, where work wrapped up five years ago, resembled a natural but closing mountain meadow. Flowers still sprung up with ease, but aspens raced to fill in the vacant skyline, and spruce and firs spread wide to soak up the sun.
And, easy to miss as it was, buried in the weeds, a young lodgepole pine tree, less than 3 feet tall, strove to catch up.
"So many people tend to look at the forest only as it is now, only the way we inherited it," Martinez said. "But change is happening. It's happening all the time. The forest will look and feel like something different because now the changes are fairly large scale. But the forest is still there."