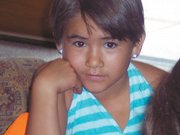 Steamboat Springs — The eighth winner of Hayden Public Library's Reader of the Week is 6-year-old Lesly Gracia.
Her parents are Maria Elena and Gabriel Gracia. Lesly will be in second grade in the fall. She has two sisters, Star, 2, and Helen, 8, and a brother, Gabriel, 1. Lesly has lived in Hayden for four years. She said that Helen and Star are her friends who she likes to play with. She has two pet birds, also named Star and Gabriel. When she grows up, she really wants to be a doctor.
Lesly's favorite color is purple. Her favorite foods are strawberries and ice cream. Her favorite show is "Tinkerbell." In her free time, she likes to play with her toys. Her favorite sport is soccer. Her favorite books are princess books. In school, her favorite class is gym.
Her advice to other children about reading is to "pick out books that are cool or interesting to you." When Lesly found out she had won Reader of the Week, she was "very excited."