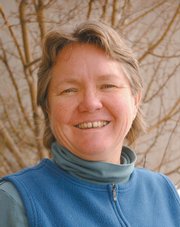 Editor's note: Clark resident Mary Walker works at the Tasaru Girls Rescue Centre in Narok, Kenya. The center was built in 2002 with funding from the United Nations, and it provides a safehouse for Maasai girls who have escaped or been rescued from female genital mutilation and forced childhood marriage. Walker's updates from Kenya appear periodically in the Steamboat Today.
From the movie "Blood Diamond" comes the expression, "TIA (this is Africa)," used when a character is trying to explain, justify or rationalize something in Africa that might be totally foreign to "westerners." I cannot tell you how many times I say "TIA" to myself or to my husband when talking to him at home from here at the Rescue Centre. It really says it all. This is Africa, unlike anything else anywhere else in the world.
I arrived an hour early for a domestic airline flight in Kenya. An hour after the scheduled departure, we were told that the flight was three hours late. 15 minutes before we finally left, several passengers arrived for the flight. They had no way of knowing the flight was so delayed. Were we waiting for them? TIA.
I have a meeting scheduled for 9 a.m. At 9:45 a.m., the person arrives saying, "Fine, it is 9 o'clock." At the Rescue Centre, girls will ask me what time it is, and I will have them look at my watch - they desperately need to learn how to tell time. At 6:55, a girl said "It is still 6 o'clock, Mary." TIA.
I was 10 minutes late, according to my watch, for an appointment. Upon arrival, I had been passed over and told that I was late. TIA.
Not all TIA situations are time-related. A friend of mine in Steamboat Springs met a Maasai man while vacationing in Kenya, and I carried a small gift for him from her to deliver when I arrived. He is from Narok, and I recognized his last name as the same as that of a girl here at the Rescue Centre. When I arrived, I asked the girl, Soila, if she knew him. She said "Yes, Mary, he is the brother to my father." I asked her if she wanted to see him and, in typical Maasai fashion, to indicate "yes" she opened her eyes very wide and nodded her head slightly. I have to be careful in such situations because it is not unheard of for uncles, even brothers, to be the ones in Maasai families who wish to sell girls off. So he came to the Rescue Centre with some food for Soila. But she was not able to speak more than a few words. As is custom, a Maasai girl must be totally subservient and acquiescent with her male elders. Normally, Soila is a very outgoing, friendly girl. But girls get the shortest end of the stick in every African country. It seems that the whole idea of raising girls is to show them just how subservient, acquiescent and powerless they are to be throughout their lives. But what an incredible small world for Soila that day. TIA.
In Maasai culture, even if a man only has one child, a daughter, she will not inherit his land or cattle. She may buy it, but she can never inherit it. TIA.
The Rescue Centre will be out of water at some point. There will be no drinking water or water for tea and cooking. But the secretary's office floor will be mopped every day. TIA.
Because of a prolonged drought and a lack of any rain during the "long" rainy season of April and May, the people of Kenya are really suffering now. There is no wheat and no maize. There will be no rain until October, if then. But there is no real fear among the people of Kenya, a heavily Christianized country. In fact, they are joyful, happy and go about their day. TIA.