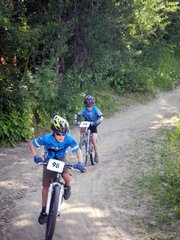 Steamboat Springs — Editor's note: Jett Seymour's name was spelled incorrectly in the original version of this story.
Koby Vargas, an 11-year-old mountain biker with the development program of the Steamboat Springs Winter Sports Club cycling team, isn't nervous now.
But he said he knows he will be Saturday, when he rolls his bike to the starting line for the biggest race in his young career.
"Definitely," he said. "I'll definitely be nervous."
It won't be new that the Winter Sports Club will have cyclists traveling to ride in a race in another part of the state. As usual, Linnea Dixson, Sarah Dixson, Dane Dixson, Mark Dennis, Sam Chovan and Alec Schaffer will be among the field.
Those teenage riders have been fixtures at Mountain States Cup events all season and have a series of high finishes to show for it.
But for Koby, Jett Seymour, Jim Vanderbeek and Jack Vanderbeek, Saturday's Mountain States Cup event, the Blast the Mass race in Snowmass, will represent an entirely new opportunity.
The children have ridden all season in the club's development program, and this is their first chance to ride with the big boys.
"It's going to be fun," Koby said. "Really fun."
All of the development riders are regulars on the Town Challenge mountain bike circuit, but that experience will bear little in common with what they find in Snowmass.
At Town Challenge races, most compete in the 11- to 12-year-old division. The field is usually no more than a dozen riders, and a long race can take 10 minutes.
On Saturday, there will be hundreds of the state's top cyclists riding throughout the weekend in the event that doubles as the Colorado state championships. Even seven-time Tour de France champion Lance Armstrong is expected to be on hand and take to the trails.
The race won't last 10 minutes, either. It might last more than an hour.
"It will be pretty challenging for those guys," team coach Ben Clark said. "The race will be much longer. It will be the equivalent of riding up Zig Zag and down Valley View, and for those guys, that's a pretty arduous race."
The development riders also will be some of the youngest riders in their class, the boys 14-and-younger division.
"They will have to focus on eating and drinking a lot during the race," Clark said. "That's something you can only train for by racing. When you get in race mode, it can be challenging. You also have to focus on your pacing so you can maintain your pace for the duration.
"They look at is a challenge, something to be conquered. Sure, it will require some courage, but they have lots of that."