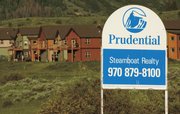 Steamboat Springs — Walk into the Steamboat Springs offices of Mountain Valley Communities and an empty desk will greet you. It turns out a receptionist is an expendable luxury for the company in times like these.
"As developers, we're struggling," Managing Broker Ren Martyn said. "We're all feeling the pinch."
If you were to pick one Routt County subdivision to illustrate the housing market crash's impact locally, Mountain Valley Communities' Red Hawk Village might be it. The neighborhood in Stagecoach south of Steamboat was built at the height of Routt County's real estate boom. The first units came on the market in 2006.
Martyn and his partners envisioned Red Hawk Village as an affordable development for young families, with homes ranging from 1,600 to 1,800 square feet. They even offered eight deed-restricted affordable units. Buyers were not interested in the deed restrictions, however, and they were removed. And instead of young families, speculators poured into Red Hawk Village looking to capitalize on Steamboat's booming market. Most home sites in Red Hawk Village were sold to investors from the Front Range for prices as high as $555,000.
"The prices were very high," Martyn said. "Philosophically, it was difficult because here we were trying to build an affordable product. : But as a developer, we like to sell our property. Developers don't hold our property. That's not our business."
But when the market fell apart, the investors were unable to make their payments, leading to a sizable number of short sales at Red Hawk Village. Offerings of short sales come about when a property owner alerts his or her lending institution that the owner cannot keep up with the payments, and the bank agrees to sell the property for less than the loan value. The motive is to avoid the expense of a foreclosure. The property owner faces losing his or her equity but also avoids some of the other negatives of a foreclosure.
Investors aren't the only ones who are struggling. Martyn said some locals made purchases in Red Hawk Village at the inflated, speculation-driven prices, "and now they're upside down."
"There are so many similar situations," Martyn said. "Red Hawk has just been the perfect storm. : The irony is the original plan has come to fruition."
Martyn was speaking to the fact that the bank-driven short sales have deflated prices to a point where Red Hawk Village is affordable for the young families that were targeted all along. A three-bedroom home that sold for $555,000 in April 2007 sold for $297,000 on June 29.
Although he bought at the height of the market, Red Hawk Village resident Jamie Morgan said he and his family are glad to see that the speculators gone and that the neighborhood is filling up with families.
"I could see us staying there a long time," Morgan said.
- Brandon Gee