Glossary of terms
Adjustable-rate mortgage (ARM): A mortgage loan with an interest rate that can change at any time, usually in response to the market or Treasury Bill rates. These types of loans usually start off with a lower interest rate comparable to a fixed-rate mortgage.
Foreclosure: The legal process by which a property may be sold and the proceeds of the sale applied to the mortgage debt. A foreclosure occurs when the loan becomes delinquent because payments have not been made or when the borrower is in default for a reason other than the failure to make timely mortgage payments.
Refinance: Paying off an existing loan (such as a balloon mortgage) with a newer, usually lower rate loan.
Subprime mortgage: Generally, a mortgage loan made to a borrower with a weaker credit profile than that of a prime borrower. As a result of the weaker credit profile, subprime borrowers have a higher likelihood of default than prime borrowers.
Short sale: The process in which a servicer works with a delinquent borrower to sell the house by a real estate agent prior to the foreclosure sale.
Home Equity Line of Credit (HELOC): A way of borrowing money against the equity or assets that you have in your home to pay for things such as home repairs, college education or other personal uses.
Source: Fannie Mae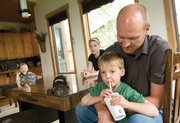 Photo Gallery
House of Cards Part 2: The Mortgage Market Folds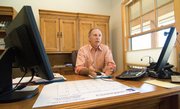 Steamboat Springs — Erik Griepentrog doesn't take bagels to work on Mondays anymore.
For Griepentrog, it is one of many steps - others include selling a car and cutting back on child care expenses - he and his family have taken in the past year to curb spending.
For his employees, those who are still left, it's a small yet poignant reminder of the status of the economy, the condition of their company and the precarious state of their jobs.
Construction valuation through June 2009 was just $43.53 million, down 80 percent from the $208 million Routt County saw through June 2008, according to the Regional Building Department. That kind of drop is terrible news for designers and engineers like Griepentrog, owner of Landmark Consultants, a surveying and civil engineering company.
Griepentrog is thankful for the work he has and that his business is only down half that much, at 40 percent. There's no work in the pipeline, however, and Griepentrog is preparing for a grim winter, the season that is usually his busiest.
"The problem is we're doing work two years old. We're still eating off our plate. We're not getting a second course," Griepentrog said. "I think it's going to be tough for a little while. I don't worry about making it, though. I worry about other people, like our employees. : We've got another year or two years of getting worse before it gets better."
Griepentrog has cut his staff in half and, more recently, cut hours to four days a week and instructed his employees to only come into work when they have work to do, in an effort to avoid shedding more jobs. He was surprised with the way his employees took the changes.
"The only backlash was people who asked, 'Why didn't you do that all along?' The reality now is there's nowhere for them to go," said Griepentrog, who said one of his former employees applied for a new job along with 250 other people. "They're saying, 'This is better than nothing.'"
This is a different picture from just a few years ago, when construction was the county's largest creator of jobs and real estate sales volume surged to a record $1.58 billion in 2007. Griepentrog was advertising as far as the Midwest in an effort to hire enough people to handle all the work, which wasn't just coming from the private sector. Griepentrog listed the new Soda Creek Elementary School, the expansion and remodel of Bud Werner Memorial Library, the Routt County Justice Center and new Steamboat Springs Community Center as public construction projects that were built in a very short period of time.
"If you're in public sector work, you really enjoyed a boom there," Griepentrog said. "It just shows the growth and the activity in this area was just crazy. : It was more, 'How the heck do we get this done,' as opposed to 'Oh boy, what are we going to do this week?'"
As the rest of the country and state started to show signs of the recession, Steamboat stayed resilient. Although foreclosure filings hit a record high nationwide and jumped by 40 percent in Colorado in 2007, they actually decreased by more than 10 percent in Routt County.
But inevitably, things fell apart, shaking the foundations of life in Northwest Colorado. The Steamboat Springs market managed just $31.8 million in sales volume in the first quarter of 2009, according to data compiled by the Rocky Mountain Resort Alliance, down from $118 million in the first quarter of 2008 and $190.3 million in the first quarter of 2007. Through July of this year, there have been 99 foreclosure filings in Routt County. The pace of foreclosures in Routt County is about three times that of 2008, when there were just 55 filings for the entire year.
"Just a couple years ago it was so hard for Erik to get quality employees," Griepentrog's wife, Lori said. "He spent all that time getting these good, quality people here and then he just has to say, 'Good luck.'"
Mortgage madness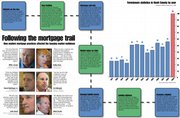 The Griepentrogs are far from the only family suffering from the local housing market's fall from grace.
Scott Woodford said he and his wife, Kathy, probably owe more money on their mortgage than their house is worth. The house is in the Red Hawk Village subdivision in Stagecoach. The Woodfords, who have three young children, paid $430,000 for the 1,800-square-foot home in July 2007 - a price inflated by Front Range investors who bought homes in the neighborhood for speculative purposes and later were unable to make their payments. Some Red Hawk homes are now selling for less than $300,000.
Scott Woodford said the initial plan was for the family to stay in Red Hawk Village for four to five years before taking the next step up the housing ladder.
"I just imagine with what's happened it's going to take a little longer than we originally thought," said Scott Woodford, who also said the family was able to sell their townhouse at the height of the market. "You win some, you lose some, I guess."
Central to all these problems, and to the recession of the global economy in general, is the American home mortgage industry. Saying the mortgage industry is in flux right now is like saying the Yampa River flows a little bit in May. The statement fails to capture the magnitude of the situation.
The uncertainty has led some to leave the industry altogether. Mike Larson left his position as vice president of Mountain Valley Bank at the end of 2008 to play the markets. Others, like Kathy Arce of Phoenix Resources Mortgage in Steamboat, have supplemented their incomes with extra work.
"I have time," Arce said. "I have lots of time."
To fill the hours, Arce has become an independent contractor for the gourmet foods direct-sales company Tastefully Simple. Her day job has been anything but.
Ed Allbright, of Columbine Mortgage in Steamboat, says selling a mortgage is like selling a handy but dangerous piece of equipment.
"Any loan you do is like a chain saw. It can cut a lot of wood if used properly," Allbright said. "It's a great tool if you understand how they can help you and how they can hurt you."
For the better part of this decade, there was a fire sale on chain saws in the form of products such as adjustable-rate, interest-only, no-documentation and subprime mortgages with fewer safety features than the traditional 30-year, fixed-rate mortgage - the safest chainsaw of them all.
A variety of factors led to the proliferation of these products. Larson recalled the mood of local Realtors as the market effects of Sept. 11 emerged.
"You've never seen such long faces. It was an instant high level of uncertainty that fairly quickly, late that fall, began to rotate into real estate as a safe haven."
The local market dipped a bit that year, Larson said, but that slowdown was followed by a record year in 2002.
Buoyed by a healthy economy, low interest rates and high levels of consumer confidence, real estate values continued to surge in the early part of this decade. That attracted developers, speculators, second-home owners and regular folks to the market like never before. Locally, Intrawest's purchase of the Steamboat Ski Area and other major investments by deep-pocketed, out-of-town developers fed the fire.
"Steamboat was an immediate, instant beneficiary of that dynamic," Larson said. "It fed on itself. : It's unbelievable how we went from $200 million (in annual total sales volume) to more than $1 billion."
With values increasing, lenders were more comfortable lending money to people who had been unable to borrow in the past because they would be able to tap into the equity in their home if they ran into trouble. Lenders also began to make widely available "creative" financing tools previously reserved for wealthy borrowers looking for flexibility.
"We had a very generous supply of debt or borrowing out there (so) that when the job market shifted and the economy shifted, people are struggling to figure out how to pay it," said John Kerst, director of business development and former president at Yampa Valley Bank.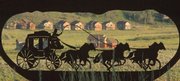 Mortgage meltdown
When real estate prices flattened and fell, the system that had been built on appreciation met with disaster. While the severity of our current recession is a shock to most, many say there were signs that the heyday wouldn't last forever.
"I think any intelligent analysis of the market would say 30 percent gains year to year were not sustainable regardless of any world or national trends," said David Baldinger Jr., of Steamboat Village Brokers.
Mike Larson, the former mortgage broker, agreed.
"You had the sense that it couldn't stay this hot forever," he said. "You had this sense that when we had 400 Realtors in a town of 10,000 and a county of less than 30,000."
The slowdown hit nationally first, but then it trickled its way into Steamboat and other resort markets.
In 2007 and 2008, $636 billion in adjustable-rate mortgages - $367 billion of which were subprime - reset to higher interest rates, according to First American CoreLogic, a real estate data firm. Many homeowners counting on appreciation were unable to refinance their mortgages to a lower rate and could not make their payments.
"Our values rose so fast here from 2002 to 2007 that, even if you overextended yourself, you could sell and make a profit," Larson said. "The more liberal the loan, the more house you could buy. As prices go up, that works beautifully. But once values go down, that whipsaws on you. Overleverage became the enemy."
Who to blame?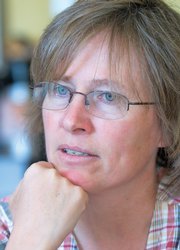 Mortgage brokers and bankers have taken much of the heat for the meltdown, and some think that is deserved. Elizabeth "E.A." Black, a consultant formerly of Millennium Bank and the Yampa Valley Housing Authority, said overzealous lenders engaged in predatory practices and greedily made as many loans as possible by aggressively putting people in loans they ultimately couldn't afford.
"I think it was happening in every major city. I have reason to believe it happened here," she said. "We had this free-for-all mortgage availability."
Colorado is a top-10 state for mortgage fraud, according to the FBI. Black said products that required no documentation of a person's income or other verifications were particularly troubling.
"A person could essentially lie on their application and sign they were telling the truth," she said.
The practice of selling mortgages on the secondary market also is a problem, some argue, because the people originating the loans don't have any skin in the game.
"I'm not saying it was rampant, but certainly that dynamic of not having to worry about whether the loan performed invites liberal lending practices," said Larson, who added that he doesn't think such practices were widespread in Routt County. "That was a very large systemic problem, and as a result of that, that's why we're seeing nationwide underwriting standards significantly tightened up now."
Although some acknowledged that a few of their customers have gone into foreclosure, all mortgage originators interviewed by the Pilot & Today said they did not regret any of their loans because of factors that existed at the time the loan was made and unanticipated events that happened after.
Kathryn Pedersen, a mortgage loan officer at Yampa Valley Bank, and Holly Rogers, a mortgage loan officer and vice president at the bank, said they think they have skin in the game because if they sell bad loans on the secondary market, lenders will stop working with them.
"We're not going to do anything that's going to risk our reputation because that's our biggest asset," Rogers said.
Many brokers said borrowers should take personal responsibility and that many were so eager to take part in the booming housing market that they did not heed advice to avoid purchasing risky loans.
"There were a few people I told this does not make sense and I'm not going to do it," Pedersen said. "But if I wouldn't do it, someone else would."
Others said they didn't feel it was their place to block someone from getting a loan if it was compliant, a lender would accept it and the customer insisted on it.
"My role as I saw it was to educate you as best I could," Allbright said.
As an example, Allbright said he would advise any customer seeking 100 percent financing to have six months worth of reserves to pay his or her mortgage.
"If you decide to take my advice, great. If not, I still have to submit the loan to the underwriter," Allbright said. "My job is to give you advice, not be your dad. Is it my job to say you can't rent the chainsaw because you're an idiot? My job is to explain to you and make sure you understand what all the issues are."
Arce agreed.
"If it's your life and your loan and your house and your future, ask the questions," she said. "When you have a customer who is asking for that particular program and it's available to me from the lenders, we sold the product. : Let's face it: If they don't get it from me, they knew they could get it from the broker down the street. That's a fact of business."
Holding the bag
Although the housing market meltdown has global causes and effects, it also has hit very close to home - from the wealthiest to the most vulnerable sectors of our society.
Steamboat's economy floats on a sea of outsiders, and John Kerst, of Yampa Valley Bank, noted that if people have less disposable income to spend nationally, they are less likely to visit Steamboat. And, perhaps more important, they are less inclined to buy real estate here. The latter hesitancy has had dramatic effects that have soaked through all layers of society, including the immigrant community that is estimated to make up 5 percent of Routt County's population.
"The most obvious is the decline in job opportunities in the construction and landscaping industries. The majority of the immigrant community work in those industries," said Tatiana Achcar, executive director of Integrated Community. "It's weird to think about how the halt in the luxurious homes has affected the immigrant community. They are the ones who were feeding the industry all along."
The middle class is reeling, as well, and residents are struggling to buy and sell property.
Joe Birkinbine, of ATP Financial Services in Steamboat, hopes to move his family out of a Steamboat townhouse and into a larger single-family home, but has taken his home off the market because of a lack of interest.
"Had we had the crystal ball, we would have sold in 2006, rented for two years because our crystal ball would have told us there was going to be a downturn in the market, and then we could have been a cash buyer," he said.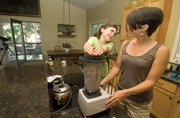 On the plus side, Birkinbine is glad he resisted the temptation to purchase a new truck after a record year for his business in 2007 and instead paid cash for a good, used one.
"That's wise spending," Birkinbine said. "Now that my income is declining, I don't have a second car payment."
In Stagecoach, Shamus and Julie Spitzley are offering a $10,000 finder's fee to anyone who can find a buyer for the house they have been trying to sell for two years. Their latest price for the house, $489,000, is $135,000 less than its most recent appraisal.
"It's tough because there's so many houses on the market, so you just got to try to stand out from the guy next door," said Julie Spitzley, owner of Storm Mountain Roasters. "Many (buyers) just want the perfect house, and they can be picky right now."
Although she said she doesn't regret buying the house, she and her husband are certainly sick of it being for sale. They bought the house in 2005 as an investment and hope to build a new home on another lot they own in Stagecoach.
"I bought it to sell it," Shamus Spitzley said, "not to live in it."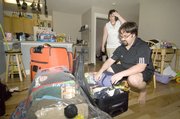 On the other side of the coin are potential buyers like Matthew and Jessica Farrington. The couple has a 3-year-old daughter and another child on the way. They tried for years to find a home. They were consistently told their only real options were in Hayden and Oak Creek. Now that prices are down and the Farringtons could realistically afford a place in Steamboat, the lending markets are too big of a challenge.
"His personal opinion is that it's impossible for anybody to get financing right now," Matthew Farrington said about a friend who is a mortgage broker.
Friends have urged the Farringtons to stay, arguing that Steamboat is a great place to raise children. Matthew Farrington would agree, but with one caveat.
"If they live in a cardboard box, it's not that great."
The Farringtons moved to Australia in July to live with Matthew's mother.
Overbuilt?
Only 55, or 3 percent, of Steamboat's 1,791 active listings sold in the first quarter, according to the Rocky Mountain Resort Alliance, and only 20, or 5 percent, of 380 single-family homes listed were sold. Fourteen percent of Steamboat's inventory sold in the first quarter of 2008, and 40 percent sold in the first quarter of 2007.
Some interpret stats like that to mean that Steamboat was overbuilt during the boom. Others disagree and say people were merely building according to information available at the time.
"There's definitely a lot of product right now, but the market is so bad," said Jeremy MacGray, of JSM Builders in Steamboat. "The market isn't bad. It's really bad. It's ridiculous. If the market had simply corrected itself instead of just tanking, I don't think we would have overwhelming supply."
Mark Scully, of Green Courte Partners, developers of major downtown redevelopment projects, also doesn't think that Steamboat was overbuilt, but he said the company would have delayed things a year or two if it could have foreseen the recession.
"We definitely don't look at it as a bust," Scully said. "We'll acknowledge that the market is slower than we'd like. : There was a pretty solid demand until this financing hiccup came about. : It will just take some time. It's going to cost us more."
Out of 45 residential units in Green Courte's projects, five have closed and another 17 are under contract.
"We certainly expect to lose a few (contracts)," Scully said.
About 65 percent of 24,000 square feet of commercial space is leased in two projects, Alpen Glow and Howelsen Place. A third redevelopment project, River Walk, has been delayed indefinitely, Scully said.
Similarly, Baldinger said he thinks the redevelopment of Ski Time Square will be delayed two to five years.
"Developers are not going to overbuild on purpose," Baldinger said.
That's bad news for Erik Griepentrog, who bought a condominium on Ski Time Square Drive speculatively after learning about Ski Time Square and Thunderhead Lodge's $54 million sale for redevelopment in 2007. He regrets that purchase, particularly because lending practices have thwarted his efforts to refinance the condominium. He might feel better about it if and when The Atira Group moves forward with plans to build a million square feet of high-end, mixed-use development at the site of the demolished properties.
"I sure don't like to have to bleed out of it right now," Erik Griepentrog said.
In addition to taking hits from investment properties, many in Steamboat are also struggling because their home-equity lines of credit, or HELOCs, have now run dry. "Using your house as an ATM" was common in Steamboat, Rogers said. The most troubling trend she saw was people using home equity lines of credit to pay off credit cards that they would immediately run up again and pay off with their home equity. When values went down, many HELOC users got a call from the bank saying their credit line was maxed out and could no longer be used.
Jeff Steinke, general manager of Steamboat Motors, said some buyers - but not many - used HELOCs to purchase cars. But if nothing else, Steinke said, growing home values certainly boosted buyers' confidence. Sales at Steamboat Motors are down about 10 percent, or four or five cars, a month.
"People thought that forever they would have equity," Rogers said. "But the well is dry. You have nothing to dip into anymore."