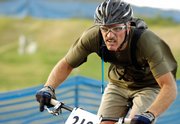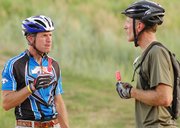 Results
2009 DOG DAYS OF SUMMER
Wednesday
PRO/OPEN
1. Brad Bingham, 53:29
2. Barkley Robinson, 54:27
3. Peter Kalmes, 55:59
4. Essam Welch1, 58:04
5. Craig Rench1, 58:04
6. Chad Eskins1, 59:18
7. Nate Bird, 1:00:25
8. Bo Randolph, 1:00:48
9. Mike Sharkey, 1:02:24
10. Carl Spangler, 1:02:33
11. Sam Chovan, 1:04:09
12. Doug Karet, 1:04:17
13. Chad Gruben, 1:12:27
14. Jon Freckleton, 1:37:32
Men's Expert 19-29
1. Matt Eggen, 1:03:22
2. Garrett Burns, 1:28:41
Men's Expert 30-39
1. Bud Whitehead, 58:26
2. Jeff Keller1, 59:47
3. Ben Barbier, 1:01:18
4. Joshua Enck, 1:03:00
5. Russell Griffin, 1:03:39
6. Kevin Hendrickson, 1:03:41
7. Evan Soard, 1:05:30
8. Jeff Boswell, 1:06:30
9. Ted Morton, 1:08:09
10. Scott Kempers, 1:10:32
11. Anthony Urbick, 1:14:00
12. Jon Casson, 1:26:00
Men's Expert 40+
1. Thomas Meiser, 59:52
2. Pat West, 1:00:52
3. Ron Famiglietti, 1:02:15
4. Tom Irvine, 1:04:03
5. Marc Sehler, 1:04:05
6. Peter Boniface, 1:04:21
7. Roy McKinstry, 1:05:04
8. Robin Craigen, 1:05:28
9. Pj Wharton, 1:05:30
10. Dan Vargas, 1:06:23
11. Scott Blair, 1:07:14
12. Stephen Dressen, 1:09:27
13. Rick Hodges, 1:09:32
14. Kris Hagenbuch, 1:09:40
15. Rick Schuette, 1:11:16
16. Chas Ryan, 1:16:06
Men's Sports 19-29
1. Alex Pond, 50:43
2. Jon Winkelblech, 53:17
3. Jeffery Gay, 53:33
4. Mark Dennis, 55:27
5. Gus Allen, 57:56
6. Justin Hirsch, 1:00:32
7. Kellen Baker, 1:00:45
Men's Sport 30-39
1. Jon Brickner, 51:58
2. Wes Fountain, 52:19
3. Adam Wright, 55:07
4. Bob Kastor, 57:17
5. Jeremy Schumacher, 59:01
6. Thomas Reuter, 1:07:26Men's Sport 40-49
1. Mel Stewart, 52:49
2. Bryan Dugan, 53:03
3. Chris Arnis, 53:26
4. Neal Bambha, 54:23
5. Chris Keiss, 54:40
6. Jeff Olsen, 56:41
7. Brian Paul, 57:01
8. Bobby Aldighieri, 59:38
9. Richard Sterling, 1:02:52
10. Walter Magill, 1:04:46
11. Steve Kellam, 1:08:07
Men's Sport 50+
1. Win Park, 55:38
2. Peter Daley, 55:44
3. Thomas Scrimgeour, 56:13
4. Roger Watson, 56:28
5. Boyd Bass, 59:37
6. John Thrasher, 1:00:46
7. Rick Denney, 1:00:58
8. Brian Small, 1:01:24
Men's Novice 19-34
1. Garett Mariano, 58:17
2. Antonio Jaranna, 1:01:03
Men's Novice 35-49
1. Dereck Fish, 31:37
2. Andy Weynand, 58:14
3. Mike Malone, 1:00:58
4. Matt McCreary, 1:01:46
5. Scott Colby, 1:02:12
6. Mike Aljanich, 1:04:25
7. Mark Gerardi, 1:06:10
8. Steve Harrison, 1:08:41
9. Ward Longbottom, 1:16:15
Men's Novice 50+
1. Dennis Kissler, 1:07:49
2. Peter Hoey, 1:13:49
3. Stephan Zittel, 1:16:22
4. Mike Nartker, 1:18:50
5. Neil Ganz, 1:22:12
Women's Expert
1. Kelly Boniface, 1:04:02
2. Katie Lindquist, 1:10:20
3. Kathleen Fitzsimmons, 1:10:29
4. Kate Rench, 1:11:11
5. Linnea Dixson, 1:13:19
6. Rose Alford, 1:13:45
7. Jamie Gay, 1:19:48
8. Jessica Maniaci, 1:20:14
Women's Sport 19-29
1. Genevieve Dice, 1:01:09
2. Sarah Dixson, 1:04:57
3. Bryanna Vogt, 1:13:32
4. Amy Zutterling, 1:17:27
Women's Sport 30+
1. Mary Ann Keiss, 1:01:43
2. Deb Rose, 1:01:48
3. Nicole Lecoyer, 1:01:48
4. Maria Linna, 1:02:27
5. Laura Soard, 1:05:43
6. Shannon Carlin, 1:07:08
7. Bec Marbach, 1:08:51
8. Jen Howland, 1:09:42
9. Krista Check-Hill, 1:11:25
10. Riley Polumbus, 1:13:49
Women's Novice 19-34
1. Kyleigh Demicco, 33:31
2. Melissa Huser, 36:21
Women's Novice 35+
1. Jennifer Sliney, 36:01
2. Heidi Nunninkoven, 41:52
3. Lane Malone, 44:08
Youth male 13-15
1. Max Scrimgeour, 30:20
2. Jim Vanderbeck, 35:05
3. Greg Longbottom, 50:35
Youth male 16-18
1. Dane Dixson, 1:00:56
2. Alec Schaffer, 1:03:00
Youth Female 16-18
1. Michaela Frias, 1:24:41
Kids 6 and younger
1. Andy Henderson, 1:06
2. Dylan Dietrich, 1:10
3. Danial Kempers, 1:12
4. Peppi Delliquadri, 1:17
5. Colin Kagan, 1:30
6. Andrew Lemley, 1:38
7. Andrew Kempers, 1:40
8. Sal Malone, 1:45
9. Rune Freckleton, 1:48
10. Elizabeth Lemley, 2:40
Kids 7-8
1. Hunter Thvedt, 1:42
2. Matthew Kempers, 1:45
3. Dane Freckleton, 1:55
4. Chase Weynand, 2:00
5. Cisco Delliquardi, 2:03
6. Alex Blair, 2:04
7. Kyle Kagan, 2:05
8. Gabe Rabanal, 2:10
9. Finn Russell, 2:13
Kids 9-10
1. Decker Dean, 2:55
2. Elijah Varges, 3:04
3. Sam Frackowiak, 3:25
4. Quinn Morton, 3:26
Kids 11-12
1. Tait Dixson, 7:24
2. Koby Vargas, 7:36
3. Jack Vanderbeck, 7:45
4. Tyler Terranova, 9:30
5. Brian Longbottom, 10:23
6. Alex Kellam, 10:28
Men's Single speed
1. Dave Fisher, 1:03:11
2. Ben Clark, 1:05:34
3. JP Pougiales, 1:06:37
Women's Single speed
1. Karen Tremaine, 1:07:11
2. Marla Bailey, 1:28:22
Steamboat Springs — Brad Bingham won the Town Challenge mountain bike race men's pro division for the third consecutive race, finishing the daunting and roundly saluted Emerald Mountain course in 53 minutes, 29 seconds.
Forty-two minutes and 45 seconds later, Andy Weynand crossed the same finish line at the base of Howelsen Hill. He too extended a streak, adding another victory to his string of Town Challenge men's novice division titles.
Both coasted in well ahead of their formidable rivals - Bingham nearly a minute ahead of Barkley Robinson, and Weynand more than two minutes ahead of Mike Malone.
And, even separated by the better part of an hour, sponsorships deals and a vast amount of biking experience, both smiled wide as they soaked up the victory and collected congratulations from their suddenly friendly competitors.
"It was an awesome course today," Weynand said. "It was everyone's Saturday afternoon ride, so to come out here and ride it as fast as you can is awesome. Beautiful course, beautiful day."
The men's pro division features the fastest bikers on the Town Challenge circuit. The men of the novice division come across as different.
They didn't all wear biking jerseys; some simply donned t-shirts. They didn't all wear clip-in shoes; some tied on dirty sneakers. Few have the do-they-ever-eat-McDonald's physic of the pro division, but they all powered across with the same fierce competitiveness that is rampant in the pro division.
"It's fun and competitive racing against people you know," Malone said. "For me, it's a lot of personal competition, to make myself ride harder. If I see someone in front of me, I say, 'I want to catch that guy.'"
It was a good day for Malone. The 10-year veteran of Town Challenge races started in the novice division before moving up to race in the men's sport category. He just couldn't keep up, though, so he bumped back down and has regularly finished in the top half of the class.
On Wednesday, he surged early in the race and managed to maintain an early gap. One of his best rides of the season netted him second place.
"It's good to be up in the pack because you know you've been doing pretty well," he said. "I've been third in all the other races. It felt good to finish second."
He wasn't the only racer to enjoy a good day. Kelly Boniface again won the women's expert division, finishing in 1:04:02. Karen Tremaine, riding a single-speed bike, was second among the women, finishing at 1:07:11. Katie Lindquist was third in 1:10:20.
Bingham, meanwhile, was ahead of Robinson and Peter Kalmes, who was third at 55:59.
"I'm feeling good and training better," Bingham said. "I'm working with Jon Freckleton at Aspire, and it's been really good."
Steamboaters finish well at Laramie Enudro race
Barkley Robinson led a crew of local riders Saturday at the Laramie Enudro 111-kilometer race in Laramie, Wyo.
Facing a long and difficult course that took riders down dirt roads, across singletrack, through muddy ditches and even scrambling over barbed wire fences, Robinson prevailed in the top men's class.
He won the men's pro/open division in 5:09:38.
"It was a pretty cool race," Robinson said. "It's just a challenge to stay on course. I did the race a few years ago and got way, way off course and lost really bad. Every year people have mishaps like that. It's always a little bit of an adventure out there."
Robinson was only the first of a strong contingent of Steamboat riders to finish.
Kelly Boniface was second in the women's pro/open division in 6:04:41. Katie Lindquiest was fourth in that race, and Rose Alford finished 19th.
Peter Kalmes was fifth behind Robinson and ahead of Jamie Morgan in seventh, Nate Bird in eighth, Ron McKinstry in 33rd and Rob Lutz in 82nd.
Karen Tremaine finished third in the women's single-speed division. Jon Freckleton was fourth in the men's single speed, and John Pougiales was 18th.