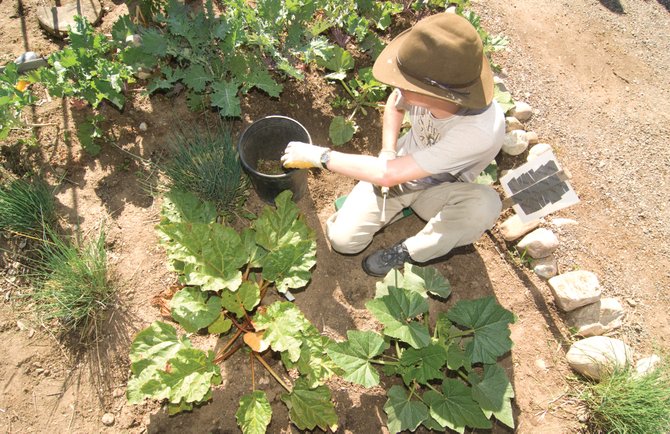 Community youth group to sell produce at next farmers market
Wednesday, August 5, 2009
For more
For more information about Community Cultivation, call Beth Davison at 819-0580 or Dana Colgan at 819-1216.
How to help
Send donations to Yampa Valley Autism Program c/o Community Cultivation, P.O. Box 771824, Steamboat Springs, CO 80477. Or call 870-4263.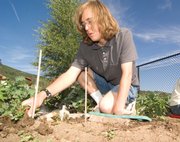 Sean Fairlie couldn't be distracted as he picked weeds Tuesday morning.
Looking down, his chin-length brown hair hanging over his eyeglasses as he placed the weeds into a plastic plant holder, 18-year-old Fairlie said it was "amazing" being able to watch something grow that he planted.
"It's fun working in the garden, working with all these people, knowing that the end result is going to be something wonderful," he said.
Fairlie was one of about a dozen Community Cultivation participants who spent part of the morning preparing garden plots at Yampa Valley Botanic Park for Saturday's Mainstreet Farmers Market in downtown Steamboat Springs.
Selling a variety of vegetables, herbs and flowers Saturday, and at the Aug. 15 farmers market, culminates the horticulture program that teaches vocational, social and other life skills to 14- to 26-year-old special needs and at-risk youth, said co-creators Beth Davison and Dana Colgan.
"We're excited for people to buy organic produce grown by the youth in the community," Colgan said.
The 16-week program began in May, with about five weeks of classroom instruction before planting in June. Colgan said the instruction included setting the groundwork for expected behavior. Davison added that participants also review resume, application and interview skills.
Participants maintain the garden plots, which were provided by the Botanic Park, throughout the summer before harvesting and selling the produce in August.
The proceeds from the sale are split among the program's participants, as opposed to being funneled back into the program, which is funded through grants and donations.
Colgan said giving the money back to the participants not only provides them incentive - like most who work to earn a living - but also allows them to see the their work come full circle.
"The farmers market is a way to finalize that, and be rewarded for working all summer," she said.
Community Cultivation began after Colgan and Davison, who work as vocational specialists with area schools, saw a need.
"We noticed there was a gap preparing them for the work force," Colgan said about program participants, who are from across Routt County.
Community Cultivation grew from six participants last year, its first, to 17 this year.
Davison said the goal of the program was to set the groundwork for success by allowing participants to take the confidence attained through their work and apply it toward competitive employment.
"It's an opportunity, a place where these folks can come be in a work setting," she said, adding that many of the skills emphasized by the program are taught in schools, but a practical application for those skills didn't exist. "That's what we're trying to do here."
Colgan said it's the only program that simulates an actual work environment in Northwest Colorado. She said they're working to toward building a greenhouse to provide the program year round.