Election 2009
Visit
www.steamboatpilot.com/election2009
for complete coverage of this year's races and issues.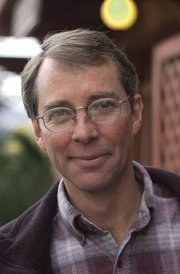 Steamboat Springs — Former Steamboat Springs City Councilman Jim Engelken said he is dissatisfied with the city's legislators and is considering running for council in this year's election.
Engelken is the second former councilman - the other being former City Council President Kevin Bennett - to confirm he is considering running. Both men said the current council is too pro-development. Engelken and Bennett said they would try to slow the pace of growth in Steamboat Springs if elected.
"I'm seriously considering it," said Engelken, who is considering the city's two-year, at-large seat. "I'm not quite ready to commit. Obviously I'll have to make a decision soon, though."
Should he choose to run, Engelken may face Councilwoman Cari Hermacinski, who has not decided whether she will run for a four-year District 1 seat or the at-large seat she holds now.
"I just see this as an extremely pro-development council, and I think we need moderation on council," said Engelken, who previously served on City Council from 1995 to 2001 while Bennett was president. "I think their priorities are out of step with the values of the community. They've done a number of things that show that."
Engelken said he disagreed with the City Council's decision to fire former City Manager Alan Lanning, citing in part Lanning's handling of enforcement issues involving the real estate and construction industries. Engelken said he also was concerned when the council nearly let builders off the hook for an estimated $4.6 million in building use tax.
"To me, that really showed their true colors about what their values are and who they're really working for," Engelken said.
Council members who supported the ordinance said it was unfair to begin enforcing the policy retroactively.
Engelken said he also disagrees with changes approved by City Council to allowable height and other dimensional standards at the base of Steamboat Ski Area. Among other changes, council increased the maximum allowable height by 38 feet in the area to 105 feet.
Of all his concerns, Engelken said Steamboat 700 is the biggest. He said City Council is rushing the proposed 500-acre development west of Steamboat that is seeking annexation into city limits. Council tentatively has scheduled a vote on the annexation this fall. Engelken said there are too many unanswered questions about the project's costs and benefits.
Engelken said his decision on whether to run for council is pending continued negotiations with his wife and an assessment of "whether I really have that fire in the belly."
Engelken's wife, Nancy, is the city's community housing coordinator. City Manager Jon Roberts said the fact that Engelken's spouse is employed by the city is not an issue.
"There's actually an adopted city policy that addresses that specific circumstance," Roberts said. "That policy specifically states that, that wouldn't be prohibited."
Other candidates who have confirmed their intended candidacies for this year's City Council election include incumbent Councilman Walter Magill, who holds a District 3 seat representing southern Steamboat; and local businessman Kenny Reisman, who said he would run for the four-year, District 2 seat representing the mountain area. Term-limited City Council President Loui Antonucci is vacating that seat.
City Clerk Julie Franklin said nomination petitions can't be released to potential candidates until today. The last day to file petitions is Aug. 24.